MAGLGBishop
From MasonicGenealogy
GEORGE WASHINGTON BISHOP 1849-1930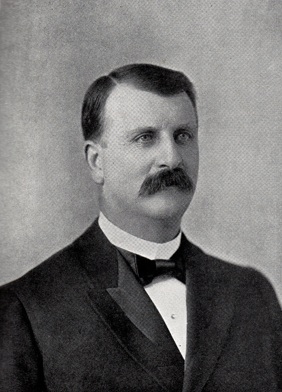 MM 1872, WM 1881-1883, Star
DDGM, Fitchburg 12, 1886, 1887
Senior Grand Warden, 1894
MEMORIAL
From Proceedings, Page 1930-273:
R. W. Bro. Bishop was born in West Burke, Vt., Oct. 4, 1849, and died in Newtonville April 22, 1930. Bro. Bishop came to Massachusetts early in life. He resided in Athol for many years, later moving to Newtonville where he resided at the time of his death.
Bro. Bishop was a railroad man and had long service as a member of the Massachusetts Railway Commissions. On his retirement from office he practiced as a consulting engineer.
Bro. Bishop was initiated in Star Lodge, of Athol, April 1, 1872, passed April 29, 1872, and raised May 27, 1872. He served Star Lodge as its Master in 1881 and 1882 and was District Deputy Grand Master for the then Twelfth Masonic District in 1886 ancl 1887 by appointment of M.W. Abraham H. Howland, Jr., and M. W. Henry Endicott.
IIe was Senior Grand Warden in 1894. His interest in the Fraternity extended. to other branches in which he did good service. He was a Past Eminent Commander of Athol Commandery No. 37 and a member of Massachusetts Consistory.
His widow survives him. His only child, a daughter, died about fifteen years ago. Her death was a blow from which he never fully recovered.
Bro. Bishop's long years of official position in the Fraternity made him one of our most widely-known members and the news of his sudden death spread sorrow throughout the Craft.
From Proceedings, Page 1930-374:
Rt. Wor. George Washington Bishop was born at West Burke, Vermont, October 4, 1849, and died at Newtonville, Mass., April 21, 1930. He was the son of Truman G. and Harriet N. Bishop. His early education was received at the District Schools and St. Johnsbury Academy, Vermont.
At the age of eighteen years he entered railroad service, serving as brakeman, fireman, conductor of work-trains and snow-plows, trackman and section foreman on the Connecticut'and Passumpsic R. R., Troy and Greenfield R. R., and the Vermont and Massachusetts R. R. In 1874 he was appointed Road Master of the Secopd Division of 'the Fitchburg R. R. This position he held for twenty-one years. In 1895 he was made a member of the Board of Railroad Commissioners and Public Service Commission of Massachusetts. In 1914 he was made Chief of Inspection, Department of Commissions. He retired in 1919 and from that time until hls decease he conducted the trusiness of Consulting Engineer. He was a member of the American Society of Civil Engineers.'While a resident of Athol, Massachusetts, he was very prominent in the affairs of that town, serving as Chairman of the Board of Selectmen, Member of the Board of Health, Superintendent of Streets, and servirig on several important builcling committees. He was Chairman of the Republican Town Committee and President of the Young Men's Republican Club. He was ex-President of the New England Road Masters' Association and for many years a member of the Road Masters' Association of America.
On September 16, 1873, he married Annie B. King who died July 15, 1930. A daughter, Nellie M., was born January 31, 1882. On October 18, 1905, she married Arthur B. Sherman of New Bedford, Mass., and died October 3rd, 1918. She left one daughter, born October 14, 1910, named Cynthia Bishop Sherman, now a resident of New Bedford, Mass.
Rt. Wor. Brother Bishop received his Masonic Degrees as follows:
E. A. degree April 1st, 1872, in Star Lodge of Athol, Mass.
F. C. degree April 29th, 1872, in Star Lodge of Athol, Mass.
M. M. degree May 27th, 1872, in Star Lodge of Athol, Mass.
He served Star Lodge in the following positions: S. S. 1872, J. D. 1873-1874, J. W. 1879, S. W. 1880, Wor. Master 1881 and 1882, Marshal 1884-1885. He was appointed D.D.G.M. for the 12th Masonic District in 1886 and 1887. He was elected S.G.W. of this Grand Lodge December, 1894.
He received the Royal Arch degree March 6, 1883, in Union Chapter of Athol, Mass., and filled the office of Scribe in 1885. He was also a member of Newton R. A. C. He received the Super Excellent degree May 14, 1888, in Titus Strong Council of Greenfield, Mass. He received. the Order of the Temple April 25, 1883, in Athol Commandery of Athol, Mass. He was J.W. in 1883, S.W. in 1884, C.G. in 1885-1886, Generalissimo in 1887, Eminent Commander in 1888. He was also Grand Lecturer in the Commandery in 1905 and 1906. He was also a member of Gethsemane Commandery of Newtonville, Massachusetts.
He was a member of the Ancient and Accepted Scottish Rite Bodies as follows:
Worcester Lodge of Perfection, May 29th, 1894.
Goddard Council Princes of Jerusalem, April 6th, 1896.
Lawrence Chapter of Rose Croix, April 6th, 1896, all of Worcester, Massachusetts, and
Massachusetts Consistory, Boston, April 24, 1896.
The position of Rt. Wor. Bro. Bishop in the railroad world was won only by hard work and strict attention to duty. He was of a genial disposition and counted his friends as legion. He was not a hard task-master and was so well liked it was said of him that he had a personal acquaintance with every man employed in the division of which he was Road Master.
In Masonic circles he was held in great esteem by the Fraternity. He was punctual in his attendance at the Communications of the Grand Lodge and we shall miss his cheery presence and hearty greeting at these meetings. His decease removes from our midst our eldest, in point of service, Past Senior Grand Warden.
"They're passing away, these dear old friends,
Like leaves on a current cast,
With never a break in the rapid flow
We watch them one by one as they go
Into the beautiful past."
Fraternally submitted,
Charles E. Robertson,
Robert D. Diggs, Jr.,
Clarence C. Pierce,
Committee.
---