MAGLHGoddard
From MasonicGenealogy
HENRY GODDARD 1823-1904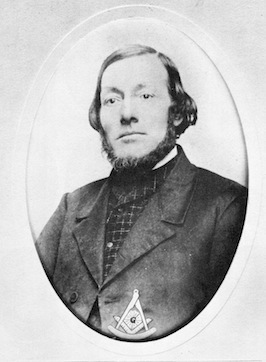 Senior Grand Warden, 1858
MEMORIAL
From Proceedings, Page 1904-18:
Died at his home in Worcester, on January 12, 1904, R. W. Brother Henry Goddard, for more than half a century identified with the Masonic Fraternity in that city.
Brother Goddard was born in Worcester, October 4, 1823, and was the second son of Benjamin and Sarah Stockwell Goddard. He was directly descended from the Goddards of Wiltshire, England, a family prominent there since the time of Henry the Third, through William Goddard who> having suffered considerable property losses in the great London fire, came to seek his fortune in the newer England in 1666. A little more than a hundred years later we find the grandfather of our Brother Goddard living in Royalston and during the troublesome, times that followed serving as a lieutenant in: the Continental Army.
During Brother Goddard's entire business life he was intimately identified with the progress of the manufacture of wire. With the exception of a single attempt in Walpole, all the earliest efforts at wire drawing in this country were made in Worcester and two or three of the neighboring towns. Prior to 1831 the hardware dealers of Worcester County imported all their wire from England and Germany, and it is stated on good authority that shortly before that the entire output of wire in England did not exceed one four-horse load weekly.
In 1831, the father of. Bro. Goddard formed a partnership with Ichabod Washburn and established a wire factory, and this business under different names has been continued in Worcester without interruption until the present time. This partnership of Washburn & Goddard having been previously dissolved by mutual consent, Benjamin Goddard, in 1840, took charge of the South Worcester Wire Mill, which had been bought by Mr. Washburn, and continued at the head of that portion of the business of the Washburn & Moen Company until his death in 1867, The wire business was thus a sort of heritage to our Brother Goddard, who, in 1843 or 1844, in the mill where his father was manager, entered the employ of the same Company as a wire drawer, and continued in that Company's service uninterruptedly for more than fifty years. Upon the death of his father he became the manager of the South Worcester Mill. Shortly after, this building was destroyed by fire, and he was transferred to the larger mill of the Company on Grove Street, returning the following year to take charge of the new mill at the old location. In 1869 this mill was closed, and Brother Goddard went again to the Grove Street works, where he remained as foreman of the wire drawing and nail department, until poor health and the arrival of his seventy-fifth birthday, induced him to give up active work. He finally severed his connection with the Company in December, 1898. After that date he was not actively engaged in any business.
His withdrawal from this service was marked with many tokens of the esteem and affection of those who for so many years had been associated with him or served under him. The directors of the corporation testified upon their records to his faithful and intelligent leadership, his unvarying devotion to the Company's interest and the great respect inspired in all who knew him by his uprightness of character and kindly disposition. No other person had been so long and so prominently identified with the business which, during his connection with it, had grown from what was almost a mere handicraft to a leading place among the great industries.
Brother Goddard married on- April 7, 1849, Miss Eugenia D. C. Ball, a native of Holden but living with her parents in Worcester at the time of their marriage. Of this union two children survive him, Julius Goddard and Mrs. Willietta Goddard Ball, both of whom now reside in Topeka, Kansas.
Although Brother Goddard never became a member, he was.for many years a most regular attendant upon religious worship at the Union Congregational Church and was always generous in its support. His religion was of the kind which manifested itself in deeds rather than words, and his life characteristics indicate an essentially Christian spirit..
His naturally retiring disposition and his fidelity to the interests of his employers hindered to some extent his active participation in the burdens of public office. He was always deeply, interested, however, in public matters, jealous of the reputation of his city, keenly alive to its best interests, and for along time influential in its affairs. . He served as a member of the Common Council, in 1860, 1862, 1873 and 1874, and as Alderman, in 1865, 1868 and 1869.
There was, perhaps, no place in Massachusetts where the Morgan, or anti-Masonic, excitement was greater, or attracted a larger percentage of the leading business and professional men, than Worcester County, where it actively interfered with the affairs of both Church and State. Brother Goddard's father, being naturally a man of positive convictions and great earnestness, arid sustaining an important relation to one of. the leading industries, having adopted a position hostile to the Fraternity, was prominent and outspoken in his opposition, and after a bitter contest, was elected to the General Court upon the anti-Masonic issue. It is, however, worthy of note that his son Henry never sympathized with his father's attitude, and was among the earliest to ally himself with the Fraternity in the Masonic revival, which followed this great excitement. This act seemed to completely upset his father's antagonism to the Order. From the moment that he knew of his son's connection with it he never uttered another word against Freemasonry. He buried the hatchet and for the twenty years that he lived thereafter neither his son nor any one else had any occasion to know that he had ever carried one. His father was not the only one, to whom Brother Goddard's open avowal of his Masonic relations and his steady illustration of its principles in his daily life, carried conviction. Others who had been hostile to the Fraternity were heard to say that if all its members were like Henry Goddard there was much to be said for it and nothing against it.
He received the first three degrees in Morning Star Lodge in 1847, being raised to the degree of Master Mason, on August 3. He served as Worshipful Master of this Lodge, in 1852, 1853 and 1854. In 1866, he was the first Master of Athelstan Lodge, and served again in that capacity in 1880. He was elected Senior Grand Warden of this Grand Lodge, and served in that office during the year 1858. In 1861 and 1862, he was District Deputy Grand Master for what was then the Sixth District, which included the nine Lodges of Worcester, Framingham,.Natick, Barre, Warren, Clinton, Marlborough and Southbridge.
He was exalted, in Worcester Royal Arch Chapter on March 26, 1850, served as High Priest of that Chapter from 185.8. to 1864, and was later made an honorary member of that Body. In 1859, he became Grand Scribe of the Grand Royal Arch Chapter of this Commonwealth and for several years prior to his death was its senior member. He received the Cryptic degrees in Hiram Council of Royal and Select Masters on May 19, 1858, and served as Thrice Illustrious Master of that Body in the years 1864 to 1867. He received the orders of Knighthood in Worcester County Commandery in 1855 and was its Eminent Commander in 1866, 1867 and 1868. On September 7, 1871, the Commandery elected him to honorary membership. He received the Scottish Rite degrees in 1863 in Boston Consistory, was subsequently a Deputy Master of Worcester Lodge of Perfection, and was the first Senior Warden of Lawrence Chapter of Rose Croix, which was instituted on June 17, 1870.
As evidence of his activity in promoting the welfare of the Fraternity, we note that in 1859 he withdrew from Morning Star Lodge to aid in the support of Montacute Lodge, then being formed. In 1866 he became a charter member of Athelstan Lodge and in 1870 a charter member of Lawrence Chapter, of Rose Croix, and of Goddard Council, Princes of Jerusalem. The Brethren who were identified with the institution of the last-named Body, manifested their high esteem for Brother Goddard by giving his name to the Council.
When the Masonic Bodies in Worcester first occupied their present Halls, in 1866, Brother Goddard was one of those most actively interested in securing them!, and was a generous contributor in preparing them to suitably accommodate the Fraternity. He was made a member of the Board of Directors of Masonic Apartments at its organization, and up to the time of his death, was active in the management of that Body and its successor, the present Trustees of the Masonic Fraternity.
Few men in Worcester had a larger personal acquaintance, and none were more highly respected. Modest and unassuming, he never sought preferment, but when it came he faithfully performed the duties it imposed. In his relations with his fellowmen, he exemplified the principles of charity and brotherly love, and by his many amiable qualities made himself beloved by men of every station. His deep sympathy with any who were in trouble, was continually manifested by his kindly acts. To such he gave freely and gladly, never grudgingly. A single incident out of many is most characteristic: A paper soliciting a small sum in charity for an unfortunate workman was presented to him and another official of the company. The other said to Brother Goddard, "These papers are very annoying, don't you find them so?" His reply was, "They have never annoyed me. I suppose I have signed hundreds of them."
He was thoroughly devoted to his business, proverbially honest, and his great simplicity and purity of character were recognized and prized by all who knew him. Departing, he has left the record of an upright and honorable citizen, a kind and genial man, a true and sympathizing friend, an enthusiastic, sincere and devoted Mason.
FORREST E. BARKER,
THOMAS T. BOOTH,
MATTHEW GAULT,
Committee.
From Proceedings, Page 1904-143:
"R.W. Henry Goddard was summoned to the newer and higher life on January 12, 1904. His funeral was held at his residence in Worcester, January 15, and attended by a large gathering of loving friends and neighbors. The Grand Lodge was represented by the Grand Master, and R.W. Forrest E. Barker, Senior Grand Warden. The officers of Worcester County Commandery Knights Templar, of which he was a Past Commander, performed the beautiful Templar burial service over his remains. Brother Goddard was Senior Grand Warden of this Grand Lodge in 1858. Respected and loved by all the Brethren of his district, and by a large circle of friends and acquaintances throughout the State, who knew him as a man of sterling character and noble worth. He was a quiet man without sensational brilliancy — but he filled a.well rounded sphere of usefulness, and leaves behind him the remembrance of his upright Christian character, his loving fraternal spirit and his genuine honesty of soul.
"From the dust of the weary highway,
From the smart of sorrow's rod;
Into the Royal presence
They are bidden, as guests of God.
The veil from their eyes is taken,
Sweet mysteries they are shown:
Their doubts and fears are over.
For they know as they are known."
---