MAGLHBagley
From MasonicGenealogy
HERBERT PRESCOTT BAGLEY 1867-1952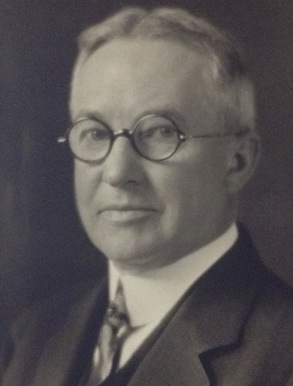 MEMORIAL
From Proceedings, Page 1953-26:
Right Worshipful Brother Bagley was born in Haverhill, Massachusetts, on May 21, 1867. He was the son of Hiram A. and Mary E. (Boardman) Bagley. Leaving school at an early age, he entered the employ of a Haverhill shoe concern and soon after located in Boston, entering the oil field as a salesman. He removed to Worcester in 1888 and founded the White and Bagley Company, world-known manufacturers of oils and lubricants.
His contributions to the oil industry consist of developing coolants for precision grinding and special lubricants for metal working. HL was closely connected with the automobile industry, being particularly interested in the scientific benefits derived from racing and bringing to this field a knowledge of lubricants and lubrication. The trade name of the White and Bagley Company, "Oilsum," is internationally known as an outstanding line of oils and greases.
Brother Bagley's first Masonic affiliation was with Morning Star Lodge in 1898, and he served as its Worshipful Master for two years, in 1905 and 1906. He was a charter member of Isaiah Thomas Lodge and Rose of Sharon Lodge of Worcester, and Matthew John Whittall Lodge of Shrewsbury. He was appointed Deputy Grand Master of the Grand Lodge of Massachusetts in 1926 and was a member of the Board of Directors from 1927 until his death. His installation as Deputy Grand Master took place in the Masonic Temple at Worcester, and he was signally honored at that time, being obligated on the Holy Bible presented to Morning Star Lodge by Most Worshipful Isaiah Thomas. Also used in this ceremony were the gavel and Master's chair used by Most Worshipful Brother Thomas when he was Master of Morning Star Lodge.
Right Worshipful Brother Bagley was a member of Worcester Royal Arch Chapter, Hiram Council, Royal and Select Masters, and Worcester County Commandery, No. 5, Knights Templar. He also held membership in Worcester Lodge of Perfection, Goddard Council of Princes of Jerusalem, Lawrence Chapter of Rose Croix, and Massachusetts Consistory. In 1923 he was created a Soverign Grand Inspector General, Honorary 33°, of the Supreme Council.
He was Chairman of the Building Committee for the erection of the Worcester Masonic Temple. He was a member of the Worcester Masonic Charity and Educational Association, serving as its President from 1919 to 1922, and largely through his efforts, the Temple mortgage was liquidated.
While Brother Bagley's main interests were his home, business end Masonic affiliations, he found time for social and civic affairs, being early identified with the work of the Community Chest.
His widow, Jeanette E. Gates, and a son, Edwin Gates Bagley, a grandson, and two great grand daughters survive him. Funeral services were held in the First Unitarian Church, Worcester, December 1, 1952.
Fraternally submitted,
Frank L. Simpson
Russell L. Blackmer
John H. Bartlemess, Jr.
Committee
---