MAGLGSanger
From MasonicGenealogy
GEORGE PARTRIDGE SANGER 1819-1890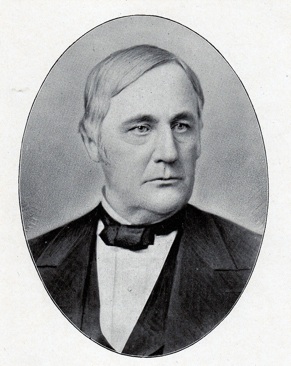 From the collection of the Grand Lodge of Masons in Massachusetts
Deputy Grand Master, 1886
MEMORIAL
Memorial, Page 1890-79:
"The subject of this sketch was born at Dover, Mass., Nov. 27, 1819. He was the son of Rev. Ralph Sanger and' Charlotte Kingman Sanger, and a grandson of Rev. Zedekiah Sanger, a noted divine of the last century; also a direct descendant of Richard Sanger, who came from England and settled in Hingham,. Mass., in 1636.
"He fitted for college under his father's instruction, and at the Bridgewater Academy, entering' Harvard College in 1836 graduating in 1840. After teaching for two years in a private school in Portsmouth, N.H., he entered the Harvard Law School, receiving the degrees of A.M. and LL.B. in 1846. In the same year he was admitted to the Suffolk bar, and immediately commenced the practice of law in company with Stephen H. Phillips, then of Salem. This partnership continued but a short time when he became associated with Charles G. Davis, of Plymouth, a former classmate. In 1849 he became assistant to Hon. George Lunt, then U.S. Attorney for the District of Massachusetts. After Mr. Lunt's retirement he resumed the general practice of law in Boston. He was District Attorney for Suffolk County from October, 1853, until the summer of 1854, when he >vas appointed by Governor Washburn a judge of the Court of Common Pleas, and so continued until the abolition of that Court, in 1859. In 1861 he was again appointed Distript Attorney for Suffolk County, to fill an unexpired term, and elected in the autumn of that year for the remainder of the term of three years; was reelected in 1863, and again in 1866, and in 1869 declined further service in that position, in order to give his whole time to the John Hancock Mutual Life Insurance Company, of Boston, of which he was president for several years.
"In June, 1873, he was appointed Attorney of the United States, for the District of Massachusetts, and retained that position until the appointment of his successor in April, 1886. He devoted much time and labor to literary work pertaining to the law. At two different periods he was editor of the 'Law Reporter', and of the Statutes at Large of the United States, from 1855 to 1873. After his admission to the bar he resided in Charlestown, and took a very active interest in the affairs of that city. He was, for two years a member of its School Committee, and afterwards a member of the Board of Aldermen, After removing to Boston he was a member of the Common Council, and in 1873, while residing in Cambridge, was elected a Representative to the Legislature.
"In early life: he was very much interested in the militia of the State, and'was the. first Captain of the Charlestown City. Guards. In 1853-4 he was elected Commander of the Ancient and Honorable Artillery Company, and later, an officer of the Independent Corps of Cadets, and was appointed a member of the Military Staff of Governor Clifford.
"He was married Sept. 14, 1846, in Portsmouth, N.H., to Elizabeth Sherburne, daughter of Captain' William W. and Eleanor Sherburne Thompson, by whom he had four sons. As a member of our Fraternity we knew him best. R.W. Brother Sanger was deeply interested in our Institution, and took an active part in its affairs. He received the degrees in Freemasonry in Columbian Lodge, being initiated Sept. 1, 1853, crafted March 2, 1854, and raised April 14, 1854, taking membership May 4, 1854. He retained bis membership until 1865, when he dimitted in order to become a Charter Member of the The Lodge of Eleusis. He was elected Senior Warden of that Lodge, Dec. 20, 1866; Dec. 17, 1868, he was elected Worshipful Master, which office he held two years. R.W. Brother Sanger served the Grand Lodge as Corresponding Grand Secretary from Dec. 30, 1873, to Dec. 27, 1881; as a member of the Board of Trustees of the Masonic Edncation and Charity Trust from Jan. 1, 1885, to Jan. 6, 1886; and as Deputy Grand Master from Dec. 29, 1885, to Dec. 28, 1886. - Thus through all his career, we find him holding positions of great responsibility and honor, and that the duties of the several offices were faithfully performed is amply attested by the love and esteem in which he was held by all who knew him.
"He bore the infirmities of age with the fortitude and equanimity characteristic of his sweet-tempered disposition, and he has left behind him the memory of an honored member, of his profession and a high-minded gentleman, whose lovable traits of character, gained him, everywhere, the warmest affection of his fellow-men. He died in Swampscott, Mass., after a sickness of more than a year, on the 3d of July last, and his remains were interred at Mount Auburn, oh the fifth of that month.
Fraternally submitted,
RICHARD BRIGGS,
CHAS. S. ROBERTSON,
RICHARD W. SUTTON,
Committee.
---