MAGLFCaspar
From MasonicGenealogy
FREDERICK G. CASPAR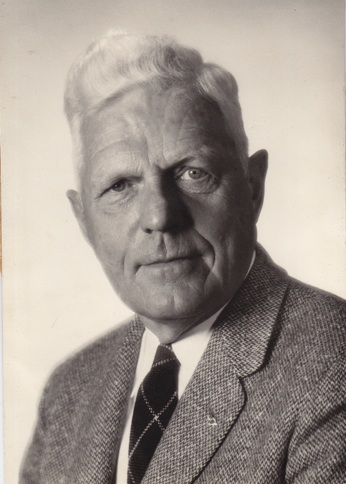 Junior Grand Warden, 1963
MEMORIAL
Right Worshipful Frederick Girstave Caspar was born in Lisbon Falls, Maine on July 8, 1894, the son of Richard G. and Emma H. (Knuepher) Caspar. He grew up on Lisbon Falls, attended public schools there, and graduated from Lisbon Falls High School. He also graduated from Bliss Business School of Lewiston, Maine.
He came to Lawrence in 1914 and was associated with his uncle in a retail business ol which he became owner in 1941. This successful enterprise continued until his retirement in 1971. During this time he was actively engaged in the affairs of the business community serving as President of the Chamber of Commerce and President of the Atlantic Cooperative Bank. His other civic activities included being a Charter Member and Past President of the Lawrence Lions Club, Trustee of the Lawrence Boys Club, and over thirty years as a member of the Y.M.C.A.
Brother Caspar's Masonic record is long and distinguished. He received his Entered Apprentice Degree on March 9, 1917, Fellow Craft Degree on April 27, 1917, and his Master Mason Degree on June 15, 1917 in Grecian Lodge of Lawrence. He was Worshipful Master of Grecian Lodge in 1935-1936 and District Deputy Grand Master of the Lawrence Eleventh Masonic District in 1950-1951.
In Grand Lodge Brother Caspar was Junior Grand Warden in 1963 and Grand Representative to Prince Edward Island from 1955 to 1982. He was a member of the Education Committee from 1955 to 1962. He received the Henry Price Medal in 1963 and the Veteran's Medal in 1967. He was presented a plaque commemorating sixty-five years a member in 1982.
A long time member of the York Rite Brother Caspar was exalted a Royal Arch Mason in Mount Sinai Royal Arch chapter on April 17, 1924, received the Super Excellent Degree in Lawrence Council Royal and Select Masters on June 11, 1924, and, was created a Knight Templar in Bethany Commandery No. 17 on June 23, 1924. He served Bethany Commandery for two years as Standard Bearer and three years as Captain of the Guard.
Brother Caspar had a long and active career in the Scottish Rite. He belonged to Lawrence Lodge of Perfection, Zion Council Princes of Jerusalem, Lowell Council Princes of Jerusalem, Mount Calvary Chapter of Rose Croix, Lowell, and Massachusetts Consistory. He was Most Wise Master of Mount Calvary Chapter from 1964 to 1967. He received the Honorary 33rd Degree in Chicago, Illinois on September 27, 1961.
A veteran of World War I. Brother Caspar served in the United States Army as a Sergeant First Class in France.
He was a member of the First Congregational Church of Methuen, and served that church as a Deacon for eight years and also as a Trustee.
Brother Caspar was married to Dorothy Ruth Swanton on October 3, 1928 in the First Baptist Church, Methuen. They have a daughter, Dorothy Ann, who along with her mother survives him. Right Worshipful Brother Caspar died at Lawrence General Hospital, Lawrence on July 4, L982. A Memorial Service was held on Wednesday, July 7, 1982 at First Church Congregational, Methuen. He led a long, active and productive life filled with love, service and dedication to God, his country, his family, the community, and to Masonry, exemplifying throughout his life the finest principles of our Fraternity.
Respectfully submitted,
Eugene G. Oldfield
Fred A. Dobson
Norman A. Ray
Committee
---