MAGLFADobson
From MasonicGenealogy
FRED ARTHUR DOBSON 1928-2010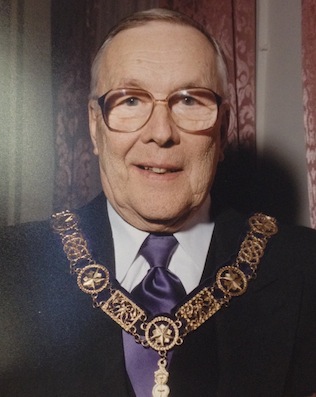 12/08/2010: 2010-146
MM 1958, WM 1969, John Hancock
DDGM, Lawrence 11, 1982-1983
Grand Standard Bearer 1988, Grand Marshal 1999-2001, Senior Grand Warden 2002
BIOGRAPHY
From TROWEL, Spring 2002, Page 6: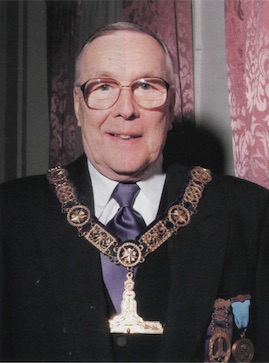 As has been the custom in this Grand Lodge, Right Worshipful Fred A. Dobson was elected Senior Grand Warden, the retiring Grand Marshal being allowed to run unopposed, for his three years of service. Brother Dobson served those three years as Grand Marshal for M. W. Fred K. Bauer.
Born in Uxbridge. Massachusetts (on June 17. a familiar date to Masons), his family moved to Methuen when he was an infant, and he was educated in the Methuen schools, graduating from Edward F. Searles High School. After serving his military obligation in the U.S. Navy, he graduated from Wentworth Institute. He was then employed by the John A. Volpe Construction Company of Maiden, where he remained for more than forty years, retiring as Vice President.
Fred and his wife Jacki. who now live in North Reading, have been married for almost fifty years, and are the proud parents of three children. Glen, Jean and Fred. Jr. They have seven grandchildren.
Brother Dobson was made a Master Mason in John Hancock Lodge. Methuen. He progressed through the line and was elected Worshipful Master in 1969. He later served the Lodge as Marshal. Chaplain and Ritualist at various times. He is a charter member of Merrimack Valley Daylight Lodge, an affiliated member of The Masters Lodge and Norumbega Fraternity Lodge, and an honorary member of North Reading Lodge.
Having served as District Deputy Grand Secretary, in 1981 he was appointed District Deputy Grand Master of the Lawrence Eleventh Masonic District by M. W. J. Philip Berquist, and served in that office in 1982-83. In 1988 he served as Grand Standard Bearer, having been appointed by M. W. Albert T. Ames, and as such traveled with M. W. Brother Bauer, the latter being Deputy Grand Master at that time.
Brother Dobson is a member of the Scottish Rite Bodies of Lawrence, Lowell and Boston. His York Rite membership includes the Reading and Melrose bodies, and affiliation with St. Bernard Commandery No. 12 of Boston. He has been an Aleppo Shriner for many years, and was recently made an honorary member of the Clown Unit. He is also a member of the Aleppo Past Masters Association and an Adjutant. He is a member of the Massachusetts College. M. S. R. I. C. F.; the Past District Deputy Grand Masters Association; and the Lawrence Past Masters Association.
MEMORIAL
Fred A. Dobson, 82, of North Reading, formerly of Methuen, died Monday, Nov. 22, 2010 at the Prescott House in North Andover. He was the loving husband of the late Jacqueline (Beauschesne) Dobson.
Born in Uxbridge on June 17, 1928, he was the son of the late Frederick and Evelyn (Crowther) Dobson. He was a graduate of Searles High School in Methuen and Wentworth Institute in Boston. He was a U. S. Navy Veteran of the Korean War. He served from 1946 to 1953.
Fred had a lifetime career at the Volpe Construction Company in Malden, where he worked for 44 years. He was a Chief Estimator and Vice President. He was a member of John Hancock Lodge in Methuen for 52 years and the Grand Lodge of Massachusetts. He had been a resident of North Reading for the past 52 years.
Family members include his sons, Glen A. Dobson and Fred A. Dobson, Jr., both of North Reading; and his daughter, Jean M. Acciavatti and her husband John of Wenham; his brother, Frank A. Dobson of Cottage Grove, Ore., grandchildren, Danielle Carlson, Glen, Kristen, Nicole and Trevor Dobson and Emily and Lana Acciavatti. He is also survived by two great-grandchildren, Michael and Ryan.
---