MAGLESmith
From MasonicGenealogy
EDWARD F. SMITH 1836-1912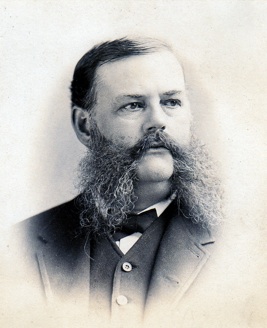 Senior Grand Warden, 1897
MEMORIAL
From Proceedings, Page 1912-98:
R. W. Bro. Edward Franklin Smith was born at Bridgeport, Me., Oct. 5, 1836, and died in Portland, Me., May 30, 1912.
He was always a firm believer in social, fraternal, and benevolent orders and was a distinguished member of the I.O.O.F. and the Knights of Honor, in each of which he was accorded high honors as well as in our own beloved Order. He was also a member of the Massachusetts Society, Sons of the American Revolution, his great grandfather, Thomas Mayberry, Jr., having served with distinction with the Continental troops from Massachusetts.
Our R.W. Brother was made a Master Mason in Mount Lebanon Lodge June 8, 1874, and was admitted to membership September 14. He was elected Senior Warden 1881-1882 and Wor. Master 1883-1884. He received the R.A. Degree in St. Andrew's R.A.C. Jan. B, 1888, and the Order of the Temple in Boston Commandery Sept. 19, 1888.
He was appointed D.D.G. Master of the First Masonic District in 1887 and was elected Senior Grand Warden of this Grand Lodge in 1897.
Brother Smith's Masonry was not merely a name or a means of social enjoyment but a practical reality, and if ever a man embodied the living principles of our Order he did. This was no effort on his part but was the simple expression of his true nature.
Masonic honors meant little to him unless associated with that manliness and sincerity which characterized his dealings with men. All who knew him will remember the modest, unassuming, kindly, benevolent spirit which was a part of the man himself. The humblest craftsman was as free to seek his advice and sympathy as he who was high in authority and each was received with that gentle graciousness and consideration which put him at once at his ease and made him feel he had met an old and tried friend.
In most of the Orders to which he belonged he quickly came to be one of the Charity Committee and his associates soon learned that when a member was helped it was more often from Brother Smith's own pocket, than from the funds of the Lodge, and the names of those are many to whom Edward F,'Smith will be a blessed memory because of service rendered them in their hour of need. His charity was not alone of the material kind but was that charity of heart also which overlooks and forgives the frailties of humanity and sees only the good back of all.
The influence of such a mark is a benediction and in him Freemasonry has lost, one of its shining exemplars. Of him it may be said as did Shakespeare in characterizing a man of similar lofty ideals and purposes, "He was a man. Take him for all in all I shall not look upon his like again."
Respectfully submitted,
Charles E. Phipps,
Walter B. Tripp,
C. S. Hadaway,
Committee.
---