MAGLCPhipps
From MasonicGenealogy
CHARLES EDWIN PHIPPS 1852-1934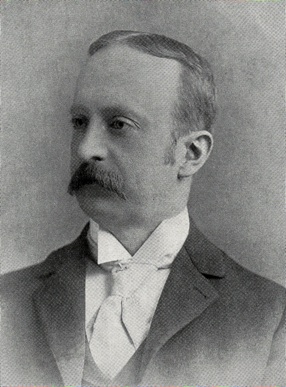 Grand Sword Bearer, 1890-1892
Grand Marshal, 1893-1895
Junior Grand Warden, 1896
MEMORIAL
From Proceedings, Page 1934-223:
Right Worshipful Brother Phipps was born in Boston May 8, 1852, and died in Brookline October 18, 1934. Educated in the Boston schools, Brother Phipps spent his life in the wool business.
He took his degrees in Mount Lebanon Lodge in 1880 and was its Master in 1885 and 1886. He was Junior Grand Warden in 1897.
He was a member and. Past High Priest of St. Andrews Royal Arch Chapter, and a member of Boston Council. He received the orders of Knighthood in Boston Commandery, but dimitted and affiliated with St. Bernard Commandery in 1893 and was its Commander in i903.
Brother Phipps was quiet, unassuming, but full of gentle courtesy and genuine good feeling. Although advanced in years, we never thought of him as old. We shall sorely miss his familiar figure from our gatherings.
From Proceedings, Page 1934-341:
Born in Boston, May 8, 1852
Died in Brookline, October 18, 1934
Right Worshipful Brother Charles E. Phipps, son of Dr. James M. Phipps and Susan Miller, was born at the corner of Eliot and Washington Streets, Boston, Massachusetts, and died at Brookline on October 18, 1934, as the result of injuries received when an automobile backed into him in Scollay Square, Boston, Massachusetts.
Rt. Wor. Bro. Phipps was a Franklin Medal scholar at the Brimmer School and entered the English High School, Class of 1870, with hopes and thoughts of a higher education. But this was not to be. Death called his father in 1869 and he was obliged to seek work to help maintain his mother and younger brother. On January 1, 1870, he was employed by James Lovett, Inc., cloth merchants, later he became one of the firm of Lovett, Hart and Phipps, the name of the firm later being changed to Phipps, Dean, Inc. He sold out his interest in this firm and retired in 1914.
In 1910, he was elected to the Board of Corporators of the Massachusetts Savings Bank and began service on the Board of Trustees in 1922 and became a member of the Board of Investment in 1925. He served in these capacities until his death - in fact, on the day he received his injuries he was on his way home from the Bank. Those associated with him during these years recognized his worth, appreciated his intelligence, and respected his judgment.
Rt. Wor. Bro. Phipps was appointed in 1902 to the Cemetery Committee of the City of Boston and served until June, 1921, refusing a further nomination. He was Chairman of the Board during most of the time.
Rt. Wor. Bro. Phipps was a member of Grand Lodge No. 8, I.O.O.F. for sixty-one years, joining in 1873 and being its oldest member at the time of his death.
Rt. Wor. Bro. Phipps received the Entered Apprentice degree in Mount Lebanon Lodge March 8, 1880, passed to the degree of Fellow Craft, April 12, 1880, and was raised to the degree of Master Mason, June 14, 1880. He was Junior Warden in 1883, Senior Warden in 1884, and Worshipful Master in 1885 and 1886. Rt. Wor. Bro. Phipps filled offices under four Grand Masters. Serving as Grand Sword Bearer for the years 1890, 1891, and 1892 under Most Wor. Samuel Wells, he served as Grand Marshal for three years, having the unique distinction of serving under three different Grand Masters - with Most Wor. Richard Briggs in 1893, Most Wor. Otis E. Weld in 1894, and Most Wor. Edwin B. Holmes in 1895. He was elected Junior Grand Warden in 1896, thereby becoming a permanent member of the Grand Lodge.
He became a member of the First Worshipful Masters Association in Massachusetts, February, 1886, was its Secretary in 1890 to 1894 and Vice-President in 1905 and 1906. He received the Capitular Degree in St. Andrew Royal Arch Chapter and was its Most Excellent High Priest in 1890 to 1892. He was knighted in Boston Commandery but affiliated with St. Bernard Commandery, December 13, 1893, and was its Eminent Commander in 1903.
A lover of the Craft, quiet and unassuming, a living exponent of its moral and spiritual truths, Masonry for him was not offices to fill, official positions to be sought, prestige to be gained - it was a life to be lived, ideals to be sought, standards to be upheld. He had a wonderful genius for sociability, and natural skill in friendliness, whose happy heart gathered about him a host of deep, loving, and sincere friends. Widely sought as an after dinner speaker his keen insight, ready wit, good humor, grasp of his subject and the situation in which he was placed made of him a speaker whose charm of manner and grace of delivery fastened the facts he marshalled in the mind, and whose voice was a luted song to the ear.
Funeral services were held at his residence in Brookline and attended by a host of sincere friends who mourned for this Grand Old Man of Masonry - now laying aside the working tools of his profession that he might be raised an immortal sou. in his Father's Kingdom.
.Rr Wor. Bro. Phipps is survived by his widow, Florence E., née Boyce, to whom he was married October 9, 1879, and one son, Dr. Cadis Phipps, and a granddaughter.
"The record of a generous life runs
like a fragrant vine around his memory."
Frank E. Buxton
Starr A. Burdick
George E. Seabury
Committee
---