MAGLEDunbar
From MasonicGenealogy
EDSON STANLEY DUNBAR 1899-1967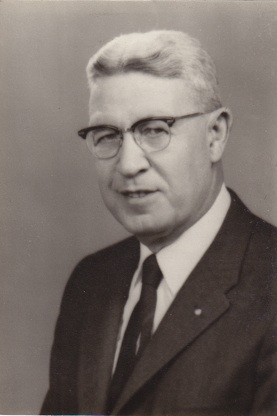 Junior Grand Warden, 1961
MEMORIAL
Right Worshipful Edson Stanley Dunbar, past Junior Grand Warden of the Grand Lodge of Masons in Massachusetts, died Monday, August 14, 1967, in Springfield., Massachusetts.
Right Worshipful Brother Dunbar was born in South Hadley Falls, Massachusetts, on January 6, 1899, the son of Harrison Eugene and Helen Goudy Brown Dunbar. He attended the Hadley Public Schools, Williston Academy and Amherst College.
From 1917 to 1958 he was associated with the Chemical Manufacturing Company and the CrockerMcElwain Company of Holyoke. He then became affiliated with F. T. Burkhardt, Inc., paper mill agents of Holyoke, as Vice President. Brother Dunbar originated the Giaphic Arts Victory Committee and became its first National Chairman.
Brother Dunbar was a veteran of World War I and active in his community. He was a member of the First Congregational Church of West Springfield, serving as Trustee for twenty-three years and as Superintendent of the Church School for twenty-nine years. He was Chairman of the Boy Scouts of America, District 6, which includes Agawam and West Springfield. Brother Dunbar was also a Director and Past President of the Paper Makers Advertising Association, a member of the Holyoke Rotary Club, and Town Moderator of West Springfield for twelve terms. He was a past Director and Treasurer of the Direct Mail Advertising Association and was also a member of the Paper Club of New York and the Boston Paper Products Assocation.
Our Brother had a deep affection for Masonry. His father, who became the first Master of Elm Lodge, was Master of Mount Holyoke Lodge in 1899-1900 and conferred the Entered Apprentice Degree on Brother Edson Dunbar on June 10, 1920. He received the Fellow Craft Degree on August 26 and was raised to the Sublime Degree of Master Mason in Mount Holyoke Lodge on September 23, 1920. He was Junior Warden in 1923-1924 and demitted on December 2, 1926.
Brother Dunbar became a Charter Member of Elm Lodge and was installed as Senior Deacon, becoming Master in 1927. He was District Deputy Grand Master of the Springfield 33rd District in 1940-1941, Junior Grand Warden in 1961, Chairman of the Grand Lodge Service Committee from 1955 until his death, Grand Representative for the Grand Lodge of Puerto Rico 1966 to date. He was the recipient of the Henry Price Medal in 1961.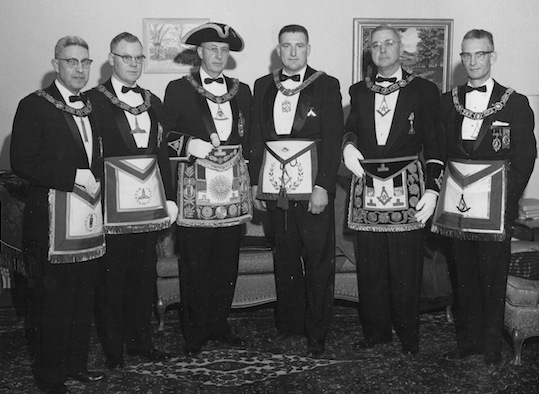 Junior Grand Warden Reception, 1961
Dunbar received the Royal Arch Degree in Kingsway Chapter oJ West Springfield on April 28, 1926.
He was also a 32° Mason, having received his degrees in Evening star Lodge of Perfection; Massachusetts Council, Princesof Jerusalem; Springfield Chapter of Rose Croix, and Connecticut Valley Consistory, all of Springfield where he held no offices but was an ardent degree worker.
He was also a member of Melha Temple, A.A.O.N.M.S., and a Past Patron of West Springfield Chapter, O. E. S.
Brother Dunbar was married April 20, 1931, to Pauline Foerster, who survives him, together with a daughter, Mrs. Carol D. Greenfield, of West Springfield, and one granddaughter.
Masonic services were conducted by Elm Lodge at the Dickinson-Streeter Funeral Home at 7:30 P.M. on Wednesday, August 16, 1967. His funeral was at the First Congregational Church of West Springfield on Thursday, August 17, 1967,,at 2:00 P.M. The serviceswere conducted by the Reverend Brothers Malcolm Mathewson and C. Fraser Keirstead.
Attending were delegates representing the Paper Sales Industry, Town Officials of West Springfield and the Grand Lodge of Masons in Massachusetts, including Alexander R. Dunbar, Grand Lecturer and Past senior Grand warden, Right Worshipful Truman E. Robbins, District Deputy Grand Master for the Springfield 33rd Masonic District, R. W. Kenneth H. Keys, Past District Deputy Grand Master, and Ill. Horace V. Weeks, 33°, representing the Scottish Rite Bodies of Springfield.
Burial was in Springfield Cemetery.
Respectfully submitted,
Laurence E. Eaton
Truman E. Robbins
Daniel Pisano
Committee
---