MAGLEChase
From MasonicGenealogy
EDWARD LEWIS CHASE 1858-1920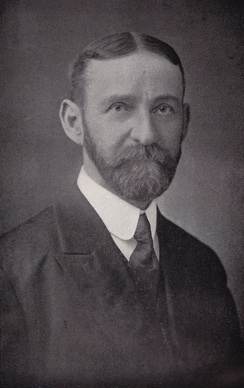 MEMORIAL
FROM PROCEEDINGS, 1920
From Proceedings, Page 1920-83:
It is with sincere sorrow that I announce the decease of R. W. Edward L. Chase, of Hyannis, Past Junior Grand Warden of this Grand Lodge.
He was born April 23, 1858, and passed away January 1, 1920, after a busy and successful life. By his industry and faithfulness in local and public affairs, he won and retained the respect and confidence of his fellow citizens. He was a zealous Freemason, giving his strength and time to the interests of our Order. His being taken from the activities of life will be sadly felt in civil and Masonic circles on the Cape, where he was generally known and universally respected.
From Proceedings, Page 1920-226:
RIGHT WORSHIPFUL EDWARD LEWIS CHASE died at Hyannis, Massachusetts, January 1, 1920, and was buried with Masonic rites by Fraternity Lodge on Sunday, January 4th, after a Templar service by Sutton Commandery, K. T., at the Federated Church, Hyannis.
By the passing of Right Worshipful Brother Chase beyond the portals into the Eternal Lodge we lose an ardent Mason, a respected citizen, and a loyal and devoted friend. He was born in West Yarmouth, April 23, 1958, of Heman B. and Martha Crowell Chase. He was educated in the public Schools of Yarmouth, Barnstable High School, and Brook's Private School of Hyannis.
He was married September 15, 1880, at Hyannis, to Cleone B., daughter of Sidney and Arabella Bearse Crowell, and had three children, Sidney Crowell, a member of Fraternal Lodge, who died March 4, 1906, Edward Lewis, Jr., and Gladys (Mrs. William B. Whitney). who, with his widow, survive.
In 1882 he moved to Hyannis and engaged in the grain and coal business, establishing also an insurance agency and became a prominent business man in the town and county.
He was a man of keen intelligence and deepest sympathy, being never too busy to lend an attentive ear to the many who sought his counsel and advice and was ever ready with a helpful hand and a kindly, cheerful word.
He was always ready to serve the public interests, holding the office of County Treasurer for twenty-five years; was on the Prudential Committee of the Hyannis Fire District for years; was many times elected trustee of the Universalist Church, at which he was a constant attendant; he was a regular attendant at town meetings, usually one of the first to arrive and taking important part in the deliberations.
He was for years a director of the First National Bank and afterward of the Hyannis Trust Company and was at the time of his death its Vice-Piesident.
His services were much sought in the conveyancing of land, as he probably knew more boundaries and owners of real estate than any other man in the town. He settled many estates and for several years was manager of the large and important real estate holdings of the Clark estate. He was Treasurer of the Hyannis State Normal School Students' Loan Fund, since its establishment, over twenty years; was one of the incorporators of the Cape Cod Hospital and its Clerk and Treasurer.
He was made a Mason in Fraternal Lodge in 1886 and was Worshipful Master in 1893 and 1894 and later served several years as Secretary, and was a Trustee of its Permanent Fund. He served as Proxy, to this Grand Lodge; was associate member of the Board of Masonie Relief ; was District Deputy Grand Master for the year 1895, in the then Twenty-Eighth Masonic District; was elected Junior Grand 'Warden of the Grand Lodge in December, 1916, and served for the year 1917.
He was exalted a Royal Arch Mason November 11, 1886, in Orient Chapter, and. after serving in various offices was High Priest in 1891 and 1892. He was elected Grand Scribe of the Grand Royal Arch Chapter of Massachusetts for the year 1908. He received the degrees in the Cryptic Rite in New Bedford Council of Royal and Select Masters in 1910, and the Orders of Knighthood in Sutton Commandery No. 16, of New Bedford, in 1904. In the Ancient and Accepted Scottish Rite he attained the 32d degree in 1912 and was a member of Boston-Lafayette Lodge of Perfection, Giles F. Yates Council Princes of Jerusalem, Mount Olivet Chapter of Rose Croix, and Massachusetts Consistory.
As a man, citizen, and Mason, he was beloved by all with whom he came in contact, ever modest, retiring, and yet aggressive in all matters standing for right and justice.
"How brief this drama of our life appears.
The good die not. This heritage they leave -
The record of a life in virtue spent:
For our own loss at parting we may grieve -
Lives such as his build their own monument.
Fraternally submitted,
William M. Farrington,
Walter B. Chase,
Alex T. Stuart,
Committee.
FROM NEW ENGLAND CRAFTSMAN, 1920
From New England Craftsman, Vol. XV, No. 4, January 1920, Page 126:
Rt. Wor. Bro. Edward Lewis Chase, died at his home in Hyannis, Mass, Thursday, January 1, 1920.
Bro. Chase was Master of Fraternal Lodge, Hyannis, 1893-4; secretary, 1898 to 1913; District Deputy Grand Master, 1895; Junior Grand Warden of the Grand Lodge in 1917. A special communication of Fraternal Lodge was held on Sunday, January 4, at 1.30 p. m. to conduct his funeral. R. W. Bro. Chase leaves behind him beside his family, a host of friends and brethren to whom his loss not only a shock, but a great personal loss.
---