MAGLEChapin
From MasonicGenealogy
EDWARD PLINY CHAPIN 1839-1922
Senior Grand Warden, 1896
BIOGRAPHY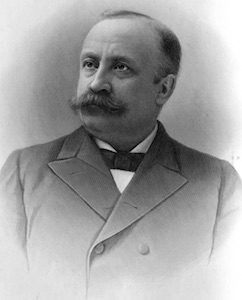 From Liberal Freemason, Vol. XI, No. 9, December 1887, Page 276:
The name of Chapin is so intimately associated with the prosperity and growth of the city of Springfield, that the one suggests relationship with the other to the mind of one who may be tolerably familiar with the flourishing County of Hampden, in the Commonwealth of Massachusetts.
Springfield, the capital city of this county, is built upon the East bank of the Connecticut river, part of it on the high lands, from which the observer may overlook another part on the lower lands which may be said to form the river's banks, and on which the principal business houses of the city grow and flourish. The city is 98 miles W. by S. from Boston, in Lat. 42° 6' 10" N. Long., 72° 35' 12" W., has wide streets, good buildings and charming residences, with an abundant growth of New England's favorite shade tree, the American Elm, but along with these are enough of other varieties to give pleasing contrast, as well as to add to the beauty of the scene.
The first settlement made here was in 1636 by emigrants from Roxbury, under the leadership of William Pynchon, who is described as a gentleman of wealth and education. Mr. Pynchon was a native of Springfield, England, and in compliment to him, the name of that town was adopted in 1640, in preference to Agawam, an Indian name, by which they had heretofore described it.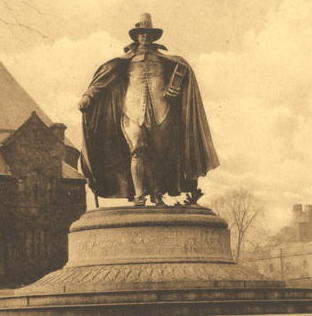 Deacon Samuel Chapin Statue, Springfield
At the unveiling of the Chapin Statue in Springfield on November 24th, 1887, the Rev. Dr. A. L. Chapin in his oration said, "The Chapin name is identified not only with the city's beginning and its growth and its most valuable Improvements, but with other special benefactions, ornamental, useful and charitable."
In this city, where the name of Chapin has been a leading and influential one for 250 years, Edward Pliny Chapin was born on the 7th day of October, 1839. Then as now, the views from his native place were beautiful and inspiring: from the hills, the valley of the Connecticut, north and south land to the west could be seen stretching away for miles, until at places, earth and sky seemed to kiss each other. Toward the north, Mt. Holyoke and Mt. Tom lifted their hazy heads to the clouds, as between them the river ran and found its way through the fertile valley to the distant ocean.
The sense of gladness, of liberty, and of firmness which these scenes inspired, each found a ready place in the character of the boy, and ripened into a sound maturity in that of the man. In the pursuits of business after which the ways of his life have led, he has been honored among his fellow citizens: popular and efficient as Postmaster of Springfield, he laid that down to take up the work of Commissioner of Savings Banks for the Commonwealth, and always holding the respect and approval of those whom he is so well qualified to serve. To follow him in matters of business is not the intent of this notice, therefore we rest, to speak of him in his Masonic relations.
On the 5th clay of September, 1867, Edward Pliny Chapin was initiated an Entered Apprentice in Roswell Lee Lodge, in Springfield; Crafted November 23d, following; and was made a Master Mason January 25th, 1868. In 1875, he was elected from the floor to the office of Worshipful Master, an exceptional fact, but highly complimentary to the new Master.
He was advanced to the degree of Mark Master Mason March 6th, 1868; received the Past and M. E. Degrees in regular order, and the Royal Arch Degree, May 8th, 1868 in Morning Star R. A. Chapter, of which body he was Treasurer from 1870 to 1876, or seven years in all.
He received the degrees in Springfield Council of Royal and Select Masters, May 12th, 1875; was elected Treasurer in 1878, and has been continued in that office since.
In Springfield Commandery, he was created a Knight of the Red Cross June 1st, a Knight Templar and Knight of Malta June 8th, 1868. Here, too, he became Treasurer, being elected such in 1870, and so continued until 1874, when he was elected Generalissimo. In this body he retired from office for three years, but the sudden death of the Commander-elect on the evening of installation, in December, 1877, created a necessity for the services of Sir Knight Chapin, who was elected Eminent Commander, re-elected in 1879 and 1880, and discharged the duties incumbent upon the office with such rare tact and ability that prosperity was never more pronounced in the Commandery, nor its membership more united. For some time a heavy debt had rested upon the body, in consequence of new apartments then recently fitted up and occupied by the Masonic bodies in Springfield, but under his administration this was paid and a large balance was left in the Treasury. This happy condition of things has continued and the Commandery now has several thousands of dollars in its well-filled Treasury.
The part which Sir Knight Chapin played in securing such happy results, was so highly approved by his brethren, that they gave it expression in tangible form, and presented him an elegant gold watch, chain and charm, at a cost of over $400. The inscription on the watch reads: "To Eminent Commander Sir E. P. Chapin, by Springfield Commandery Knights Templars, Nov. 1, 1880." He is now one of the Trustees of the Permanent Fund of the Commandery.
At the annual conclave of the Grand Commandery 01 Massachusetts and Rhode Island, held October 29th, 1880, he was elected Grand Junior Warden, and was re-elected in 1881. In October, 1882 and 1883, he was elected Grand Captain General; in 1884, Grand Generalissimo; in 1885, Deputy Grand Commander, and Grand Commander in 1886.
It is needless to say that in these several high offices he displayed the same industry and sagacity though in a broader field, which had made him conspicuous locally. Genial among the brethren, manly among men, and loyal among the most loyal of Knights Templars, he has been one of the most discreet and useful among the many of similar character who have presided over the Grand Commandery of Massachusetts and Rhode Island.
To this, it may be well to add, that our distinguished brother received the ineffable degrees in Evening Star Lodge of Perfection, June 23d, 1875.
In this number of the Liberal Freemason we present a portrait of Sir Knight Chapin, recently engraved, and in so doing, we accompany it with the wish, that Freemasons everywhere may have as good practical examples of what is becoming in men and worthy of the Institution.
MEMORIAL
From Proceedings, Page 1922-53:
Born October 7, 1839,
died February 8, 1922.
His birthplace was "OId Chicopee Street," Chicopee, Massachusetts, where many generations of his ancestors had been born. Son of Pliny and Emily (Blackmer) Chapin, he was a direct descendant of Deacon Samuel Chapin whose statue as the personification of "The Puritan" by Saint Gaudens adorns Merrick Park, near Springfield City Library. Right Worshipful Brother Chapin was educated in the Springfield public schools, and upon graduation entered the employ of the Western Railroad, now the Boston & Albany, where he worked as a forwarding clerk, until his appointment as paymaster's clerk at the United States Armory at the beginning of the Civil War.
In 1875 he engaged in the hardware business with his brother-in-law, Charles A. Kibbee, under the firm name of Chapin & Kibbee. Later he was for some time treasurer of the Hampden Paint & Chemical Company, eventually being made president of that company.
In 1883 he was appointed postmaster of Springfield by President Arthur, which office he held for three years.
In 1886 he was appointed to a position on the State Board of Savings Bank Commissioners by Governor Robinson, and made his headquarters in Boston until 1891, when he resigned from that board to accept the presidency of the Pynchon National Bank of Springfield, which position he held until the dissolution of that corporation in 1900 or 1901. After this he spent several years in the banking business in Drummond, Montana, then returned to Springfield for a short time, finally going to West Brattleboro, Vt., where he had lived in recent years, with his daughter, Mrs. Wright. While living in Springfield, Right Worshipful Brother Chapin was interested in many enterprises of a commercial character. He was a member of the finance committee of the Springfield Institution for Savings, president of the Forest Park Heights Company and a member of the Hampden County Horticultural Society. He called the meeting and presided when the Springfield Board of Trade was organized. He was at one time president of the Springfield Cemetery Association and interested in many philanthropic works. In matters political he had considerable interest and served two years as alderman, during which time he reorganized the Fire Department of the city.
Right Worshipful Brother Chapin's interest in the Masonic Institution had extended over half a century, and until the time of his leaving Springfield he had been very active in every work that promoted the good of the Institution.
He was raised in Roswell Lee Lodge, A.F. and A.M. January 25, 1868, was Master of that Lodge in 1875 and, in December, 1894, was appointed District Deputy Grand Master for the Sixteenth Masonic District, and in 1896 was elected Senior Grand Warden of this Grand Lodge. He was exalted in Morning Star Royal Arch Chapter May 8, 1868. He received the Cryptic degrees in Springfield Council, Royal and Select Masters, May 12, 1875. He was knighted in Springfield Commandery, Knights Templars, June 8, 1868, and was Commander in 1878, 1879, and 1880. In the Grand Commandery of Massachusetts and Rhode Island, he was Grand Junior Warden in 1880 and 1881, Grand Captain General in 1882 and 1883, Grand Generalissimo in 1884, Deputy Grand Commander in 1885, and Grand Commander in 1886. In the Scottish Rite he received the degrees as follows: in Evening Star Lodge of Perfection June 23, 1875, in Massasoit Council, Princes of Jerusalem, December 22, 1892, and in Springfield Chapter of Rose Croix, April 11, 1894. He was president of Springfield Masonic Hall Association at the time of the erection of the present building and continued in that office for several years.
Right Worshipful Brother Chapin was married in June, 1866, to Miss Edna Kibbee, daughter of Dr. C. A. Kibbee, a physician of Springfield. They had four children of whom three are now living, Mrs. F. C. Wright, of West Brattleboro, Vt., Mrs. E. O. Smith, and Horace Chapin, of Springfield.
Right Worshipful Brother Chapin was descended from a long line of New England ancestry of which he was justly proud. From the earliest settlement of the Connecticut Valley to the present time the Chapins have been men of large influence and prominence in the history of that part of Massachusetts, and in the life of our departed Brother were exemplified many of those sterling traits of character for which his ancestors were noted. In his mature manhood he developed to a large degree the initiative and ability of leadership and in many causes for the betterment of his fellow men he was the moving spirit.
He was kind and generous in his dealings with all people with whom he came in contact, and if he had an outstanding fault it was a too implicit faith in the integrity of his brother man. His life was well spent in good works, ancl may his reward be in accordance with the Christian Faith in which he was an implicit believer.
Edwin A. Blodgett,
Edward P. Kendrick,
Dwight H. Keyes,
Committee.
---