MAGLCReed
From MasonicGenealogy
CHARLES G[ARDNER]. REED 1835-1899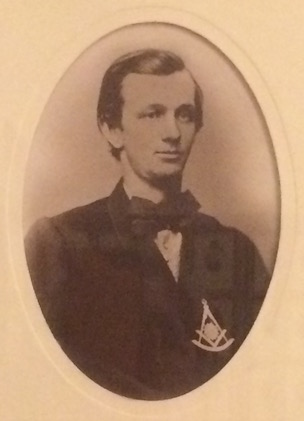 Junior Grand Warden, 1874
MEMORIAL
From Proceedings, Page 1899-185:
Charles Gardner Reed was born in North Brookfield, Mass., April 22, 1835. At the age of fourteen he removed, wdth his parents, to Worcester, where he attended the public schools, and in clue time graduated from the High School. Shortly after graduation he entered the employment of a wheelwright, and after a few years established for himself the business of manufacturing carriage wheels and carriage materials. In this business he continued until the time of his death.
Diligent and energetic in the conduct of his own affairs, he early became the object of public attention. He was elected a member of the Common Council in 1869, and was reelected in 1870, '71 and '73, serving as President of that Body for the three years last named. He served on the Board of Aldermen during the years 1880, '81, '82 and '83, and was elected Mayor of the city in 1884 and 1885. His administration was marked with honesty, energy and dignity, and he emerged from the conflict of public life with integrity unchallenged.
To the service of the church he gave much time and careful attention, and was for several years Superintendent of the Sunday School connected with Plymouth Congregational Church, of which organization he was a member. To the service of Freemasonry he brought the same characteristics displayed in his public career and private business. He was made a Mason in Morning Star Lodge, Nov. 1, 1859, and was elected W. Master in 1862, 1864 and 1867. He was exalted in Worcester Royal Arch Chapter, June 22, 1860, and served that Body as M. E. H. P. in 1867 and 1868. He became a charter member of Eureka Royal Arch Chapter at its organization iu 1871. Hiram Council of Royal and Select Masters conferred upon him the Cryptic Degrees in December, 1860. He received the Orders of Knighthood in Worcester County Commandery, K. T., June 20, 1861, and was Eminent Commander in 1883. He afterwards served the Commandery as Prelate for several years. He was elected Junior Grand Warden of the M.W. Grand Lodge of Massachusetts, for the year 1874, under the Grand Mastership of our present R.W. Recording Grand Secretary, Sereno D. Nickerson.
He died suddenly from heart failure on the evening of Nov. 21, 1899, as he was returning home from a public meeting. Funeral services were held in Plymouth church, where the Templar burial service was performed by the officers of Worcester County Commandery. His remains were interred in Hope Cemetery.
Brother Reed's character was upright and well rounded, his life energetic and useful, his influence pure and uplifting, his example worthy of emulation.
ROBERT W. CLIFFORD,
HENRY GODDARD,
CHAS. A. WEAVER,
Committee.
---