MAGLCFFisher
From MasonicGenealogy
CLAYTON FAY FISHER 1898-1992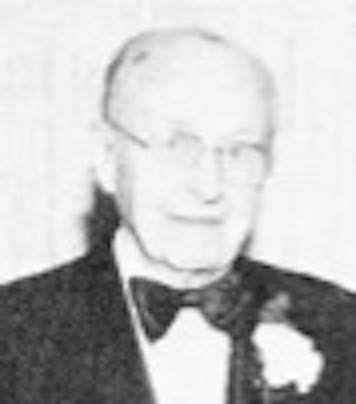 Junior Grand Warden, 1952
PRESENTATION, 1986
From TROWEL, Fall 1986, Page 27: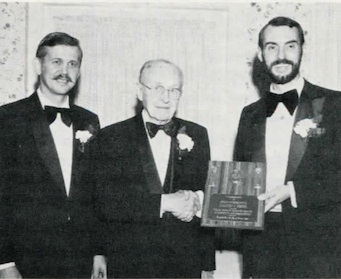 R. W. Clayton F. Fisher (center) was honored in October, 1985, for his 60 years of service to Masonry and to his community.
The senior Past Senior Grand Warden was given a plaque by Wor. Mark S. Lammi, Master of Spencer Lodge, as R.W. Arthur M. Kinne, then-D. D. G. M. of the Brookfield 21st, lent his smile of approval.
MEMORIAL
From Proceedings, Page 1992-53:
Clayton Fay Fisher was born in Worcester, Massachusetts on April 22, 1898, son of Fredrick Bumside Fisher and Annette Isabel (Hildreth) Fisher. Spending his early life in Worcester, he received his education in the Worcester public school system, Worcester Boys Intemational Correspondence Schools.
On September 30, 1919 Brother Fisher married Helen Hamilton Parker of Worcester, Massachusetts, who passed away July 3,1966. They were blessed with four children. A son Hildreth Hamilton Fisher of Cape Elizabeth, Maine, and three daughters, Virginia Fay Briggs of Manchester, Connecticut, Cynthia Frances Fisher of Worcester, Massachusetts, and Darthea Ann Maurand of Spencer, Massachusetts (who passed away in 1981). There are twelve grandchildren, numerous great-grandchildren and one great great granddaughter among his survivors.
Brother Fisher remarried on June 24, 1969 to Doris May (Rollins) of Holden, Massachusetts. They enjoyed eighteen years together until Doris passed away March 31, 1987.
He was employed in a number of drafting and engineering positions by local manufacturing companies. In 1935, he was hired by Sleeper & Hartley, Inc., as Vice President. His responsibilities included drafting, engineering, design, sales and advertising. He continued in this capacity until 1945 when he became president and General Manager. He served Sleeper & Hartley in this capacity until he retired in 1957. Although retired he was not idle. He became a sales representative and consulting engineer for the following companies;
Wickwire Spencer Steel Corp., Palmer, MA
Webster Spring Co., Oxford, MA
Torrington Mfg. Co., Tonington, CT
Geo. E. Belcher Co., Stoughton, MA
Worcester Automatic Machine Co., Worcester, MA
Wire Machines Ltd., Hoboken, NJ
Prutton Corporation, Cleveland, OH
A member of the Wire Machinery Builders Association from 1945 until his death, he served this national organization as its Secretary-Treasurer from 1953 until 1969, 14 years.
He also served the community as an incorporator of spencer Savings Bank for 14 years. He served on the Executive committee of the Spencer Good Samaritan & District Nurse Association from 1936 to 1972.
He was also active in his church. In 1899 he was christened at Union Congregational Church, in Worcester. In 1905, his family having moved, he attended the First Baptist Church in Worcester. Clayton was baptized at a}e 14 and served as a teacher and member of the canvas committee until he became associated with Wickwire Spencer Steel Corporationn 1923. At that time he became a member of the First Congregational Church, Spencer. True to form, Clayton became active in his church as:
Sunday SchoolTeacher, 1924-1933
Sunday School Superintendent, 1933-1935
Deacon, 1937-1954
Moderator, 40 Years
Chairman of Ushers, 1944-L954
Finance committee, 10 Years
Every Member Canvas Chairman, 1961-1969
In 1910, at age 12, clayton Fisher joined the Boy Scouts of America. He loved this organization with great zeal. He progressed rapidly serving as Patrol Leader, Senior Patrol Leader, Assistant Scoutmaster, and Scoutmaster. He served as Scoutmaster to four separate troops, three of them at the same time: Worcester Troop #7, Spencer Troop #115, North Brookfield, and Brookfield. Also while Scoutmaster, he was deputy commissioner and assisted in the formation of troops in Leicester, Charlton and a second troop in Spencer at St. Mary's Church. Having served the Boy Scouts of America for 21 years Brother Fisher retired.
His interests were now in Freemasonry, where he had become a line officer in Spencer Lodge AF&AM, Right Worshipful Brother Fisher received his Entered Apprentice Degree September 1, 1925; Fellow Craft Degree October 6, 1925; Master Mason Degree November 3, 1925. He became Master of Spencer Lodge in 1938 and 1939. He served as Proxy to Grand Lodge from 1966 to 1986. Representative to the Board of Masonic Relief 1966 and Treasurer of Spencer Lodge AF&AM 1965 to 1975, and Historian for 100th Annivenary celebration of Spencer Lodge in 1971.
Brother Fisher believed education was important to our new members and became active in the Sixth Lodge of Instruction. He was the third degree instructor from 1939 to 1954. He also served as Master of the Lodge of Instruction in 1941, fifty one years ago, giving him the distinction of being the oldest Past Master of the Sixth Lodge of Instruction for a number of years.
Most Worshipful Arthur W. Coolidge appointed him District Deputy Grand Master of the Brookfield Twenty First Masonic District for the year 1944. He was reappointed again in 1945 by Most Worshipful Samuel H. Wragg. He was appointed Grand Pursuivant in 1948. In 1952, Brother Fisher was elected Junior Grand Warden, an office he served with honor and distinction. That same year he was a recipient of the Henry Price Medal and was appointed Grand Representative to the Grand Lodge of Guatemala near the Grand Lodge of Massachusetts. Right Worshipful Fisher also served the Grand Lodge Service Department as zone 4A and 4B Committeeman for thirty three years, 1945-1978. He was the interim Director in 1958. One of his favorite organizations was the Past District Deputy Grand Masters Association of Massachusetts, of which he was a member since 1946, and its President in 1954-1955.
Brother Fisher was an active member of the Scottish Rite and York Rite Bodies. He received his Scottish Rite degrees in Worcester Lndge of Perfection, Goddard Council Princes of Jerusalem which he served as Sovereign Prince 1952-1953, and Lawrence Chapter of Rose Croix. He was a member of the Casting Committee, the Advisory Council, a member of the Committee on Archives and served as convening officer for Installation Ceremonies. A member of Massachusetts Consistory in Boston and a line officer in Massachusetts Council of Deliberation 1952-1956. He was created a Sovereign Grand Inspector General, 33°, Honorary Member of the Supreme Council on September 26,1962, in Philadelphia, Pennsylvania.
In York Rite, he was a member of Eureka Royal Arch Chapter, Hiram Council Royal & Select Masters, and Worcester County Commandery No. 5 serving as Eminent Commander in 1957-1958 and as Treasurer for 10 years from 1962-1972. He was a representative to the Worcester Masonic Education & Charity Trust and a member of the Charity Committee. Representative of the Grand Commandery of South Dakota near the Grand Commandery of Massachusetts and Rhode Island. Brother Fisher served as Chairman of the Public Relations Committee Grand Commandery of Massachusetts and Rhode Island. A member of Saint Matthew's Conclave, Red Cross of Constantine, Brother Fisher served as its Sovereign in 1971.
Brother Fisher joined a number of other Masonic bodies including; Melha Temple A.A.O.N.M.S., Worcester County Shrine Club, Wesley Square Club, Royal Order of Jesters, and the Aletheia Grotto.
Brother Fisher passed to the Celestial Lodge above on March 29, 1992 n the Shrewsbury Nursing Home. A Masonic service, well attended by his friends and his Brethren in Freemasonry, was held at Caswell King Funeral Home, Worcester with a church service at the First Congregational Church of Spencer. Internment took place at Hope Cemetery, Worcester.
Respectfu lly submitted, R.W. Arthur M. Kinne
R.W. Richard J. Stewart
R.W. Lee F. Merlin
---