MAGLBGould
From MasonicGenealogy
BENJAMIN APTHORP GOULD 1824-1896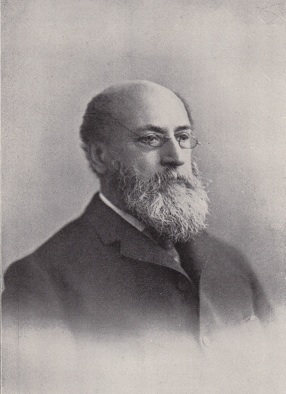 NOTES
From Liberal Freemason, Vol. IV, No. 10, January 1881, Page 315:
Brother Benjamin A. Gould, well known in the scientific world, has recently been spending a short time in Boston, his native city. He has been for some years residing in Cordova, Argentine Republic, engaged in astronomical pursuits. As an astronomer, he has achieved a reliable and extended reputation, and the interest taken in him is not limited to the scientific public, but his brethren in Massachusetts are also interested in his progress and welfare. Brother Gould was made a Mason in Liberty Lodge, Beverly, Mass., some twelve years ago. We have a pleasant recollection of having conferred the Ineffable degrees upon him, and he has since received the Honorary degree of 33° in the Northern Jurisdiction of the United States. During his brief stay in Massachusetts he has received the degrees in Royal Arch Masonry in St. Andrews Chapter in Boston, in November last, and on his return will make the ninth Royal Arch Mason residing in Cordova, where it is proposed to establish a Chapter, probably under English Registry.
BIOGRAPHY
From TROWEL, Spring 1986, Page 3:
Gould's childhood was precocious. He was the grandson of Capt. Benjamin Gould of Revolutionary War fame and it was said the younger Gould could read at age three. Boston-bred and educated, he sailed for Europe in 1845 to study astronomy in England. France, and Germany. He returned home to earn an LL.D. from Harvard, a Ph.D. from Columbia, and later the Order of Merit of Prussia.
Possessed with an affinity to genealogy and history, he was president of the Colonial Society of Massachusetts, vice president of the Massachusetts Society of the Cincinnati and of the Bunker Hill Monument Association. He was Raised in Liberty Lodge, Beverly, in 1869 and a year later took the degrees in Scottish Rite. While working in Buenos Aires he was Master of the Lodge of the Southern Cross at Cordoba under the Grand Lodge of England. He received the Thirty-Third Degree in 1874 in Boston and in 1883 he received the degrees in York Rite Masonry. In 1890 he was appointed Deputy Grand Master by M.W. Samuel Wells. Bro. Gould affiliated with the Lodge of St. Andrew in Boston and it was there, as well as in Grand Lodge, that he was best remembered. He was the special representative (1874-85) of the Supreme Council of the Northern Jurisdiction to that of the Argentine Republic.
MEMORIAL
From Proceedings, 1896-366:
"It is not often that the Masonic Body is called to lament the death of one not only prominent in Masonry, but of world-wide fame in matters outside of the Fraternity. The great statesmen, great men of affairs, great scientists, the leaders of the world's thought and action, whose names are known through two continents, are rarely known also as great Freemasons. The reason for this is not far to seek. These men, although they may perhaps have taken the degrees, are usually too busy in their own affairs, or think themselves too busy, to spend the time upon matters of administration and ritual required of all who aspire to high Masonic office. When, therefore, it sometimes happens that one whose life is given to scholarship, to science, to education, still refuses to be too busy in these pursuits for active Masonic work as well, and is ready to find beneath the garb of ceremonial the living body and spirit of our beloved Institution, it is matter of note and of good omen. Such a one was Benjamin Apthorp Gould.
"He was born in Boston, September 27, 1824. His father's name, the same as the son's, was familiar to the students of fifty years ago upon the title-page of various classical works. The grandfather was Capt. Benjamin Gould, an officer of the Revolutionary army. Gould's childhood was precocious. It is currently reported that he could read when three years old, and that at the age of five he translated an Ode of Horace. His preparation for college was mainly in the school long famous as 'Thayer's,' and now as 'Chauncy Hall,' and in the Boston Latin School. His versatility in college may be inferred from the fact that at the junior exhibition he had a Greek part and at the senior exhibition a disquisition upon the 'Association for the Advancement of Science.'
His part at graduation was a mathematical disquisition, and the Order of Exercises, with its italicized Mathematics and Physics against his name, shows that he had already attained distinction in the branches which he subsequently made so largely his own. He notes in the class book that he did not deliver this part for lack of declamatory ability. This will not surprise those who remember his rare and diffident attempts to speak in Lodge. He always said exactly what he meant to say and in the most terse and well-considered words, but anything less oratorical cannot well be imagined.
"After graduation he taught for a while and then, in 1845, sailed for Europe to study astronomy, the science which for more than half a century was the main occupation of his life. He studied for three years in the great observatories of England, France and Germany, visited all the important observatories of Europe, and returned home to improve upon and practise what he had learned. This is not the time or place to recount the services rendered by Dr. Gould to Science. They will be recorded in the memoirs of the various learned societies of Europe and of America which sought his membership. Besides the diplomas of' these societies, he also bore the distinction of Doctor of Laws of Harvard and of Columbia, Doctor of Philosophy of Göttingen, and Knight of the Order of Merit of Prussia. One thing is worth mentioning — a thing that can be said of few — that when death came to him the lifework which he had laid out for himself had been accomplished. It was granted to him to pursue it to the end in the fulness of strength. His last great work, that upon the Southern Stars, for which he had collected material during his official residence in the Argentine Republic, a book which it was his one desire to live to finish, is in such a condition of completeness that it will be given his brethren of science as from his own hand.
"Of Dr. Gould's well-known interest in American history and genealogy it is enough to record that he was President of the Colonial Society of Massachusetts, and Vice President of the Massachusetts Society of the Cincinnati, and of the Bunker Hill Monument Association. Dr. Gould's delightful domestic life, his hospitality, the wit, charm and sympathy of his conversation, need only be mentioned to awaken the keenest sense of loss iu the minds of all who knew him. It remains to speak of him as a Mason. He entered upon Masonry somewhat late in life, being forty-five years old when he received the Master's Degree in Liberty Lodge, Beverly, June 28, 1869. He was at that time full of his great plan for exploring the Southern celestial hemisphere, and was contemplating a long residence in the Argentine Republic and the founding, of an observatory there. It may be guessed that this plan furnished the immediate impulse for joining the Masons, for he probably knew that no other institution could so well give him that friendship and companionship which every stranger needs in a foreign land.
"He took the degrees of the Scottish Rite in March and April, 1870. In May he embarked from New York, and after brief visits to Hamburg, Berlin and Paris, arrived at Buenos Aires the August following. The years from then until 1872 were occupied in organizing his observatory at Cordoba, and from then until 1885, with the exception of occasional visits home, in carrying out his contemplated astronomical work. He evidently, in spite of engrossing labor, made time for Masonic work as well; for, from 1879 to 1882, we find him Worshipful Master of the Lodge of the Southern Cross at Cordoba under the Grand Lodge of England, and on his return in - 1885 he was made an honorary member of this Lodge. He was also an honorary member of the District Grand Lodge under the Grand Lodge of England. He was likewise interested in the Bodies of the Scottish Rite. On one of his visits to Boston, in 1874, he received the Thirty-third Degree, and from that time until 1885 he was the special representative of the Supreme Council of the Northern Masonic Jurisdiction of the United States to that of the Argentine Republic. He was an honorary member of the Argentine Supreme Council, of the Lodge Piedad y Union and the Chapter of Rose Croix of the same name at Cordoba, under that Council, and of an English Chapter of Rose Croix at Buenos Aires.. He often helped them in their labors, for he worked equally well in Spanish and in English. Since his return he has sometimes been heard to say that he was probably the only Mason of New England that had conferred the first three degrees in a Body of the Scottish Rite.
"Meantime, he was not forgetful of the duty of keeping himself in touch with the Masonry of his own State. On one of his visits home, in 1880, he received the Chapter Degrees in St. Andrew's Chapter, and on another, in 1883, the Templar Orders in St. Bernard Commandery. After his return, to Boston to reside permanently, he became a member of St. Bernard Commandery, and also of the Lodge of St. Andrew. In this old Lodge he took the greatest interest, and one of his cherished plans was to become its historian on the occasion, a few years hence, of its 150th anniversary. His Masonic spirit was shown in nothing better than in the fact that although he had borne so many of the higher honors of the Order, he did not hesitate in this Lodge to assume the humblest offices. In 1887 he was Junior Steward. From that he came by degrees to be Senior Warden in 1894, and this office he held until his death.
"In 1890 he assumed, by appointment of Grand Master Wells, the duties of Deputy Grand Master of Massachusetts, and discharged them for two years with his wonted fidelity. As a Permanent Member of this Grand Lodge he was rarely absent from a meeting, and it is here, more than anywhere save in his own beloved Lodge, that he will be best remembered and most regretted as a Mason.
"Dr. Gould died from the effect of a fall, but without pain, on November 26, 1896. Three days later he was followed to his grave at Mount Auburn by those connected with him by ties of family, friendship and science, as well as by a large assemblage of his Brethren of the Lodge of St. Andrew, the Grand Lodge of Massachusetts, and the Saint Bernard Commandery.
Fraternally submitted,
S. LOTHROP THORNDIKE,
SAMUEL WELLS,
CHARLES M. GREEN,
Committee.
SPEECHES
GRAND LODGE OF MASSACHUSETTS, 1889
From New England Craftsman, Vol. VIII, No. 2, November 1912, Page 48:
FREEMASONRY, THE ESSENCE OF ALL FAITH
Thirty centuries have passed since the earliest of our Brethren, of whom history gives us any definite knowledge, united in rearing in distant Palestine, and on Zion's holy hill, the Temple to the glory of the Most High. They knew Him only as their priests and prophets had revealed Him in those early days, and as they saw Him through the dimly translucent medium of their theology. Today the temples of Freemasonry stud this earthly ball,— rising in almost every civilized land, adorning a hundred capital cities with superb architecture, and scattered through thousands of busy towns and villages. Yet, though all these are still dedicated to the Grand Architect of the Universe, He is no longer adored in them as the representative of any system of theology, but as the Eternal, Almighty, Allwise One, in whom and through all being, whether material, spiritual, exists,— unapproachably above and unutterably beyond all theologies.
Throughout the intervening ages,– comprising by far the greater part and recorded history of mankind, and not improbably of the existence of thinking, worshipping man upon our planet,— we find the traces of a fraternity, composed of the most intellectual and best educated men in their respective lands, who possessed so much of the knowledge of nature's laws as our race had then attained, and who understood, better than their uninitiated fellow-men, the truths typified in the rites and ceremonies of their several religions, notwithstanding these were always veiled in allegories from those deemed incompetent or unworthy to receive them. This sacred knowledge was orally transmitted to the initiates, generation after generation, as a torch is passed from hand to hand, shedding light as it moves on. The Freemason, who studies the history and inspects the monuments of those remote ages, sees the symbols and recognizes the tokens as none of the profane can do. Only the initiate Brother can read and interpret them aright. The crumbling ruins of Nineveh, Baalbec and Karnak, and the structure of the pyramid, like the relics of prehistoric ages found in India and northern Europe, give him messages which the merely scholastic archaeologist cannot understand. At present it cannot be denied that the need for such mystery and caution has largely passed away. The truths and principles, once restricted to the Fraternity alone, have now become a leaven to all humanity without need for secrecy,— at least in lands where thought and faith are free. Under whatever name men attempt to designate the Great Architect,— whether as Jehovah, Jove or Lord; as Baal, Brahma or Buddha, — the progress of our race has taught us to recognize the One Almighty and Eternal, and to know how unessential is the word we use to signify His ineffable name. The initiate now can see how the hierophants of China, India, Egypt, Syria, Greece, gave only different utterances to the same great truths. Our era has witnessed a stage of development in which the husks of doctrine are falling off themselves, and by their own weight, and the fellowship of Freemasonry makes it easier for us to recognize the kernel. It asks no questions as to the substitute employed for the ineffable name; it rises superior to the unessential trappings of dogma; and Brethren meet on the broad ground of adoration to the Father of all, anj recognition of the immortal spirit with which he has endowed us all.
In these fundamental principles of Freemasonry we have the essence of all faith, the religion of all religions and to these has been added, in later days, what Christians know to be their complement, the duty of love and goodwill to all men,— our brothers as children of our common Father. "On these two commandments hang all the law and the prophets," not only for Christians like ourselves, but likewise for other Brethren, who have been trained under different forms of religion, and have followed, as we do, the usages of their native lands and races.
Let us give thanks that we are members of this vast and ancient Fraternity, whose influence now pervades all the regions of the earth and the islands of the sea, and whose tendency is to unite mankind into that more intimate brotherhood, of which bards have sung and prophets told.
---