RIGMWHallstrom
From MasonicGenealogy
WYMAN P. HALLSTROM, JR. 1944-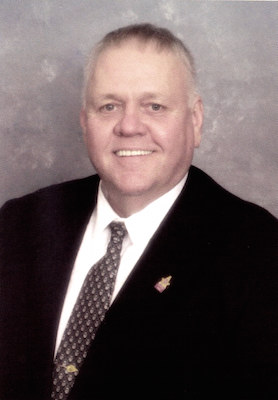 Grand Master 2005-2006
Brother Wyman Peter Hallstrom, Jr. was born in Pawtucket, Rhode Island on May 15, 1944, the son of the late Wyman P. Hallstrom, Sr. and Edith E. (Brindle) Hallstrom and is a life-long resident of Pawtucket. He has one sister, Elizabeth Head, who resides in Lake Okeechobee, Florida.
He was educated in the Pawtucket school system and graduated from Pawtucket West High School in 1962. After graduation, he enlisted in the United States Air Force and served until 1966.
He was employed as an electronic technician for the Raytheon Corporation for over 25 years in various plants in Eastern Massachusetts, prior to that he worked for the Smith Corona Marchant servicing office machines.
He is a communicant of the Episcopal Church of the Advent of Pawtucket and serves as a Lay Eucharistic Minister. In 1969 he married the former Mildred L. Tammany in the Church of the Advent. Their marriage was blessed with two sons; Wyman P. Hallstrom, III and Christopher J. Hallstrom.
Brother Hallstrom was active in scouting and served as a Cub Master of Pack 55, Pawtucket, for four years and earned the Blackstone Valley Cub Master of the year award. In Boy Scouts he served Troop 3 as a committee member and was on the eagle Board of Review.
He began his Masonic career with application to Roger Williams Lodge No. 32 and was initiated in October 1982, passed in November 1982, raised to the sublime degree of Master Mason in January 1983. He served his Lodge as Worshipful Master in 1986 and 1992. Brother Hallstrom is a member of St. John's Lodge No. 1, Providence and an honorary member of Washington Lodge No. 61 in Manchester, NH.
He has served his Grand Lodge as Grand Standard Bearer and as an Assistant Grand Lecturer. He was Chairman of the Grand Lodge Picnic in 2000 and 2002 and chaired the Fall Festival Committee in 2001. In 1998 Brother Hallstrom was appointed Itinerant District Deputy Grand Master by Brother Ronald W. Simpson, Most Worshipful Grand Master, installing one Lodge in each District and hosting the Grand Master's visitation to his Mother Lodge.
As District Deputy Grand Master, he served the Southern, Northern and Metro Districts. He was elected Junior Grand Warden in 2001, Senior Grand Warden in 2002, Deputy Grand Master in 2003, was elected the 150th Grand Master in November 2004 and installed in May 2005.
Brother Hallstrom is a member of Royal Arch Masons, Providence Chapter No. 1; Council of Royal and Select Master Masons, Providence Council No. 1; and Grand Commandery of Knights Templar, St. John's Commandery No. 1.
In the Ancient and Accepted Scottish Rite, Valley of Providence he is a 33° and Past Most Wise Master of the RI Chapter of Rose Croix. In September of 2004 he was made an honorary member of the Supreme Council.
Brother Hallstrom is a member of the Rhode Island Shrine where he is known as "Tiny" in the Clown Unit. He is a member of the Northeast Shrine Clown Association and the former Knights of Mecca.
Other memberships include the Gaspee Order No. 99 Swords of Bunker Hill, the Order of Canadian Lumberjacks, the Royal order of Scotland and the Southern California Research Lodge No. 1005.
---