RIGMWAScott
From MasonicGenealogy
WILBUR ALLEN SCOTT 1874-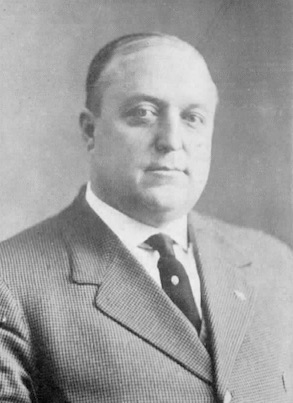 Grand Master 1916-1917
BIOGRAPHY
From New England Craftsman, Vol. XII, No. 8, May 1917, Page 264:
WILBUR ALLEN SCOTT was born in Providence July 29, 1874, the son of Walter A. and Helen (Whipple) Scott, both of whom were natives of Cumberland, R. I. He received his early education in the public schools of Providence, graduating from Bridgham Street school in 1889 and from the Clssical high school in 1893, after which he entered Brown University, graduating therefrom with the class of 1897 with the degree of A. B.
After a two-years' course at the Harvard law school he was admitted to the bar in 1900. In 1905 he was admitted to practice in the United States Courts. For eight years he was associated with the office of Edward D. Bassett in the general practice of law, and for the past eight years he has acted as attorney and claim manager for insurance companies. He is now associates with Leo F. Farrell of Pawtucket, under the firm name of Scott & Farrell, insurance brokers and adjusters.
His Masonic career commenced on April 10, 1903, when he was initiated in Mount Moriah Lodge No. 8, Lime Rock. He was admitted to membership September 4, 1903. He had the unique experience of receiving the degrees at the same time as did his father, and also upon the same evening when they in company signed the by-laws of the Lodge, his brother —Walter O. Scott—was initiated.
At the centennial anniversary of the Lodge, in June 1904, he was the historian, and in November 1906 he was elected Master. In the Grand Lodge he was appointed Grand Sword Bearer in 1908 and 1909. He served as District Deputy for three years and in 1913 he was elected Junior Grand Warden. In 1914 he was Senior Grand Warden, Deputy Grand Master in 1915 and was elected Grand Master of Masons May 15, 1916.
He is a member of Pawtucket R. A. Chapter, of which he was High Priest in 1910-11. In the Grand Chapter he was elected Deputy Grand High Priest March 13, 1917. He has served several years as Grand Representative of the Grand Chapter of Massachusetts near the Grand Chapter of Rhode Island. He is also a member of Holy Sepulchre Commandery No. 8, of Pa -tucket, and of Palestine Temple, A. A. O. N. M. S. He is a member of the University Club and of the Sigma Chi fraternity of Brown University. He also was the first treasurer of the, Brown Union, serving as such for five years.
Brother Scott was married April 2, 1902, to Miss Sybelle Sikes of Augusta, Ga. They have three sons, Wilbur Carleton, Harold Leroy and Kenneth Allen.
---