RIGMVincent
From MasonicGenealogy
THOMAS VINCENT 1837-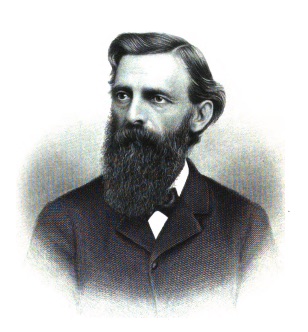 Picture from History of Freemasonry in Rhode Island, 1895, by Henry W. Rugg.
Grand Master 1881-1882
BIOGRAPHY
From History of Freemasonry in Rhode Island, 1895, Page 270:
It was at Pawcatuck, in the town of Stonington, Connecticut, that Thomas Vincent was born, April 7, 1837. His father's name was Thomas Hinckly Vincent, and his mother's name before marriage was Lydia Chesebrough Bradford.
In 1838 his parents removed to Westerly, one of the historic towns of Rhode Island, and a part of the original tract of Misquamicut occupied by a tribe of Indians named the Niantics, of whom many favorable things are said in the ancient chronicles. Tradition makes the first white settlement at Westerly to have antedated that of Providence, but historic authority is wanting to support this claim. It was not until 1660 that Misquamicut was ceded by the Indians to white men, and not until several years afterwards, in 1669, that the town of Westerly was incorporated. This town, situated on the border line between Connecticut and Rhode Island, has made a good record of enterprise, thrift and progress. It has been the birthplace and home of many notable men, and its earlier and later history is luminous because of the general good character of its citizenship.
To this town came the subject of this sketch when but an infant, and there he has resided for most of the time since. He was educated in the schools of Westerly until well prepared for an advanced course, when he entered Alfred University, located at Alfred Centre, Alleghany Co., N. Y., where he obtained a good proficiency in the various branches of academical study. Afterwards, for a number of years, he was engaged in teaching school, in which vocation he was successful to a more than ordinary degree. The work of teaching, however, was not altogether to his liking, and therefore he sought for a business engagement. For several years he was employed as bookkeeper and in other clerical pursuits. He had acquired the confidence and respect of his fellow townsmen, so that in 1876, he was elected Trial Justice of the Justice Court of Westerly, an office the duties of which he continued to discharge to the general satisfaction for nearly six years. In May, 1882, he accepted the office of Treasurer and Secretary of the Niantic Savings Bank, of Westerly, and held that position until the disabilities consequent upon his severe and long continued illness compelled his resignation of its duties. In private and public station alike he has given proof of ability, diligence and good sense, united with those moral qualities that distinguish a virtuous character and a true life.
The Masonic career of Bro. Vincent may be briefly traced as follows:
He was initiated in Franklin Lodge, No. 20, Westerly, November 14, 1867, receiving the degrees of Fellow Craft and Master Mason the next week. He was elected Junior Deacon of the Lodge, January 12, 1869, from which office he was advanced to that of Master, January 17, 1870. He held the last named office two years. He has also served his home Lodge as Treasurer and in other positions.
At the annual meeting of the Grand Lodge of Rhode Island, held May 20, 1872, he was appointed Grand Sword Bearer. In 1873 he served as District Deputy Grand Master. In 1874 he was elected Senior Grand Warden, and held that office for five successive years. In 1879 he was appointed Deputy Grand Master, and re-appointed three successive years. In 1881 he was elected Grand Master and re-elected in 1882. He received the degrees of Royal Arch Masonry in Palmer Chapter, No. 28, meeting in Westerly, R. I., but working under a charter from Connecticut; being Exalted January 11, 1869. He was elected Grand High Priest April 4, 1870, and re-elected the ensuing year.
Bro. Vincent, during all the years of his health and activity, was an efficient promoter of the interests of Freemasonry. He justly secured the confidence of his brethren by a faithful performance of each and every service to which he was called. He was a devoted, upright Craftsman, who never shirked Masonic duty. Thus he gained friends, and received the well merited meed of honorable appreciation at the hands of the members of the Grand Lodge of Rhode Island who elected him to the office of Grand Master almost unanimously.
The physical limitations to which he has been long and painfully subjected, have debarred him from intercourse with his ' Masonic brethren ; but in his "shut in" condition, he yet holds securely the kindly feeling and sincere respect of all those with whom he walked and wrought under the benign auspices of our cherished Fraternity.
---