RIGMSpoerer
From MasonicGenealogy
HENRY GEORGE SPOERER 1920-2006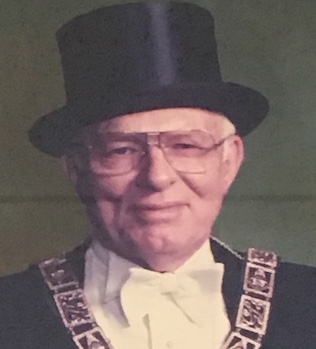 Picture taken from portrait at Pawtucket Masonic Temple.
Grand Master 1981-1982
BIOGRAPHY
Henry George Spoerer of Jenks Lodge No. 24, A. F. & A. M. of Pawtucket was elected and installed the One Hundred and Twenty-Sixth Most Worshipful Grand Master of the Grand Lodge of the Most Ancient and Honorable Society of Free and Accepted Masons for the State of Rhode Island and Providence Plantations at the One Hundred and Ninetieth Annual Communication held at the Scottish Rite Cathedral, Cranston, Rhode Island on May 18, 1981.
Most Worshipful Brother Spoerer was born in Pawtucket, Rhode Island on March 13, 1920, the son of John C. and Mary J. (Hankins) Spoerer.
He was educated in the Pawtucket Public Schools and graduated from Pawtucket High School in 1938. He is a graduate of the American Institute of Banking, Williams College School of Banking and the National Mortgage School at Ohio State University.
Most Worshipful Brother Spoerer served 35 years in the United States Army during World War II, serving in the European Theatre of Operations and was honorably discharged in November 1945.
On August 22, 1942 he married Florence M. Mennie. They live in Cumberland and have two daughters: Janet S. Arndt who lives in Windham, New Hampshire with her husband Kenneth, and two daughters, Elissa J. and Emily J. Arndt, and Priscilla E. Spoerer who lives in Beverly, Massachusetts and is Principal of North Shore Christian School, Lynn, Massachusetts.
Most Worshipful Brother Spoerer has been employed by Rhode Island Hospital Trust National Bank since 1947 and is presently an Assistant Vice President in charge of Residential Mortgage Underwriting. Prior to this assignment he served in the branch system most recently as a branch manager.
Most Worshipful Brother Spoerer is a member of Smithfield Avenue Congregational Church where he has served as Treasurer and Trustee and at the present time is Chairman of the Trustees of the Memorial Endowment Fund of the Church.
Most Worshipful Brother Spoerer was made a Mason in Jenks Lodge No. 24 on March 17, 1947 and was admitted on June 16, 1947. He was elected Worshipful Master on January 6, 1958. He was elected Treasurer in 1964 and served until 1967 when he was appointed Secretary to fill an unexpired term. He was elected Secretary in 1968 and served in this capacity until 1978 when due to the demands of his Grand Lodge duties he asked to be relieved of his duties as secretary. He was then elected Treasurer of the Lodge, a position he holds at the present time. He also serves as Co-trustee of the lssac B. Lawton Trust representing Jenks Lodge, the beneficiary being the Charles Edwin Lawton Memorial Masonic Home which is run by trustees elected from the membership of Jenks Lodge. He is Assistant Treasurer of the Home, a member of the Board of Trustees of the Abbie Frances Lawton Dental Clinic, Central Falls, R.I. and a Director of the Masonic Temple Company, Pawtucket, R. I.
Brother Spoerer holds membership in the following Masonic Organizations: Pawtucket Royal Arch Chapter No. 4; Pawtucket Council No. 2, R. & A. M.; Holy Sepulchre Commandery, No. 8 K. T.; Palestine Temple A. A. O. N. M. S. and is a member of the Knights of Mecca, a unit of Palestine Temple. He holds membership in the four bodies of the Ancient Accepted Scottish Rite and presently is serving as First Lt. Commander in the Rhode Island Consistory. He is a Past Venerable President of the Masonic Veterans Association of Rhode Island and is presently serving as Treasurer. He also holds membership in the Masonic Association of Vermont. Brother Spoerer is also a Past President of the Masonic Secretaries Guild and is an associate member of that organization, and is a member of Gaspee Order No. 99, Swords of Bunker Hill.
He is an Honorary Member of E. L. Freeman Lodge No. 41 and is a recipient of the Hats Off Award for his services to the Order of DeMolay and the Grand Cross of Color for his services to the Order of the Rainbow for Girls.
Most Worshipful Brother Spoerer was honored by being elected Chairman of the Conference Committee of Grand Masters of North America held at Washington, D.C. February 22-24th, 1982.
He also serves Grand Lodge as the Grand Representative of the Grand Lodge of Tennessee, F. & A. M. near the Grand Lodge of Rhode Island.
Brother Spoerer was appointed Sixth District Deputy Grand Master on May 21, 1973 by Most Worshipful Winston H. Leach. He was appointed each year thereafter and served in all the districts except the Fourth and Seventh. He was elected Junior Grand Warden on May 15, 1978, Senior Grand Warden on May 21, 1979 and Deputy Grand Master on May 19, 1980.
---