RIGMSolomon
From MasonicGenealogy
WINFIELD SCOTT SOLOMON 1876-1954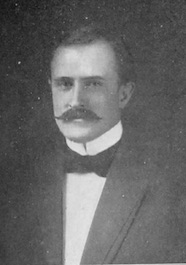 Grand Master 1927-1928
BIOGRAPHY
From New England Craftsman, Vol. XXII, No. 8, June 1927, Page 491:
Winfield Scott Solomon, the newly elected Most Worshipful Grand Master, was born in Delano, Schuylkill County, Pennsylvania, April 25, 1876, of Pennsylvania-Dutch ancestry, second son of Winfield S. and Sara Ann (Neifert) Solomon. The following year the family moved to Wilkes-Barre, Pennsylvania, where he was educated in the public schools.
He began his business career as a paper boy at the age of ten, while attending school. His first permanent employment was in 1890, as an errand boy in a jewelry store in Wilkes-Barre, and later, for more a year he served as a printer's apprentice. This occupation did not prove beneficial for his health, and for the next four years he was associated with a large department store. In 1896 he came to Woonsocket, R. I.
We learn from the proceedings of the Grand Council of R. and S. M., that he was made a Mason in Morning Star Lodge. No. 13, Woonsocket, on May 5, 1898, and admitted to membership on September 29, 1898. Elected Worshipful Master in January 1910, and served the lodge as centennial Master.
While in the Army of Occupation in Coblenz, Germany, he was elected president of the Masonic Club of the Third American Army; in February, 1919, he called together the Rhode Island members of the Club and suggested that they apply for a dispensation; the suggestion was favorably acted upon and a dispensation granted by M. W. Bro. E. Tudor Gross, who in his cablegram suggested that the lodge be named "Overseas." Brother Solomon was named as its first Senior Warden, and when the lodge was constituted on Armistice Day 1920, he was elected Master. Since Nov. 11, 1921. he has been secretary of Overseas Lodge.
Upon his return from Germany in 1919 he was appointed fifth district deputy grand master, and has advanced through the various offices of Grand Lodge, and on May 16, 1927, was elected Grand Master.
He was exalted to the degree of Royal Arch Mason on May 1, 1899, in Union Chapter No. 5, Woonsocket.
He received the Cryptic degrees in Woonsocket Council No. 4, on February 16, 1904, was appointed Conductor of council in 1909, elected Deputy Master in 1910, and Thrice Illustrious Master in 1911. He was appointed Grand Marshal in the Grand Council in 1920, and elected Most Illustrious Grand Master in April, 1925. He holds a commission as representative of the Grand Council of Oregon near the Grand Council in Rhode Island.
He was created a Knight Templar in Washington Commandery, No. 1, Washington, D. C., February 5, 1900, on the eve of his departure for the Philippine Islands. A very unusual incident in this connection was that the applicant's petition was received, acted upon, and all three of the Commandery degrees conferred the same evening. The army orders for the detachment of Signal Corps men to leave for the Philippines was at first made effective on February 5, subsequent orders were received effective February 6th, and it was intimated that the change had been made at the request of a member of Washington Commandery, in order that the applicant might be knighted before leaving for the Philippines. On June 1, 1908, Sir Knight Solomon affiliated with St. John's Commandery of Providence, and in 1920 was one of the organizers of Thomas Smith Webb Commandery No. 51 of Providence, and was elected its first Captain General. He was elected Eminent Commander at the annual conclave in October, 1923.
He is a member of the Scottish Rite bodies of Providence, and a past sovereign prince of Rhode Island Council, Princes of Jerusalem, having been elected to the head of that body in 1918 while in service, during the World War.
He was made a noble in Palestine Temple, Mystic Shrine, in 1905. served for many years in the Arab Patrol, and was its captain for several years. Since which time he has occupied various offices, and is at present the assistant chief Rabban of the temple.
He is a member of the Past Masters Association of Rhode Island, the Secretaries Guild of R. I., the Masonic Veteran Association, Palestine Shrine Club, and a member and past president of Narragansett Bay Chapter, Sojourners Club, this club being composed of army and navy officers who are members of the Masonic Fraternity.
At the outbreak of the World War he offered his services to his country, was commissioned a first lieutenant in the Signal Corps, and was ordered to report at the Signal Corps School at Little Silver, N. J. Two months later he was sent for duty to Fort Wood, (Statue of Liberty) New York Harbor, was promoted to be a captain, and after ten months' service at the fort, was again ordered to Little Silver, where he was assigned to the command of the llTth Telegraph Battalion, was promoted a major, and sailed with his battalion for France in August. 1918, where he saw two months' service at the front lines. When the Armistice was signed he was ordered with his battalion to the Army of Occupation, with headquarters at Coblenz, Germany, where he remained for nearly a year, returning home in August, 1919, and was discharged at Camp Upton, Long Island.
At the close of the War he took up his residence in Providence, and became associated with Bro. John A. Gammons in the insurance business, and is still identified with that office. On June 25, 1921. he was married to Afiss Susan Helen Kenyon, daughter of Charles S. and Nellie May (Campbell) Kenyon. Two children have been born to them. Wiiifield Scott 3rd, on April 3, 1922, and Marjory Campbell on November 19, 1923.
In politics he has been a life-long Republican, and during the years 1921 and 1922 represented the second district of the city of Providence, as State Senator.
His religious affiliations are as follows: At an early age he was confirmed in St. Stephen's Protestant Episcopal Church at Wilkes-Barre, Pennsylvania, his paternal ancestors having been Episcopalians for many generations; the maternal ancestors were Lutherans.
On taking up his residence in Woonsocket he became a member of St. James Episcopal Church in that city, and later transferred his membership to St. James Church, Providence, where he was a vestryman for many Years, and later senior warden.
While a resident of Woonsocket he was one of the organizers of the Y. M. C. A., and was also very active in the work of that association while a resident of Fall River.
---