RIGMRoSimpson
From MasonicGenealogy
RONALD W. SIMPSON 1946-2006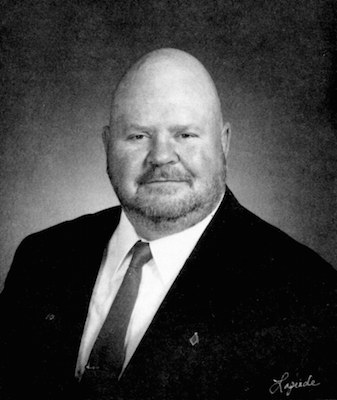 Grand Master 1998-1999
BIOGRAPHY
Ronald W. Simpson, a member of Roger Williams Lodge No. 32 and Hamilton Lodge No. 15, and was installed 143rd Grand Master of the Grand Lodge of the Most Ancient and Honorable Society of Free and Accepted Masons for the State of Rhode Island and Providence Plantations at the 207th Annual Communication held at Freemasons' Hall, East Providence, Rhode Island on May 18, 1998.
Most Worshipful Brother Simpson was born in Providence, Rhode Island on October 28, 1946, the son of Elizabeth (Waddington) Simpson and the late William Simpson. He has one younger brother, Kenneth F. Simpson, who resides in Maine.
He received his education in the Providence School System receiving his degree in design drafting in 1964. In 1965, Brother Simpson enlisted in the Rhode Island National Guard receiving an Honorable Discharge in 1971. Over the past 34 years he has worked in the engineering field as a designer and has been part of the design team of such distinguished projects as the Jamestown Bridge, Branch Avenue Bridge and the Central Artery Tunnel (Big Dig) in Boston to name a few. He is currently employed as a designer with Maguire Group, Inc. of Providence.
On April 27, 1968, Brother Simpson married Salina M. Canniff known to most as "Sally." On March 21, 1978 their marriage was blessed with one daughter, Kimberly Diane Simpson, who is engaged to be married to Mr. Jonathan Fagan on September 22, 1998.
Most Worshipful Brother Simpson began his Masonic career signing the By-Laws of Roger Williams Lodge No. 32 in June 1980. He was elected Master on May 17, 1985 and served until 1986. He then served as Chaplain for the following ten years until 1996. In addition to holding membership in Hamilton Lodge No. 15, Scituate, RI, he holds membership in the Ancient Accepted Scottish Rite Valley of Providence currently serving as Most Wise Master of the Rhode Island Chapter of Rose Croix, Scituate Chapter No. 8 RAM; Providence Council No. 1, R. & S. M., St. John's Commandery No. 1 Knights Templar; a member of former Knights of Mecca Degree Team and a Noble of Palestine Temple, A. A. O. N. M. S; member of Southern California Research Lodge No. 1005 F. & A. M. of California and is a member of Swords of Bunker Hill, Gaspee Order No. 99.
---