RIGMRDavis
From MasonicGenealogy
RUSSELL R. DAVIS, SR. 1952-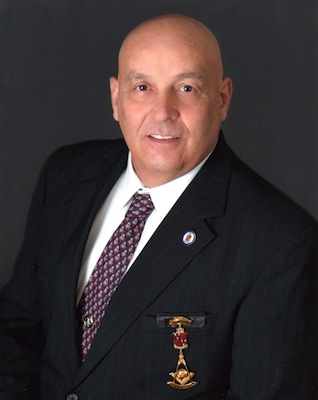 Grand Master 2013–2014
Russell Robert Davis was born on May 10, 1952 in Providence, Rhode Island the second child of James H. and Alice E. Davis, Sr..
Russell grew up in the Pascoag section of Burrillville, Rhode Island and attended the local school system. He enrolled at St. Joseph's Catholic school and was in the first graduating class in 1967. While at St. Joseph School, Russ served as an altar boy and various other duties. Russell graduated from Burrillville High School in 1971 and continued his education attending Rhode Island Junior College, Community College of Rhode Island and the University of Lowell, MA.
Russell is a communicant of Our Lady of Good Help Church in Mapleville, Rhode Island.
As Russell grew up he was involved in many town and social organizations. He coached girls CYO basketball, girl's softball and boy's youth ice hockey teams.
He attained the rank on Life Scout with Troop No. 100 Pascoag and enjoyed many campouts throughout New England. He received his "nights of camping" at Camp Yawgoo in Exeter, RI in 1966.
Russell was also very active with the local Volunteer Fire Departments in Burrillville. He was Past President of the Oakland, Mapleville and Nasonville Fire Departments and was a Lt. and training officer for the Nasonville Volunteer Fire Department and a past member of the Pascoag Fire Department. Russell is a past instructor for the State of Rhode Island, teaching radiological defense to various organizations.
In November of 1972 he married Laurie (Hebert) and together they have been blessed with three wonderful children; Renee of Plainfield, CT and Russell Jr. and Leanne of Pascoag, they have six grandchildren. Russell and Laurie celebrated their 40th wedding anniversary on November 4, 2012.
Russell started his Masonic travels in 1980 when he was employed by Harvey and Otis, a manufacturer of emblematic jewelry, owned by brother Steven Morgenstern. Being curious he asked his employer about the square and compasses, not knowing his employer was a Past Master and Russ received the answer he was looking for.
Russell made application to Roger Williams Lodge No. 32 and became a Master Mason on May 11, 1985. After proving his proficiency and signing the by-laws on May 18th one week later, Russell was installed as Junior Steward. He is 27 year member of the Craft and has served his Lodge as Worshipful Master twice, first serving 1990 and then again in 1995. He received The Grand Master's Award for completing the requirements for 1990.
He is a member of Friendship Lodge No. 7 in Chepachet and holds honorary membership in Charity Lodge No. 23 in Kenyon, Rhode Island and Putnam Lodge No. 46 in Woodstock, Ct.
Russell was appointed in line as District Deputy Grand Master of the Southern Masonic District in 2005 by Grand Master Wyman P. Hallstrom, Jr. and continued to serve in each District. He was elected Junior Grand Warden in 2009 Senior Grand Warden in 2010 Deputy Grand Master in 2011 and elected Grand Master in 2012. Russell served as an aide to Most Worshipful Past Grand Master Ronald W. Simpson in 1998 and as Public Relations Chairman for our Grand Lodge from 2005 to 2008 with the responsibility to oversee the Grand Lodge Open House.
He is a member Providence Royal Arch Chapter No.1, Providence Council No. 1 and St John's Commandery No 1. He is a member of the Ancient and Accepted Scottish Rite, Valley of Providence. As a member of the Rhode Island Shriners he became Blinky the clown and participated in several fun degrees at the Shrine. Russell is also a member of the Moslem Grotto, a member of the Royal Order of Scotland and the Swords of Bunker Hill, Gaspee Order No. 99. Russell is also an honorary member of the Rainbow for Girls, aka (Rosie).
Russell is a proud member of Battery "B" 1st Rhode Island Light Artillery Civil War Re-enactment group and has enjoyed many encampments throughout New England.
---