RIGMConnell
From MasonicGenealogy
DOUGLAS E. CONNELL 1949-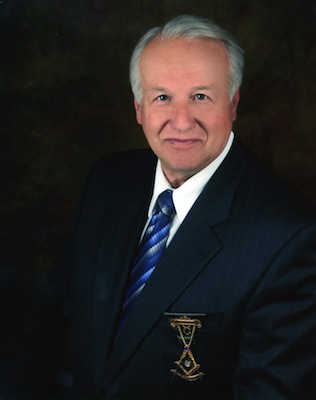 Grand Master 2012-2013
Douglas E. Connell was born in Woonsocket, Rhode Island on September 23rd 1949, to Charles E. and Marguerite A. Connell. He had one older brother, Charles R. Connell. He was educated in the Woonsocket Public school system and graduated with high honors, in 1968. His education continued at Springfield College in Massachusetts where he earned his Bachelor in Science in Community Leadership and Development in 1972 and his Masters Degree in Guidance and Psychological Services in 1973.
As a young man, he joined the Boy Scouts of America where he enjoyed many adventures from local camping to attending the Philmont Scout Reservation in Cimmarron, New Mexico. He served on the staff at Camp Yawgoo in Rockville, Rhode Island for two summers. He attained the rank of Eagle Scout in 1966. After graduating from college, he was employed as a professional Boy Scout Executive in the Boston Mass Council for three years.
He returned to his native Woonsocket in 1976, married and in 1979 became the proud father of Christie Marie Connell. Today Christie is happily married to Adam Pagano and owns her own photography studio in Providence R.I. Doug has continued residence in the city and is a member of St. Joseph's Church in East Woonsocket.
He was accepted as a member of the Woonsocket Police Department, where he proudly served in many positions, beginning with uniformed patrol and moving into undercover work in a shared operation with other Cities throughout New England. He was a founding member and Team leader of the Special Weapons and Tactics Team. The Team won numerous citations and awards for its successful resolution of many serious situations.
While serving as a detective sergeant, he and his partner were assigned a city murder case, which would take ten years and their appearance on the television series Unsolved Mysteries to clear. The son of a high-ranking Providence County Police official was convicted of this murder and is still serving his sentence at the Adult Correctional Institutions. Additionally Brother Connell's superior in the Police Department was convicted of perjury and obstruction of justice in the investigation. For their actions in the investigation Brother Connell and his partner, were awarded with a testimonial dinner and were presented with the Police Honor Medal. Brother Connell retired from the Police Department after 24 years of service.
In March of 1999, medical tragedy struck. Brother Connell's only brother and sister in law died, unexpectedly and within one week of each other of leukemia. As a result, Brother Connell became the guardian of his two nieces and one nephew. They have enjoyed a close relationship over the years.
Brother Connell petitioned Morning Star Lodge No. 13 and was raised in 1992. He served as master in 2000. He has been active in the Lodge and as chairman of the building committee, oversaw the construction of a long desired elevator in the building, a process that took almost two years to complete. He is also a member of Friendship Lodge No. 7, Lafayette Lodge No. 47, and Argenteuil Lodge No. 67 in LaChute, Quebec. He is an Honorary member of St John's Lodge No. 1.
Brother Connell is a member and Past High Priest of Providence Chapter No. 1, member and Past High Priest of Pawtucket Chapter No. 4, as well as Harmony Chapter No. 15. In 2004-2005 he served as Most Excellent Grand High Priest of the Grand Royal Arch Chapter of Rhode Island and Providence Plantations.
He is a member and Past Trice Illustrious Master of Providence Council No. 1, member and Past Trice Illustrious Master of Pawtucket Council No. 2 as well as Doric Council No. 37. In 2003-2004 he served as Most Illustrious Grand Master of the Grand Council of Royal & Select Masons for the State of Rhode Island and Providence Plantations.
Our Brother completed his journey in the York Rite as a member and past Commander of Holy Sepulchre Commandery No. 8. He is currently Recorder of that Commandery. He also holds membership in Boston Commandery No. 2, Calvary Commandery No. 13 and Northampton Commandery No. 30. He was awarded Honorary memberships in Berkshire Commandery No. 22 and Narragansett Commandery No. 27. He served the Grand Commandery of Massachusetts and Rhode Island as Grand Warder in 2006-2007 with Sir Knight, Sidney Clifford Jr. Right Excellent Grand Commander.
Our Brother is a member of the Valley of Providence, Scottish Rite Masons. He is an officer in Solomon's Lodge of Perfection. During the 2008 Supreme Council, held in Providence, Rhode Island, he was one of the Organizational Committee Chairmen. On August 25, 2009 he was Coroneted an Honorary Member 33 Degree of the Supreme Council of the Northern Masonic Jurisdiction.
He is a member of the Rhode Island Shriners and for several years was the Chief Rabban on the Ceremonial Degree Team.
He is also a member, past Monarch and current treasurer of Moslem Grotto M.O.V.P.E.R
Brother Connell is a founding member and past Venerable Sovereign of Renaissance Council No. 429 Allied Masonic Degrees. He is also the holder of the Red Branch of Eri, bestowed by the Grand Council of Allied Masonic Degrees of the United States of America.
He is member and Past Governor of What Cheer York Rite College No. 43. He is completing his final year of a four-year appointment as Grand Governor, of the York Rite Sovereign College of North America located in Detroit, Michigan. In 2005, he was invested by the Sovereign College with the Order of the Purple Cross and named an Associate Regent of the Sovereign College of North America.
Our Brother is a member and Past Prior of Roger Williams Priory No. 48 Knights of the York Cross of Honor. In 2005, Convent General Knights of the York Cross of Honor awarded him the Grand Cross of Honor with two quadrants.
Brother Connell is a member and Officer of Plantations Conclave Knights of the Red Cross of Constantine.
Brother Connell is a member of Woonsocket Chapter No. 3, order of the Eastern Star, and served that Chapter as Worthy Patron six times. He holds the distinction of being the only male Grand Marshall in the history of the Grand Chapter of Rhode Island.
His other Masonic memberships include:
The Holy Royal Arch of Knight Templer Priests
Knight Masons of the U. S. A. (Past Excellent Chief)
Providence Court No. 71, Royal Order of Jesters
Royal Order of Scotland
International Police Square Club (founding vice president)
Masonic Veterans' Association
Mahaba Shrine Club
National Sojouners
Heroes of '76
Sword of Bunker Hill
He is also commissioned as a member of The Honorable Order of Kentucky Colonels.
In 2001, Most Worshipful Grand Master Bradford L. Barco appointed Brother Connell as District Deputy Grand Master for the Southern Masonic District. Brother Connell served each of the five Districts and was elected as:
Junior Grand Warden in 2009
Senior Grand Warden in 2010
Deputy Grand Master in 2011
Grand Master in November 2011
---