RIGMChatterton
From MasonicGenealogy
WILLIAM LINCOLN CHATTERTON 1860-1935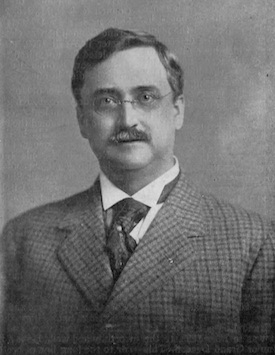 Grand Master x-y
BIOGRAPHY
From New England Craftsman, Vol. IV, No. 1, October 1908, Page 38:
Most Worshipful William Lincoln Chatterton, grand master of Masons in Rhode Island, was born in Burrillville, R. I., Dec. 21, 1860. Part of his boyhood was spent in New Jersey and Massachusetts, but in 1872 his parents returned to Rhode Island and made their home in Pawtucket, where they have since resided. lie concluded his school studies in 1876, and entered the employ of E. L. Freeman at Central Falls to learn the printer's trade. In 1880 he went to work at the establishment now known as the Standard Printing Company, in Providence, and was soon advanced to the position of foreman, which position he still holds. Gifted by nature with a decided artistic sense and a capacity for thoroughness, he brought to his practice of the printer's art, good taste and a determination to excel, which have given him a mastery of his trade and made him fully equal to the difficult task of guiding and supervising the work of others. He has the eye for color and the appreciation of form and proportion which are so essential to success in the "art preservative." Not content with being a good workman, he has taken a deep interest in the progress of the craft outside the limits of his own office. He is Treasurer of the iMaster Printers Association of Rhode Island, of which body he was formerly I'resident, having served two terms in that position.
lie early showed an inclination to Freemasonry and joined Barney Merry Lodge No. 29, of Pawtucket, receiving the Master Masons degree therein December 20, 1888. Having tilled all the intervening offices from Junior Deacon, he was elected Master June 29, 1893. and served one year.
In the Grand Lodge his first appointment was in May 1899, to the office of Junior Grand Deacon. This position he held for three years. He afterwards successively occupied the stations of Senior Grand Deacon, District Deputy, Junior Grand Warden, Senior Grand Warden and Deputy Grand Master. His election as Grand Master at the Annual Communication, May 18th, was a deserved tribute to his faithful and conscientious work as an officer of the Grand Lodge.
Brother Chatterton is a member of Pawtucket Royal Arch Chaptei No. 4. He was exalted in April 1890, and in October of that year he was elected Secretary, and his fitness for the position is shown by the fact that he has since been annually elected and still holds the office.
He is a member of Pawtucket Council R. & S. M., No. 2, of which body he is a Past Master. In the Grand Council he was elected Grand Master in April 1900, after having completed the unexpired term of his predecessor, Brother Eugene Stevens, who died in office.
He is a member of Holy Sepulchre Commandery No. 8, Knights Templar, and in the Ancient Accepted Scottish Rite has attained the 32d degree, holding membership in the various bodies in Providence allegiant to the Northern Masonic Jurisdiction. He is also a member of Palestine Temple of the Mystic Shrine and of the Correspondence Circle of the Quatuor Coronati Lodge No. 8076 of London, England. In all of his Masonic offices Brother Chatterton has displayed the dignity, earnestness and thoroughness that characterize his private and business life. Whatever he has undertaken he has mastered, and it is because of these qualities that his brethren have delighted to show their confidence and esteem by conferring upon him the honors which he has won and worn so worthily and well. He is a fit successor to the long line of brethren who have graced the office of Grand Master of Masons in Rhode Island.
---