RIGMBarco
From MasonicGenealogy
BRADFORD LLOYD BARCO 1952-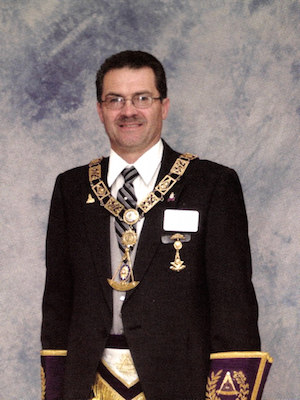 Grand Master 2004-2005
BIOGRAPHY
Brother Bradford L. Barco was born in Warwick, RI on June 12, 1952. The son of the late Lloyd G. and Julia (Pycz) Barco, he was educated in the West Greenwich and Coventry Public Schools and attended Johnson and Wales University for Travel & Tourism.
After finishing his education, he served with the Military Police in the United States Army. He has two children, Bradford L. Barco, Jr. with the 126th Aviation Regiment United States Army and Melissa Barco, a student at the University of Rhode Island. Brother Barco is a licensed Insurance Broker for the State of Rhode Island, President of Ocean State Advertising Co., Inc., a Sales Consultant for Arlington RV Supercenter, Inc., and a current 31-year veteran of the West Greenwich Police Department.
Brother Barco was a member of the Byron Northup Chapter Order of DeMolay and served as Senior Councilor. He is also a Senior DeMolay. In May 1985, Brother Barco, with the guidance of his father W. Lloyd Barco, petitioned King Solomon's Lodge No. 11 and was initiated on September 10, 1985, passed on December 10, 1985, raised on January 14, 1986 and signed the By-Laws on February 11, 1986. He served as Worshipful Master of King Solomon's Lodge from 1993 to 1994. He is also a member of St. John's No. 1 Providence, Adelphoi Lodge No. 33, and Argentuil Lodge No. 67 located in Lachute, Canada. Brother Barco holds honorary memberships in the following lodges: St. John's No. 1, Washington No. 3, Morning Star No. 13, and Roger Williams No. 32.
Brother Barco was appointed District Deputy Grand Master for the Seventh District in 1995 by Most Worshipful Grand Master Brother Arthur R. Cole, Jr. He served in the Seventh, Sixth, Fourth, Northern, East Bay, and Metro Masonic Districts. He was elected Junior Grand Warden in 2001, Senior Grand Warden in 2002, Deputy Grand Master in 2003, and installed Grand Master in May 2004.
He is a member of the Ancient Accepted Scottish Rite Valley of Providence, Rhode Island Shriners and is an officer in the Rhode Island Council Princes of Jerusalem. He is a member of Providence Chapter No. 1 of Royal and Select Masters. In Cryptic Masonry he was knighted in Calvary Commandery No. 13. He is also a member of Gaspee Order No. 99, Swords of Bunker Hill, Narragansett Bay Chapter No. 14, National Sojourners, Moslem Grotto, and the Royal Order of Jesters, Providence Court No. 71.
---