Quincy
From MasonicGenealogy
QUINCY LODGE
Location: Quincy
Chartered By: Albert T. Ames
Charter Date: 03/11/1987 1987-40
Precedence Date: 12/08/1919
Current Status: merged with The Lodge of Eleusis into Delta Lodge, 05/13/1995.
---
PAST MASTERS
George O. Gibson, 1987, 1993, 1995
Donald E. Farish, 1988
Thomas W. Daly, Sr., 1989
Frederick G. Christensen, 1990
John W. Ruggles, II, 1991
Nathan N. Rosenhek, 1992; N
Paul W. Nogueira, 1994
---
REFERENCES IN GRAND LODGE PROCEEDINGS
VISITS BY GRAND MASTER
---
EVENTS
CONSTITUTION OF LODGE, MARCH 1987
From TROWEL, Summer/Fall 1987, Page 28:
Three Quincy Lodges that were constituted following World War I have been merged into a new Quincy Lodge. The merger ceremony was conducted by M. W. Albert T. Ames and Grand Lodge officers in the Quincy Masonic Temple on May 22. The unification of the Lodges gives Quincy Lodge a membership of 481.
Theodore Roosevelt Lodge dated to 1919, Atlantic Lodge to 1920, and Manet Lodge to 1921. Theodore Roosevelt and Manet Lodges were united into one Lodge on June 27, 1979. The former Lodge met in the Wollaston Masonic Temple, and Atlantic and Manet Lodges once met in the old Shaw building located at Quincy Square. The unification was made easier because officers of the Lodges had often substituted for each other and a warm Brotherly friendship existed.
During the meeting Bro. Thomas Williamson was presented a 70-year pin by the Grand Master.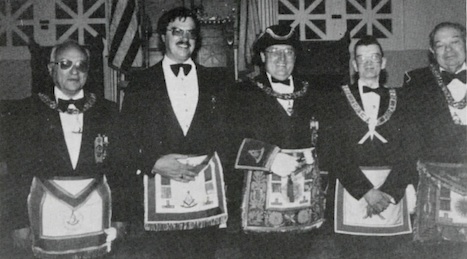 R. W. Richard S. Holiver, D. D. G. M., Quincy 26; Wor. Robert Poirier, Master of Atlantic Lodge;
the Grand Master; Wor. George Gibson, Master of Theodore Roosevelt-Manet Lodge, and M. W. Donald W. Vose, Past Grand Master.
---
GRAND LODGE OFFICERS
---
DISTRICTS
---
LINKS