MumfordRiver
From MasonicGenealogy
MUMFORD RIVER LODGE
Location: East Douglas
Chartered By: Charles A. Welch
Charter Date: 03/13/1878 1878-6
Precedence Date: 01/25/1877
Current Status: merged into Olive Branch Lodge, 09/03/2017.
---
PAST MASTERS
Andrew J. Thayer, 1878-1880
Noah H. Jones, 1881, 1882
Stillman Russell 1883-1885
George Abbott, 1886
James B. Pine, 1887, 1888
John M. Rawson, 1889, 1890
Francis Young, 1891 ,1892
Benjamin Townly, 1893, 1894, 1911
R. Lester Hannant, 1895, 1896
Henry A.B. Peckham, 1897
William E. Correll, 1898, 1899
Edwin T. Rawson, 1900, 1901
George B. Stoddard, 1902 ,1903
Edward E. Young, 1904 ,1905
Walter A. Jones, 1906
Fred A. Place, 1907
Louis B. Saxton, 1908, 1909
Lucius J. Marsh, Sr., 1910
Frank E. Jones, 1912, 1913
Walter B. Pine, 1914, 1915
Gilbert W. Rowley, 1916-1918
Charles E. Wilson, 1919, 1920
Robert Walker, 1921, 1922
Harry A. Olson, 1923, 1924
George I. Dauphinea, 1925, 1926
Clarence W. Holmes, 1927, 1928
Paul F. Ela, 1929
Carl H. Olson, 1930, 1931
Charles A. Anderson, 1932, 1933, 1943
Jasper Dejong, 1934, 1935
Warren A. Johnson, 1936, 1944, 1945; N
Ralph J. Weeks, 1937
Richard J. Aldrich, 1938
John E. Alexander, 1939
Francis A. Vasser, 1940, 1946
Henry J. Daubnay, 1941
Kenneth E. McMahon, 1942, 1947
Robert E. MacDonald, 1948
Roy C. Johnson, 1949
Cecil R. Wheeler, 1950
Howard P. Lekberg, 1951; SN
Edward M. Mertinsen, 1952, 1981
Erwin W. Lindstrom, 1953
James G. Allen, Sr., 1954
George Stidson, Jr., 1955
Russell K. Semara, 1956
Leon T. Sochia, Jr., 1957, 1973; N
Leon T. Sochia, III, 1958
Walter N. Howard, 1959
Richard H. Lekberg, 1960, 1978
Donald R. Peterson, 1961
Welcome W. Mowry, Jr., 1962
Eino W. Johnson, 1963
William A. Carter, Sr., 1964, 1994, 1995
Philip A. Ellis, 1965
Everett F. Fessenden, 1966
Paul O. Manning, Jr., 1967
Robert S. Dixon, 1968
Donald H. Nelson, 1969
William Nesbitt, 1970
Wayne L. Hickey, 1971, 1972, 1980
William T. Seaver, 1974, 1975; N
Donald W. Nelson, 1976, 1999
Robert E. Wallis, 1977, 1994
James A. Wallen, 1978
Leon T. Sochia, IV, 1982, 1983, 1991-1993
Robert B. Gurry, 1984
Harry A. Jennings, III, 1985, 1989, 1990
Roger E. Martinsen, 1986
William W. Welliver, 1987
Mark H. Johnson, 1988
Joseph E. Fitzpatrick, 1995-1998
William A. Carter, Jr., 2000
Attila S. Kara, 2001-2004, 2009, 2017
Robert W. Wilson, 2005-2007
Robert Hunt, 2008
David A. Nadreau, 2010, 2012; DDGM
William A. Brown, Jr., 2011
David W. Plamondon, 2013, 2014
Christopher A. Arsenault, 2015, 2016
---
REFERENCES IN GRAND LODGE PROCEEDINGS
ANNIVERSARIES
VISITS BY GRAND MASTER
BY-LAW CHANGES
1876 1878 1881 1918 1921 1928 1938 1956 1974 1980 1994 2003 2005 2007 2012 2014 2015
HISTORY
1927 (75th Anniversary History, 1927-75; see below)
75TH ANNIVERSARY HISTORY, APRIL 1927
From Proceedings, Page 1927-75:
By Bro. Dr. Paul F. Ela.
In 1876 there were about forty men living in Douglas or Manchaug who were Masons. We have the names of thirty-five who attended the various meetings in which they drew together with a view to form a Lodge which should be more convenient to attend than Solomon's Temple Lodge in Uxbridge, the Mother Lodge of the Lower Blackstone Valley in Massachusetts. About half of these Brethren were members of this Lodge (Solomon's Temple); we have the names of fifteen of them that we know. Two, Robert, or Richard, McArthur and M. C. Latham, were members and Past Masters of Mt. Moriah Lodge at Limerock, R. I.; two others, John Heathcote and J. C. Page, were members of Lodges in New Jersey; Andrew Jackson Thayer, the first Worshipful Master, was raised in old King Solomon's Lodge, of Charlestown, now located in Somerville; Noah Jones, the second Worshipful Master, was of Charles A. Welch Lodge of Maynard. John Mc
Arthur, Junior Warden, U. D., was from Roswell Lee Lodge of Springfield, and the Treasurer U, D., Arthur J, Dudley, was raised in St. Paul Lodge which had within a few years been moved from Groton to Ayer, where it now is. George Abbott dimitted from Lafayette Lodge of Manchester, N. H. He was the fourth Master of Mumford River Lodge.
Twenty-one of the thirty-five that we know about signed up for the new Lodge. Early in September, 1876, probably after many consultations, man to man or in little groups that chanced to foregather, some of then met in a little hall then known as Central Hall, now a tenement flat over Mr. Chapdelaine's store. We do not know the names of all who gathered, William Abbott was made Chairman, William Moore Secretary, both fortunate choices. William Abbott was one of the leading merchants of the vicinity, trader, he called himself, was in politics, and after rising through all the town offices passed through the General Court and Senate, and when he died in July, 1898, was a member of the Governor's Council. William H. Moore, then a young man of thirty-two, about ten years younger than Mr. Abbott, was a most competent Secretary. To him we owe all the knowledge we have of the beginnings of the Lodge up to the time the Charter was granted. He described himself as a clerk, but he was the paymaster of the Douglas Axe Co., of which his father was Superintendent. Both of these were of Solomon's Temple Lodge. Andrew Jackson Thayer, another leading merchant of the village, was chosen to be Master of the new Lodge, should one be formed, Noah Jones, Senior Warden, and John McArthur. Junior Warden. So far all other officers were from Lodges at a distance, but Moore, of Solomon's Temple, continued as Secretary. The group continued and selected a name for the Lodge by informal ballot. First a majority favored Ionic as the name, but there was already one Lodge of that name, so they took the runner-up name Mumford River. So far. we have the names of only five present ai this first meeting of what was to be Mumford River Lodge, but a committee to arrange for a place for the Lodge to meet was also chosen, and this committee adds the names of Arthur J. Dudley, already mentioned, J. G. Page, of whom nothing further is known except thai he belonged to Doric Lodge of W. Hoboken, N. J., and Marens M. Luther and Dorris T. Reynolds. both of Solomon's Temple Lodge. Having thus made a good start the little band adjourned subject to call by the Secretary, and did not meet again, so far as we know, for fourteen weeks.
This does not look like enthusiasm exactly, but there were circumstances which may explain the delay. It was a time of great political excitement. The men who afterward showed themselves the driving force in the Lodge were all interested in politics. The previous May the Republicans had nominated Rutherford B.. Hayes, and the Democrats put up Samuel J. Tilden, of New York, as candidates for the Presidency, and it was the first campaign since the civil War in which the Democratic party had seemed to have even the ghost of a chance to win. General Grant, then just finishing his second term, had opened the Centennial Exposition at Philadelphia during the summer. He had had a Congress on his hands in which the Senate and the House were of opposing parties. The debates had been very exciting.
In those days a political campaign was much more colorful, as the good writers say, than at present The country was full of young men who had learned to march only a few years before, and they really liked to show how well they could do it. The hardships of the military campaigns were passing out of their minds, and there remained glorious memories which came back as they paraded In uniformed marching clubs bearing flaming torches, Even little boys sometimes turned out on their own account, as my playmates in Dorchester did in this partirtilar autumn of l*7u\ The brothers Abbott, the Jones's, Fuller and Noah Stillman Russell, and Brother Thayer were all old Bepublican warhorses, and probably got into harness. Then there wen the veterans, Reynolds, Mark Luther, Barton Goddard, William Church, who has just departed from us after fifty years in the Lodge, and others of whom we are nut so certain, to fall in and march for the glory of their candidates. Even after the election nobody knew who was elected, nor how anybody could find out who was elected.
The tension was so great that sober men greatly feared that only a civil war could determine the next occupant of the White House. The Brethren did not meet again until Congress bad already made some progress in arranging a settlement in December. The danger of civil war had passed when on the fifteenth of December they met, and twenty-two pledged themselves to support financially the new Lodge should one be formed. Then were thirteen names signed which do not appear in the record of the September meeting, but probably nearly all were there. The only man known to have been present at the first meeting who did not sign up was Brother Page, of Doric Lodge, New Jersey. The only names added later were those of Chilon Houghton, Brigham Morse, and B. F. Hodgdon The list, of Charter members follows.
MUMFORD RIVER LODGE. Charter Members with their ages at the time (1876), and the Lodges from which they dimitted, so far as these things are known. Note: wearers of the Henry Price Medal are marked with a bullet (•).
William Abbott, 42, Solomon's Temple, Uxbridge; Died July 24, 1898
William L. Church•, 36, Solomon's Temple, Uxbridge; Died March 3, 1927
Nelson Emmons, ?, Solomon's Temple, Uxbridge; Died Feb. 8, 1892
J. Fred Brown, ?, Solomon's Temple, Uxbridge; Died April 5, 1902
Burton Goddard, 52, Solomon's Temple, Uxbridge; Died , Died July 6, 1906
Edwin P. Heath•, 36, Solomon's Temple, Uxbridge; Died Jan. 18, 1924
Chilon Houghton, ?, Solomon's Temple, Uxbridge; Died Dec. 3, 1889
Benj. F. Hodgdon, ?, Solomon's Temple, Uxbridge; Died Nov. 7, 1895
Aaron F. Jones•, 30-40, Solomon's Temple, Uxbridge; Died July 18, 1918
Caleb Hill, 52, Solomon's Temple, Uxbridge; Died Feb. 8, 1892
Luke C. Keith, 36, Solomon's Temple, Uxbridge; Died 1898 (?)
William H. Moore, 30(?), Solomon's Temple, Uxbridge; Dimit, Sept. 25, 1893
Brigham Morse, ?, Solomon's Temple, Uxbridge; Dimit, Oct. 18, 1880
John Robbins, 61, Solomon's Temple, Uxbridge; Died July 5, 1888
Dorris T. Reynolds, 48, Solomon's Temple, Uxbridge; Died Jan. 21, 1884
Arthur J. Dudley, ?, St. Paul, Ayer
Noah H. Jones, 40, Charles A. Welch, Maynard; Died Sept. 7, 1888
John McArthur, Jr., 31, Roswell Lee, Springfield, Dimit, Nov. 25, 1901
Andrew Jackson Thayer, ?, King Solomon's Lodge, Charlestown, Died July 2, 1902
Merrill A. Woodward, George B. Adams, and John M. Rawson, all initialed and raised in 1877, and George Cleveland and Edward Darcey, who were going through when the Charter was granted, all are named in that instrument, Brother Rawson was the fifth Master of the Lodge. Brigham Morse and Caleb Hill never signed the by-laws. nevertheless they are treated In all respects as members throughout their connection with the Lodge. George Abbott, who was prominently active during the U. D. period, is the only member of the Lodge at that time whose name is not on the Charter. He entered by dimit July 8, 1878. On the first printed list of officers, 1877, appear the names of John Heathcote, Jun. Deacon, and William D. Bridge, Chaplain. Neither signed the by-laws. Bro. Heathcote was a member of Shekina Lodge, of Millville, N. J. Brother Bridge, pastor of the M. E. Church here, had a dimit from St. John's Lodge, Middletown, Conn., but was moved away by the church authorities to Gardner, when he joined a Lodge. Later and at the time till his death a year ago he was Chaplain of the 800 Masons of the Orange Chapter, R. A. M. in New Jersey. He was more widely known over the whole country than any other of the early Brethren. An expert stenographer, he taught the art to thousands who attended the original Chautauqua Assemblies for thirty years. He had charge of the official stenographers who recorded proceedings of the quadrennial General Conferences of the Methodist Episcopal Church, was for nine years Secretary to Bishop John H. Vincent, the founder of the Chautauqua movement, and at the time of his death, a year ago, was the recognised "Dean of the Shorthand Reporters Association" of the nation. For sixty-flve of his eighty-six years he was an enthusiastic Freemason, raised in 1861, taking all degrees by Dispensation in May because he, with others about to graduate from college (Wesleyan), expected to enter the army at once.
The new Lodge started off well. The first returns up to August 31, 1879, show seventeen elected candidates and only five rejections. But then there came an evil time. Right Worshipful Brother Arba C. Slater, of Solomon's Temple Lodge, D. D. G. M. over the fourteen Lodges in the Twelfth District, in which this Lodge was then included, was forced to say in his report to the Grand Master, November 30, 1880:
"Mumford River Lodge has not accepted a candidate for seventeen months; not for want of applicants, but, probably because one was rejected whose character was fairly open to objection, some Brother abused the sacred trust of the ballot and shut the door to all others. I admonished them to let better counsels prevail, and reminded them that they are not fulfilling the end for which n Lodge was established there, and if this state of things continued the hand that gave might, from a sense of duty, take away and give their field to others."
The statement was exaggerated in that it was not quite seventeen months, but the Lodge had nevertheless rejected ten candidates in succession, four of whom afterward proved themselves good Masons. The warning was emphasized by the next paragraph in the report which announced Brother Slater's approval of the project to form Granite Lodge in Whitinsville. The Lodge showed its good will by electing two candidates and rejecting five hand-running before it was time for another District Deputy to report. The causes of this dissension are now completely forgotten. Only the blank columns in the candidate's register which should show dates of initiation, passing, and raising, remain in testimony of the peril which then threatened the existence of the new Lodge,
In succeeding years the names of a few Worshipful Masters stand out; John M. Rawson, first of the initiates of the Lodge to reach the East, one of the best Masters we ever had: Francis F. Young, our senior living Past Master, who during his administration and after headed a money raising campaign which ended only when the Lodge-room was completely refurnished: Ben Townley, whom we laid away a year ago, whose shrewdness in collaboration with his Secretary, Charles J. Batcheller, planned the greatest ingathering of new Masons that has occurred in any one year. This was a triumph of conciliation which reconciled whatever enmities remained among the Brethren, and in Brother Townley's second year in the East secured fifteen new Masons. Charles J. Batcheller's services as Secretary. which office he held during seven terms at different times and with intervals between, are notable for the completeness of his record, and the accuracy of his statements of facts.
Worshipful Brother Young came to the fore again in urging on the movement to purchase our present beautiful and stately building twenty-five years ago, aided by the generosity of our loyal first Worshipful Master, Brother Andrew Jackson Thayer, whose latest thoughts turned toward the prosperity of the Lodge he had helped to found. Very soon after entering the new building the Brethren were marching in bis funeral procession. The present beauty of the building within is a memorial of the generosity of Brothers Walter Schuster and William L. May-ward, and the stalely columned porch commemorates the initiative of Brother Bertrand Aldrich, now far away in Oregon.
Time fails for adequate statement of the service of these and others. Our first Master. Brother Thayer, would himself need several pages. Brother Fuller Jones, who felt obliged to decline a unanimous election to the South in the early days; William Abbott, who served as Treasurer once, were very busy men in affairs of the town and state, as was Winfield Schuster, also Treasurer for several terms. The time they could give was limited, but their helpfulness was without bounds.
The early days nf the Lodge are now preserved in per
sonal recollections of two men, Brother Gardner Southwick, who was Secretary in 1880, (his penmanship in the minutes is the envy and despair of his present successor), and Doctor White, of Worcester. They both came in in 1878, and when Brother Thayer was serving his third term as Master. In another year they will he eligible to receive the honorable Veterans' Medal. May we all be there to see it conferred.
This account is already too long, but in all fairness to the Lodge itself, mention should he made of two others al least. William Edward Correll, born in 1852 at Brookfield, Vt., entered March 5th, 1883, passed April 2nd, raised April 30, 1883, Worshipful Master 1897 to 1899, departed March 18th, 1924. Twice he went through the ritual offices of the order up to the sent in the West before achieving the highest honor the Lodge could confer. His long training in the ranks bore fruit. For the last twenty-five years of his life he was the friend and instructor of every candidate. His knowledge of the ritual was full and accurate. For years, with Worshipful Brothers John Rawson and Stillman Russell, he was one of an unofficial committee which decided nearly every question coming before the Lodge, They were a wonderful team of well taught and devoted Freemasons. After the departure of his two companions his accuracy and almost automatic ritual knowledge were of immense importance to the Lodge, and his loss has not yet been compensated to us.
Stillman Russell, who came here early enough to enter Solomon's Temple Lodge in 1865, was one of a group of five men all born in the little town of Temple, Me. The others were the Jones brothers, Aaron Fuller and Noah Jones, and William and George Abbott, also brothers. Noah Jones and William Abbott were of nearly the same age as Russell himself, Fuller Jones and George Abbott were severaJ years younger.
In the early years of the lodge, having memories of boyhood days passed in the same surroundings, they were naturally drawn together. Stillman Russell and George Abbott became the third and fourth Masters of the Lodge, preceded by Noah Jones. In later years Brother Russell became of all who have entered this Lodge the outstanding exemplar of those peculiarly Masonic aspects of brotherly love toward whose practical application we an all striving. In times of family distress by reason of illness or sudden death, on occasions of public disasters from fires or accident, he became the one to whom all turned for helpful leadership or friendly consolation. His influence in politics was felt outside the town, and was a powerful factor in the political successes of his associates, Fuller Jones and William Abbott. His personal friendliness was extended to all ages and conditions. He was the druggist. At his store on the corner by the church green, he dispensed medicines, newspapers, and ice-cream and soda-water, even as druggists do today, and there was also on tap the milk of human kindness.
A man of about my own age told me how when a little boy he had collected five pounds of old iron, which he sold 
to a blacksmith at half a cent a pound. Two whole cents he got without difficulty, but the odd half cent was different. The smith was unwilling to give another whole cent, but the boy hung around until, to get rid of him the man of iron cut a cent in two on the anvil, and gave the boy half. He went to the druggist for ice cream. The half cent aroused Brother Russell's sympathy. Being a constable, he took the boy to the smithy, where the offence of mutilating a coin of the Nation had been committed, and by showing the smith his peril before the law, got the boy his full three cents, and then fed him ice cream free beside. The same lad with two others of like age and condition were induced one hot June day to pump the organ for a tuner who was putting the instrument in order. It took the weight of two of them merely to pull down the long pump-handle. They thought it would be easier if the grindstone which lay on the bellows top, were somewhere else. This was good reasoning, but their united Strength was not enough and the prompt cessation of the flow of wind brought the tuner around to investigate. So they continued to toil and sweat through the Iong forenoon in the stuffy quarters allotted to organ blowers everywhere. At noon the good man who hired them gave then two cents apiece, and they departed thence. Ice cream was the only remedy for their condition. They went to the old drug store, where Brother Russell asked them where they got so much money. Then he took the three of them into his buggy, made the good man give them a quarter apiece, returned to the store and fed them their cream, topped off with a handful of candy, and sent them on their way with all their wealth intact.
Brother Russell was a busy man. He is listed on the roll of the Lodge as a druggist, but he worked at forging axes for years before he got his opportunity to work for Aaron Hill, and, later, buy him out. They made druggists more easily then. He was a constable, on School Committee, one of the Selectmen, and a member of the General Court of the Commonwealth. On School Committee he was purchasing agent, and Superintendent of the schools. A man of Influence, his aid was sought by men ambitious to serve the public, and he aided them as freely and generously as he did the little boys. When he died nearly thirty years ago there was no one left to take his place watching by the sick, or to run on anyone's errand but his own. or to rally help in emergencies of fire or sudden death. He never saved money, nor himself.
At his funeral under Lodge auspices, his friends filled the big church. His memory is yet green in the thoughts of the people whom he helped, now scattered over many states, after the passage of a generation of speaking men.
EVENTS
CONSTITUTION OF LODGE, MAY 1878
From Liberal Freemason, Vol. II, No. 3, June 1878, Page 93:
A Special Communication of the Grand Lodge was held at the Masonic Temple, Boston, Saturday, May 4th, for the purpose of constituting Mumford River Lodge, of East Douglas, and installing its officers.
The Grand Master and quite a large number of the Officers and permanent members of the Grand Lodge were present. The New Lodge was constituted, and its Officers installed according to the established usage, and proclamation thereof was duly made. An appropriate address was made by the Grand Master, to the new Lodge.
The pleasure of the occasion was increased by the excellent singing of the Temple Quartette, aided bv the efficient Grand Organist, Bro. Howard M. Dow.
REDEDICATION CEREMONIES, MAY 2011
From TROWEL, Fall 2011, Page 28: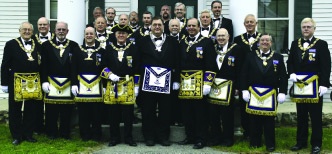 Mumford River Lodge Holds Rededication Ceremonies
In May, 92 people attended the ceremonies of rededication for Mumford River Lodge. Grand Master Richard James Stewart and Rt. Wor. DDGM Robert Carl Schremser were accompanied by members of Grand Lodge, who performed the traditional Corn, Wine, and Oil Ceremony held on a special carpet for the rededication.
The ceremony was preceded by a parade over a half-mile route through Douglas. A new banner for the lodge was dedicated, and an old one from the Blackstone Valley Masons honored. M. W. Percival Lovell Everett, Grand Master of Masons in Massachusetts, chartered Mumford River Lodge in East Douglas on January 25, 1877. The lodge met in several locations over the years. Since January 1901, the lodge has occupied Citizens Hall at the corner of Depot and Cottage Streets.
---
GRAND LODGE OFFICERS
---
DISTRICTS
1883: District 19 (Southbridge)
1911: District 22 (Blackstone)
1927: District 20 (Southbridge)
1931: District 20 (Blackstone)
---
LINKS