MOGMHGrauel
From MasonicGenealogy
HAROLD O. GRAUEL 1901-1995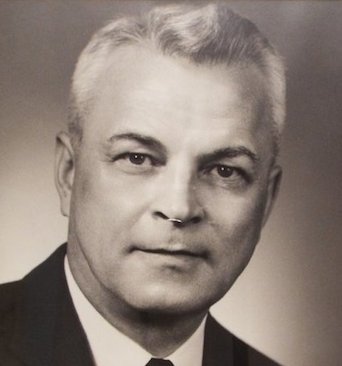 Picture courtesy of Missouri Lodge of Research Archive
Grand Master, 1959-1960
BIOGRAPHY
From Missouri Lodge of Research:
Harold Grauel was born March 18, 1901 at his grandmother's home near McComb, Ohio. He first attended Duck Haven School, a one-room country school and then Goose Haven School. The family moved to Findlay, Ohio and he graduated from Findley High School in 1920. After having studied four years of French, four years of Latin and one year of Greek, he received his Bachelor of Arts Degree in 1924, from Findley College - a Church of God School.
Dr. Grauel had a keen desire as a youth to be an librarian and during his school years, he worked for six years as librarian at the Findley Public Library.
In the Fall of 1928, Dr. Grauel came to Missouri and taught Freshman English and directed dramatics at Southeast Missouri College. Some years after his retirement the new Language Arts Building at the university was named in his honor, "The Harold O. Grauel Building".
During World War II, he served as a member of the 14th Armored Division, but in June of 1943 he was called back to the campus of Southeast State to teach Navy V-12 and later Navy V-5 men who were in training at the school.
1959 was a banner year for Harold Grauel. In that year he achieved the highest honor Freemasons can give to a member, his Alma Mater conferred its highest degree upon him, Southeast Missouri State College recognized his abilities and made him head of the Language and Arts Department and the "Sagamore".
In the course of his career, Dr. Grauel served on many Grand Lodge Committees or fulfilled other responsibilities, including membership on the Board of Directors of the Masonic Home.
In 1969, a "Blue Lodge" was established in "The Cape" and bears the name and number "Harold O. Grauel Lodge No 672."
Brother Grauel was raised in St Mark's Lodge No 93 on April 10, 1936, A member of the York Rite, Red Cross of Constantine, Scottish Rite, Valley of St Louis, designated a KCCH on October 22, 1957 and coroneted a 33rd degree in 1973. He belonged to Moolah Temple and was a member of the Missouri Lodge of Research serving as Master in 1959. He was a member of St Mark's Chapter No 167, Order of the Eastern Star and a Honorary member of Acacia Fraternity, University of Missouri, March 6, 1960.
Dr Grauel passed away in 1995 and his Memorial Service was held on November 19, 1995 in Cape Girardeau with burial in Memorial Park.
---