MAWashingtonArmy
From MasonicGenealogy
WASHINGTON (ARMY) LODGE
Location: Travelling Army Lodge
Chartered By: Joseph Webb
Charter Date: 10/16/1779
Precedence Date: 10/16/1779
Current Status: unknown; lapsed.
---
NOTES
FROM MOORE'S FREEMASON'S MONTHLY, 1844
According to Moore's Freemason's Monthly, Vol. III, No. 5, March, 1844, Page 162:
"In 1779, a Charter was granted by the Massachusetts Grand Lodge to Gen. John Patterson, Col. Benjamin Tupper, and Major William Hull, to hold a travelling Lodge in the American Army, called Washington Lodge."
Col. John Brooks was Governor of Massachusetts 1816-1823.
FROM WOODBURY ADDRESS, 1877
See Extract from Address by C. L. Woodbury, 1877; members included Capt. Benjamin Warren; Proceedings, Page 1877-65.
FROM ADDRESS BY GRAND MASTER HOWLAND, 1886
From Proceedings, Page 1886-88:
Washington Lodge, No. 10, a travelling Lodge in the Revolutionary Army, was erected Nov. 11, 1779, at West Point, N.Y. In the charter John Patterson was designated as Wor. Master, who first appointed Benjamin Tupper Senior Warden of the Lodge and he was installed by Jonathan Heart, Grand Master by proxy. Col. Benjamin Topper is named on the return of Washington Lodge, No. 10, at West Point, December 8, 1779, as its Senior Warden, and is given as a member on the returns of June 1, 1780, and July 18, 1782.
PAST MASTERS
John Patterson, 1776
Col. John Brooks, 1780, 1781
Thomas Edwards, 1784
---
ADDRESS, MAY 4, 1780
My ardent zeal for the cause of Masonry — the painful thought of declining anything that might have the least tendency to promote it — and consciousness that my Brethren are possessed of that candid charity which covers a multitude of faults, have at length prevailed over every impediment, and enabled me to forget my inabilities, so far as to attempt a compliance with the honorary injunction of this Lodge.
The great author of nature has wisely formed a wondrous scale of beings, widely to extend the emanations of His goodness. He has created man and placed him in a state of trial, with every tender, social affection in his nature, and has vouchsafed to him a ray of his wisdom to direct in what manner to exercise these contending dispositions, and to compass them with such limits as might be most conducive to the honor of the giver, and the mutual benefit of mankind. Hence the origin of the Masonic Society.
To preserve the value of this inestimable gift of heaven, it was found necessary to circumscribe it within the sacred environs of secrecy. Secrecy has ever been deemed a virtue. The Athenians had such a regard for friendship and secrecy, that while at war with Philip, they suffered a sealed letter from that King to Olympias, his wife, to pass unopened: alleging that these rights were sacred, and ought to be respected, even among enemies. The mystical ceremonies of the annual feast of Eleusis, were also held sacred by that civilized republic — they deemed it a capital crime to divulge the secret mysteries thereof; — and whenever any one was base enough to violate his secret, he was avoided as a wretch accursed and excommunicated.
But we need look no farther than the sacred pages of our rule of faith, to prove that friendship and secrecy are inseparably connected. It is there enjoined— "When thou dost alms let not thy left hand know what thy right hand doth, that thine alms may be in secret." And our wise master builder observes, that none but "a tale-bearer revealeth secrets," while "he who is of a faithful heart concealeth the matter."
Although secrecy is essential to the very existence of Masonry, yet there is another virtue still more essential, greater than faith or hope, and is the principal pillar of our society; namely, Charity. For though we "understand all mysteries, and all knowledge and have not charity, we are nothing," and even "though we bestow all our goods to feed the poor, and have not charity, it profiteth nothing." For "Charity," says another, " is a virtue of the heart and not of the hands. Gifts and alms are only the expressions, not the essence of this virtue. A man may bestow great sums on the poor and indigent, without being charitable; and he may be charitable when he is not able to bestow any thing." But when this amiable virtue is happily united with eminent abilities, it seems to raise the possessor above the rank of human nature, and makes him approach, in some measure, to the divine!
Our Grand Architect, while tabernacling in humanity, frequently inculcated this godlike virtue. The Samaritan, who had compassion on him who, by the merciless hand of thieves, was stripped, wounded and left half dead — pouring in oil and wine, and imparting his substance to his necessities, stands justified in the sacred volumes of the gospel: while the priest and the Levite, however zealous in the formal ceremonies of religion, are reproached with neglecting such a heart-moving object of mercy — with just looking at him —shutting their bowels of compassion, and passing another way.
The patient man of the East, in justifying himself before his three Brethren, dwells largely on the virtue of charity. "If," says he, "I have withheld the poor from their desire, or have caused the eyes of the widow to fail : or have eaten any morsel myself alone, and the fatherless have not eaten thereof: if I have seen any perish for want of clothing, or any poor without covering; if his loyns have not blessed me, and if he were not warmed with the fleece of my sheep:— then let my arm fall from my shoulder blade, and mine arm be broken from the bone!"
To carry the matter still further — we are assured by the revelation of our greater light, that this virtue will be eminently rewarded in the future stale; when it shall be announced — "Come ye blessed, and inherit the kingdom, — for I was an hungered, and ye gave me meat, — thirsty, and ye gave me drink — a stranger, and ye took me in, — sick and in prison, and ye ministered unto me. For verily, I say unto you, inasmuch as ye have done it unto one of the least of these my Brethren, ye have done it unto me."
But were there no positive command which enjoined the practice of this virtue, or any recompense laid up for it hereafter, a generous mind would indulge it for the natural gratification which accompanies such a mutual reciprocity of endearing passions. On the one hand, the most refined satisfaction — and on the other, a heart-swelling gratification, too big for utterance. 'Tis here
"The conscious heart of charity is warm,
And her wide wish benevolence dilates;
The social tears arise, the social sigh;
And into clear perfection, gradual bliss.
Repining still, the social passions work."
And what philosophic truths can be more engaging to the human mind than these, which represent virtue in all her genuine, and most endearing charms! The dismal dress falls off, with which superstition had covered it; and nothing appears but gentleness, humanity, and beneficence. Its composite beauty, like that of a well proportioned pillar, is not conspicuous in any of its members, or abstracted parts, but results from the whole, when that complicated figure is presented to an intelligent mind, susceptible of these finer sensations. This swell of harmony expands our bosoms, refines our ideas, and makes us partake of the divine pleasures of conscious virtue.
And here the attempt would be needless, to endeavor to increase the radiant lustre of virtue, or the abhorrent deformity of vice, by holding up the striking contrast of profaneness, — intemperance, — debauchery — or any other species of immorality;—these being in themselves so contrary to the very nature and true principles of Masonry, that no one who professes this science, can, with the least degree of consistency, live in the practice of any of them.
Let us then, my Brethren, walk worthy of our ancient and honorable profession. Let us cast off the works of darkness and put on the whole armour of light. Let us walk honestly, as in the day; not in rioting and drunkenness, in chambering and wantonness — strife or envying ;—but in sobriety, temperance, gentleness, meekness — and, above all, in fervent charity among ourselves, for charity shall cover a multitude of sins. Let us generously extend this mantle to the faults of a Brother—forgiving him until seventy times seven. Let us be kindly affectionate one towards another, with brotherly love — in honor preferring one another. Let love be without dissimulation—distributing to the necessities of a Brother — given to hospitality.
And when we shall have arrived at the summit of perfection here, may we in due time be transferred to the Lodge ineffable, which is built on high, whose length and breadth is the immensity of space, and which shall not be closed through the boundless existence of eternity — where nothing shall enter that is impure; — where friendship and gratitude shall be refined into the present extacies, and every social affection of the sou! attuned to; the most perfect harmony — where there will be no need of the sun or the moon; for the Builder Himself shall be the light thereof.
---
HISTORY
NEW ENGLAND CRAFTSMAN, 1911
From:
New England Craftsman, Vol. VI, No. 4, January 1911, Page 105
New England Craftsman, Vol. VI, No. 5, February 1911, Page 162
New England Craftsman, Vol. VI, No. 6, March 1911, Page 186
"American Battle Abbey Roll" No. 2.
Washington Lodge #10 By R. W. Oliver A. Roberts
The petition of John Peirce and others, praying for a charter to hold a Travelling Lodge, of which Gen. John Patterson was to be Master, Col. Benjamin Tupper, Senior Warden and Major William Hull, Junior Warden, was presented to Massachusetts Grand Lodge, October 6, 1779. It was immediately voted: "a Charter be granted them, for holding Regular Lodges, Make Masons, Pass and Raise, in this State or any of the United States of America, where no other Grand Master presides, But in any other State where there is a Grand Master, Constituted by the Brethren of these United States, they are to Inform him. and Receive his Sanction."
It was really Lodge No. 13 in that Grand Lodge, but three previously chartered having become dormant, Washington Lodge became No. 10. It is carried on the Grand Lodge Register until Dec. 8, 1785, when it is marked "Extinct."
The Charter was issued by M. W. Joseph Webb, Grand Master of Massachusetts Grand Lodge. He issued a Warrant to Wor. Jonathan Heart, of American Union Lodge, "appointing him his Proxy for certain purposes," namely, for constituting Washington Lodge. This occurred at West Point, N. Y., Nov. 11, 1779. The Grand Lodge, authorized by the warrant of M. W. Joseph Webb, of which Jonathan Heart acted as G. M. was fully officered by members of American Union Lodge.
After the usual business, the Deputy informed the Lodge that Bros. John Patterson, Benjamin Tupper, John Greaton, Esqrs., Timothy Whiting, Joseph Foot, William Burley, Billy Porter, John Jones, Henry Sewall, John Williams, Elisha Skinner, William Story and Richard Welsh, having obtained a charter now presented themselves to be formed into a regular Lodge. Bro. John Patterson, having been duly installed as Master, he appointed Bro. Benjamin Tupper as S. W. and Bro. John Greaton as J. W., and they were installed. Other officers were appointed and installed and the Lodge was proclaimed duly instituted for business and work.
CHARTER MEMBERS
Gen. John Patterson, the first Master, was born in Farmington, Conn. He graduated at Yale College in 1762 and removed to Lenox, Mass., in 1774. He was a member of the Provincial Congress in 1774-75. He was Colonel of Minutemen of Massachusetts (26 Reg.), April 22, 1775; Colonel 15, Continental Regiment, 1776; Brigadier General in Continental Army, 1777, and served to the close of the War. He was brevetted Major General, Sept. 30, 1783. At the close of the War, he was appointed a justice of a County Court in New York. He was a member of the New York Constitutional Convention in 1801, and a member of Congress, 1803-05. He died July 19, 1808.
Col. Benjamin Tupper, the first Senior Warden, was born in Stoughton, Mass., in 1738. He was a soldier in the French War, 1756-63; was present at the seige of Boston and served through the Revolutionary War. He was brevetted Brigadier General in 1783. After the War he returned to his native state and represented Chesterfield in the Legislature. In May, 1785, he removed to the Northwest Territory and was one of tlie founders of Marietta in 1788. He died in that town in 1792.
Col. John Greaton, the first Junior Warden, lived in Roxbury where he kept a tavern — called the Grey Hound Tavern —a nd had a store for the sale of West India goods. Between 1752 and 1770, Saint John's Grand Lodge observed Saint John the Baptist's Day at Col. Greaton's tavern ten times. Col. Greaton was a prominent Son of Liberty and very active in military affairs. He took part in the battle of Lexington and served in the Army during the entire War. He was Lieut. Col. of Heath's Mass. Regiment, May 19, 1775; Colonel, July 1, 1775; Colonel of the 24th Continental Infantry, Jan. 1, 1776 ; Colonel of the 3d Mass. Regiment, Nov. 1, 1776 ; Brigadier General in the Continental Army, Jan. 7, 1783. He died Dec. 16, 1783.
Timothy Whiting, charter member, was one of the minutemen who marched on the alarm of April l9, 1775. He was appointed Sergeant Major of Col. Bridges' 27th Mass. Regiment. Jan. 1, 1777, he was appointed Assistant Deputy Quartermaster General of the Continental Army, serving until his discharge, June 20, 1780. He served as Senior Grand Warden in the Independent Grand Lodge in 1788.
Capt. Billy Porter was Treasurer of the Lodge from 1779-82. In 1782 he was promoted to the rank of Major.
Henry Sewall was born in York, Me., Oct. 24, 1782. He entered the Army as Corporal and passing through the various grades became Captain in the 12th Mass. Regiment. In 1783 he was an Aide to Gen. Heath. At the close of the War he settled in Hallowell; was for seventeen years Register of Deeds and was Clerk of the District Court from 1789 to 1818. He was a Major General in the State Militia. He died at Augusta, Me., Sept. 11, 1845.
John Williams, of Groton, Mass., served in Col. Sprout's 12th Mass. Regiment. He served from Jan. 1, 1777 to close of the War. He died July 1, 1828, aged, 81 years.
Elisha Skinner, probably of Harvard, Mass., enlisted as Surgeon's Mate, Aug. 1, 1776. He was Surgeon of the 10th Mass. Regiment, Jan. 1, 1777. He left the Service in 1782.
William Storey was an Ensign in Col. Little's Regiment at the seige 0f Boston; unlisted in 8th Mass. Regiment, Col. Michael Jackson's, was oromoted to be Lieutenant in 1779; Captain and Quartermaster in 1780.
Joseph Foot — a drummer — marched from Sandisfield, Mass., his home, in response to the alarm of April 19, 1775. Jan. 1. 1777, he became Lieutenant in the 12th Mass. Regiment. In 1780 he was a Lieutenant in Capt. John Williams' Company, 1st Mass. Regiment. He resigned July 14, 1782.
William Burley, of Salem, Mass., enlisted in 1775, was promoted to be Sergeant, and in 1777 was Lieutenant in the 11th Mass. Regiment. Dec. 11, 1780, Col. Tupper recommended to Gov. Hancock that Lieut. Burley should be appointed a Captain, which was done. Dec. 15, 1780.
Dr. John Jones, Surgeon of the 11th Mass. Regiment, Colonel Benjamin Tupper's, served from 1717 to May 14, 1781, when he resigned. He was with the Army at Ticonderoga, Valley Forge and West Point.
Richard Welsh, of Dunstable, enlisted in the 27th Regiment in 1775; was appointed Sergeant, and Dec. 11, 1775, presented an account to the Government for articles lost. June 17, 1775, at Bunker Hill. Account was allowed by the Legislature. From Jan. 1, 1777 to Aug. 28, 1780, he was a Lieutenant in the 0th Mass. Regiment.
BY-LAWS
A copy of the By-Laws of Washington Lodge No. 10, has been preserved. It has some features unknown to the By-Laws of our time.
The proposer of a candidate was held responsible for the fees. The fee for the three degrees was eight dollars and one dollar to the Outside Tyler. Tf a special meeting was called, the candidate paid the expense, in addition to the fee. All members except the Secretary and Steward paid one shilling for each night's attendance. A visitor paid one shilling and sixpence each night he attended the Lodge except the first. Membership fee was one dollar. Officers were chosen twice a vear. June 2-1 and Dec. 27. "That as much of the Book of Constitutions and By-Laws be read each night as the Master shall direct."
When the currency became depreciated the fees and dues were changed. The fees for the three degrees was forty-eight dollars. "All other fees required by the By-Laws shall be paid at the rate of six for one until the appreciation or depreciation shall make it necessary to have the prices altered."
OFFICERS OF WASHINGTON LODGE NO. 10
MASTERS
Gen. John Paterson, 1779
Capt. Timothy Whiting, Esq. 1780
Capt. Moses Greenleaf, 1780
Lt. Col. John Brooks 1781
Lt. Col. Thomas Edwards, 1782
SENIOR WARDENS
Col. Benjamin Tupper, 1779
Capt. Moses Grcenleaf, 1780
Lt. Col. William Hull, 1781
Dr. Samuel Finley, 1782
JUNIOR WARDENS
Maj. William Hull, 1779
Col. John Greaton, 1779
Dr. Elisha Skinner, 1780
Dr. Samuel Finley, 1781
Dr. James E. B. Finley, 1782
TREASURER
Capt. Billy Porter, 1779-82
SECRETARIES

Capt. Henry Sewall, 1779-81
Ralph H. Bowles, 1782
SENIOR DEACONS
Timothy Whiting, Esq., 1779
Capt. William Sizer, 1781
David Mason, 1782
JUNIOR DEACONS
Dr. Elisha Skinner, 1779
Dr. Samuel Finley, 1780
Aaron Francis, 1780
Dr. James E. B. Finley, 1781
Thomas Frothingham, 1782
MEMBERS
4th Regiment

Capt. Seth Bannister
Ens. Jabez Bill
Capt. John Blanchard
Thomas Boyle
Ens. Thomas Cole
Ens. John Davis
Ens. Samuel Day
Ens. Africa Hamlin
Capt. Simon Learned
Dr. James Mann
Capt. William Moore
Capt. Isaac Pope
Ens. Benjamin Ray
Col. William Shepard
Lieut. Lemuel Snow
Lieut. Simeon Soring
Lieut. Edward Walker
Capt. George Webb
Dr. Samuel Woodward

5th Regiment

Lieut. John Cotton
Lt. Col. Ezra Newhall
Col. Rufus Putnam

6th Regiment

Dr. Harry Adams
Capt. Matthew Chambers
Lieut. Nathan Holbrook
Lieut. Benjamin Pike
John White, A. Q. M.

7th Regiment

Lieut. Richard Bagnall
Lt. Col. John Brooks
Lieut. William Curtis
Maj. Samuel Darby
Ens. Isaac Franks
Capt. John Reed
Lieut. Eliphalet Thorp
Lieut. Luther Trowbridge
Lieut. Joseph Tucker
Capt. Benjamin Warren

8th Regiment

Lieut. Samuel Armstrong
Capt. James Bancroft
Capt. John Burnham
Lt. Col. Tohias Fernald
Lieut. Thomas Foster
Lieut. Nathaniel Frye
Capt. Thomas Hartshorn
Maj. William Hull
Col. Michael Jackson
Lieut. William Story
Capt. Abner Wade

9th Regiment

Lieut. Benjamin Parker
Capt. Samuel Carr
Adj. Caleb Clap
Lieut. Joshua Clap
Capt. Amos Cogswell
Ens. Ebenezer Davis
Capt. Nathan Dix
Lieut. Joseph Edes
Capt. Michael Farley
Lieut. Joseph Leland
Lt. Col. James Mellen
Lieut. Benjamin Parker
Maj. Joseph Pettingill
Ens. Oliver Rice
Ens. Caleb Swan
Dr. John Thomas
Col. James Wesson
Capt. William Watson
Lieut. Richard Welsh
Lieut. Edward White
Lieut. Henry White

10th Regiment

Lieut. Samuel Bass
Capt. James Buxton
Lieut. Jonathan Cary
Lieut. Joseph Crook
Lieut. Levi Dodge
Lieut. Benjamin Fowler
Lieut. Bartlett Hinds
Dr. John Jones
Dr. Elisha Skinner
Lieut. Othniel Taylor
Lieut. Thomas White

11th Regiment

Capt. Stephen Abbot
Dr. Daniel Bartlett
Capt. William Hurley
Lieut. Silas Chadbourne
Capt. Silas Clarke
Capt. Anselm Tupper
Lieut. Nehemiah Fullerson
Ens. Aaron Francis

Capt. John Francis
Capt. Moses Greenleaf

** Lieut. William Hasty


** Lieut. Jonathan Libby 
** Col. Noah M. Littlefield
Lieut. Daniel Lunt
Lieut. Hugh Malloy
Capt. Samuel Page
Capt. Billy Porter
Lieut. Benjamin Shaw
Col. Benjamin Tupper
Lieut. Samuel Wells

12th Regiment

Ens. Joshua Davenport
Lieut. Joseph Foot
Lieut. Luke Hitchcock.
Capt. James Means
Lieut. Lemuel Miller
Ens. Samuel Myrick
Capt. John Pray
Lieut. Timothy Remick
Capt. Henry Sewall
Lt. Col, Ebenezer Sprout
Lieut. Ebenezer Storer
Capt. Abraham Williams
Capt John Williams
Dr. John Wingate

13th Regiment

Lieut. Walter Dean
Lieut, Ephraim Emery
Capt. John Fowles
Dr. Silas Holbrook
Ens. John Phelan
Capt. Daniel Pilsbury
Maj. John Porter
Capt. John K. Smith
Lieut. Wm. Wigglesworth
Capt. Christopher Woodbridge

14th Regiment

Col. Gamaliel Bradford
Dr. Samuel Finley
Lieut. Thomas D. Freeman
Capt. John Fuller
Capt. Elnathan Haskell
Lieut. Jonathan Haskell
Lieut. William Mills
Lieut. David Patterson
Capt, Josiah Stetson

15th Regiment

Capt. John Burnham
Dr. James E. B. Finley
Dr. Will Lawton
Lieut. Henry Marble

16th Regiment

Lieut. Samuel Cogswell
Lieut. Thomas Edwards
Capt. John Hobby
Lieut. Ephraim Hunt
Lieut. Samuel Rogers
Lieut. Charles Selden
Ens. Nathaniel Thacher
NEW HAMPSHIRE LINE
1st Regiment

Capt. Isaac Farwell
Lieut. Thomas Blake
Lieut. Josiah Munroe
Ens. Jonathan Perkins
Capt. Amos Morrill

2nd Regiment

Lieut. William M. Bell
Dr. Samuel Morey
Dr. Robert R. Henry
Lieut. Daniel Gookin
Capt. N. Robinson
Lieut. George P. Frost
Capt. Jeremiah Fogg
Capt. Samuel Cherry
Ens. Caleh Blodgett

3rd Regiment

Lieut. David McGregor
Capt. Isaac Frye
Capt. John Dennett
Jonathan Cass
PENNSYLVANIA LINE
Capt. Joshua Williams, 4th Reg.
William Rice, Ger. Reg.
Capt. Samuel Craig, 1st Reg.
Capt. James Wilson, 1st Reg.
Capt William Wilson, 1st Reg.
Maj. Thomas L. Byles, 3d Reg.
Capt. John Doyle, 6th Reg.
Capt. John Pearson, 9th Reg.
CONTINENTAL ARTILLERY
Lieut. Peter Nestell, 2d Reg.
Joseph Thomas, 2d Reg.
Capt. John Callender, 3d Reg.
Col. John Crane, 3d. Reg.
Lieut. David Mason, 3d Reg.
Capt. Luke Drury, Ward's Reg.
Capt. James Wilcox, Baldwin's Reg.
Capt. William Soier, Baldwin's Reg.
Capt. Charles Knowles, 3d. Reg.
Lieut John Peirce, 3d. Reg.
Capt. John George, 3d. Reg.
Lieut. Benjamin Eaton, 3d. Reg.
Lieut. Florence Crowley, 3d. Reg.
Lieut. Ezekiel Sampson, Baldwin's Reg.
Lieut. Edward Blake, 3rd Mass.
Capt. John Hart, Q. M., 2d Conn.
Lieut. Henry Williams, Cont. Infry.
Lieut. Timothy Whiting, Cont. Inf., 16th Reg.

Lieut. Samuel Chapin, Cont. Inf., 15th Reg.

Dr. Samuel Adams, Cont. Inf., 18th Reg.
Other Brethren, chiefly of the Quartermaster, Commissary and Pay Master Departments:
Will Bell
John Bradish
William Bushnell
Capt. James Clow
Capt. Ezra Eaton
Samuel Emerson
Lieut. Cyrus French
Thomas Erothingham
Benjamin N. Hayward
Isaiah Hudson
Jedediah Jewett
William Lyman
Thomas Machin
Samuel B. Marshall
Alva H. Marthings
Lt. Col. Thomas Mintges
Hugh Morris
William Morse
Zachariah Newell
John Pierce. Esq., D. P. M.
Lieut. William Pierce
Nicholas Rochefontaine
John Ronney
James Tisdale
Thomas Wood, W. M.
BRIEF SKETCHES OF SOME OF THE OFFICERS AND MEMBERS
TIMOTHY WHITING
Timothy Whiting applied for the Masonic degrees in American Union Lodge, July 26, 1779, and that night received the First Degree; Aug. 20, the Second, and Sept. 7, the Third. The Lodge was then located at Robinson House, N. Y. He was a charter member of Washington Lodge No. 10, erected at Roxbury, Mass., in Nov., 1779. lie was the first District Deputy Grand Master of the Fifth Masonic District serving in 1802, 1803, 1804 and 1805. He also served as Senior Grand Warden of the Massachusetts Grand Lodge in 1788.
In 1781 he united with Trinity Lodge of Lancaster and is recorded as a "P. M." He was Master of that Lodge in 1784, 1785 and 1787. He represented Trinity Lodge in Grand Lodge, as a Proxy, in 1789, 1807 and 1808.
MOSES GREENLEAF
Moses Greenleaf was born in Newburyport, Mass., May 19, 1755. He was a son of Hon. Jonathan Greenleaf who was a member of the Provincial Congress, of the House of Representatives, Senate and Council of Massachusetts. His eloquence won for him the sobriquet "the silver-tongued Greenleaf." Moses, the second son, was bred a ship carpenter but at the age of nineteen years he entered the Revolutionary Army as a Lieutenant. In 1775 he was promoted to be Captain in the Eleventh Regiment of Mass. Infantry and served till nearly the close of the War. In 1781, he returned to shipbuilding and prior to 1790, Joshua Greenleaf and Son built twenty-two ships and brigs. About 1790, he moved with his family to New Gloucester, Me. He married Lydia, daughter of Rev. Jonathan Parsons, of Newburyport. They had five children, of whom Simon was born in Newburyport. Simon became a lawyer, From 1833 to 1848, he was Dane Professor of Law in Harvard University. He published several valuable books on law, Freemasonry and the Gospels, He became a Freemason in Cumberland Lodge, Me., which his father was instrumental in establishing and was the second Grand Master of the Grand Lodge, A. F. & A. M. of Maine.
Moses Greenleaf received his Masonic degrees in St. Peter's Lodge, of Newburyport. Under date of Gebruary 23, 1778, the record says: "Balited for Moses Greenleaf to become a member of this Society and was accepted," also. same date, "Maid Moses Greenleaf an Filtered Apprentice. Rec'd for his making £4." The same evening he was passed to Fellow Craft. After holding the office of Senior Deacon, he was elected Master, Dec. 27, 1780, and continued as Master nearly all the time to Dec. 21, 1788. In 1790 he received a demit. On bis removal to New Gloucester. Me., he seems to have gathered the Masonic Brethren together and caused a new Lodge — Cumberland — to be established, which exists to this day.
Capt. Greenleaf appears as a member of Washington Lodge No. 10, on its first Return of Members. He became its Master in the field, July 6, 1780. Older Brethren have often heard him remark that he 'had many a time commanded the commanding General of the armies in the Lodge meetings, for General Washington frequently attended, and always came as a private member without ceremony." See Proceedings of Gen. Grand Chapter.
Among the chiefest of the sons of Newburyport, in Lodge and field, in peace and war, stands Capt. Moses Greenleaf.
JOHN BROOKS
Gen. John Brooks was born at Medford, Mass., May 31, 1753, and died March 1, 1825. He studied medicine and settled as a physician in Reading. le was Captain of a company of Minute Men at Lexington and Concord, April 19, 1775, and in December of that year was promoted to be Major of Col. Bridge's Mass. Regiment. He became Major of the Nineteenth Regiment of Continental Infantrv. Jan. 1, 1776; Lieut.-Col. of the Eighth Mass., Nov. 1, 1776; Lieut.-Col. Commandant of the Seventh Mass., Nov. 11, 1778, nd served until the 12th of June, 1783. lie was appointed Brigadier General in the United States Army. April 11. 1792, and was honorably discharged Nov. 1, 1796.
After peace was declared he resumed the practice of medicine in Medford. For many years he was Major General of the Mass. Militia. In 1816 he was elected Governor of Massachusetts and was re-elected annually till 1823, when he declined to be a candidate. Col. Brooks attended the meeting of the Massachusetts Grand Lodge, March 2, 1781, being then Master of Washington Lodge. No. 10.
THOMAS EDWARDS
Lt. Col. Thomas Edwards was born in Boston, Aug. 3, 1753, and died in Boston, Aug. 4, 1806.
He was in Boston Public Latin School in the Class of 1760 and graduated at Harvard College in 1771. He read law with John Willis, Esq.. and was admitted to the bar.
He was a private in Gen. John Hancock's Independent Co., and participated in the expedition to Rhode Island in April, 1777. He was a Lieutenant in the Sixteenth Mass. Regiment, Col. Henry Jackson, from May 17 during 1777-1780, and was subsequently promoted to be Lieut. Colonel. In 1782 he was Judge Advocate at West Point, and October 2 of that year was appointed Judge Advocate General of the Army and served to the close of the War.
Lieut. Col. Edwards was Secretary of the Massachusetts Society of the Cincinnati from 1786 to 1806, the year of his death. He delivered the Fourth of July oration in 1792, in Boston.
Thomas Edwards received the Masonic degrees in the Lodge of St. Andrew, Boston, in Jan. and Feb., 1779, when at home on a furlough. He was reported June 2, 1785, as being the Master of Rising States Lodge, Boston. He is recorded as a visitor to American Union Lodge at Morristown, N. J., Dec. 27, 1779. He was Junior Grand Warden of the Massachusetts Grand Lodge in 1787 and 1788, and Senior Grand Warden in 1791. In 1802 he attended Grand Lodge as a proxy for Cincinnatus Lodge. The Massachusetts Society of the Cincinnati attended the funeral services Aug. 6, 1806.
WILLIAM HULL
Gen. William Hull was born at Derby, Conn., June 21, 1753, and died in Newton, Mass., Nov. 29, 1825. He graduated at Yale College in 1772, studied law and was admitted to the bar in 1775. He entered the Army at Cambridge in 1775 as a Captain in the Third Mass. Regiment, and in 1776 was a Captain in the Nineteenth Regiment of Continental Infantry. In 1777 he was Major in the Eighth Mass., and in 1779 Colonel of the Third Mass. He was prominent in several battles of the Revolutionary War. discharging his duties with courage and promptness. He was appointed by Pres. Jefferson Governor of the Michigan Territory in 1805, and held this position till April, 1812, when he was appointed Brigadier General in command of the Northwestern Army. He surrendered Detroit to Gen. Brock in L814 whe i (April 25) he was cashiered, tried and found guilty. Rev. James Freeman Clarke of Boston was Gen. Hull's grandson. In 1824, Gen. Hull published a series of letters in defence of his conduct in the Northwestern Territory Dec. 11, 1797, a petition was received by the Grand Lodge of Massachusetts from William Hull and others for a charter to hold a Lodge in Watertowm by the name of Meridian. The petition was granted and William Hull lx came the first Master.
RUFUS PUTNAM
Gen. Rufus Putnam was born in Sutton, Mass., April 9, 1738, and died in Marietta, Ohio, May 1. 1824. In 1757 he enlisted in the French War. and in 1760 was made Ensign. He was afterward a mill-wrig'ht but in 1775 entered the Continental Army as Lieut. Col. of Col. Brewer's Mass. Regiment and in 1776 was Lieut. Colonel of the Twenty-second Regiment of Continental Infantry. In 1777 he commanded a Mass. Regiment. He constructed the fortifications at West Point, and Jan. 7, 1783, was commissioned a Brigadier General in the Continental Army, and served to the close of the War. He was the moving spirit in the formation of the Ohio Company March 1, 1780, which purchased 1,500,000 acres of Government land in the Ohio Territory. Gen. Putnam landed at the mouth of the Muskingen River, April 7, 1788, and laid out the city of Marietta. In 1790 he was appointed judge of the Territory, northwest of the Ohio, and in 1796 wa? selected to be Surveyor General of United States lands. In 1803 he was a member of the Convention which framed the State Constitution of Ohio. Gen. Putnam received the degrees in American Union Lodge in 1779 and was elected R. W. Grand Master at the organization of the Grand Lodge ot Ohio, Jan. 7, 1808.
MEMORANDA OF SOME MASS. FIELD-OFFICERS
Members of Washington Lodge, No. 10.
William Sliepard was commissioned Col. of the Fourth Regiment, May 4, 1776. He was horn Dec. 1, 1737 and died at Westfield, Nov. 11. L817. He was Lt. Col. of the Hampshire Regiment, May. LT75.
Daniel Whiting (American Union Lodge), commissioned Lieut. Col. of he Sixth Mass. Regiment. Sept. 29, 1778. He died at Natiek in Oct., 1807, aged 75 years.
Samuel Darby was eomniissioned Major of the Seventh Mass. Regiment. Nov. 1, 1778. He died, aged 70 years, in York, Me., where he was Collector of customs.
Michael Jackson was commissioned Colonel of the Eighth Mass. Regiment. Jan. 1, 1777. He was a Lieut. in the French War ami Major at the battle of Hunker's Hill, He was bom in Newton. Dec. 17, 1734, and died there April 10, 1801.
James Wesson was commissioned Colonel of the Ninth Mass. Regiment, Jan. 1, 1977. He was a Major at the siege of Boston. He was born in 1731 and died at Marlboro. Oct. 15, 1809.
Noah M. Littlefield was commissioned Lieut. Col. of the Eleventh Mass. Regiment, Nov. 19, 1776. He died in York County, Me.. Oct. 25, 1821.
Ebenezer Sprout was commissioned Colonel of the Twelfth Mass. Regiment, Sept. 29, 1778. He was born in Middleboro in 1752, and died at Marietta, O., in Feb., 1805.
John Porter was commissioned Major of the Thirteenth Mass. Regiment, May 30, 1777. He was a soldier in the old French War. He died at Littleton, April 23, 1834, aged 92 years.
Gamaliel Bradford was commissioned Colonel of the Fourteenth Mass. Regiment, Nov. 19, 1776. He was born in Duxbury, Sept. 2, 1731, and died Jan. 9, 1807.
NORTHERN LIGHT, APRIL 1971
From Northern Light Magazine, Vol. II, No. 2, April 1971, Page 15:
WASHINGTON'S LODGE:
First to Bear the Name
June 24, 1779 was a great day at West Point. American Union Lodge observed the Feast of St. John the Baptist with a celebration for which no less than 107 of the Craft "paid their club."
General George Washington, who with his "family" or staff was a guest, appeared in public in the character of a Freemason, thereby giving a great boost to the popularity of the fraternity among the officers of the Continental Army stationed in the vicinity.
American Union Lodge had been organized in the Connecticut Line during the siege of Boston early in 1776. During the first few months more than fifty Masons became members or had one or more degrees conferred upon them.
After evacuation of Boston by the British the Lodge moved to New York with the army and met regularly until the Red Coats landed on Long Island. During the battle that followed and at the later surrender of Fort Washington, so many of its officers were killed or made prisoners of war that the Lodge went dark. While at New York another ten had been initiated or advanced, and many visitors attended and are named on the record book.
During the winter of 1778-79, while the Connecticut brigade was quartered at Redding. American Union Lodge was revived and 30 Masons added to the roster.
In May the units which had spent the winter at Redding were marched to the vicinity of West Point. The Connecticut Line was stationed across the river at Nelson's Point.
After the public display on St. John's Day in June, and with no action developing on the field of battle, American Union continued to work intensively, making and advancing 27 initiates. Others who had been "made elsewhere" were passed and raised.
It became known that the Connecticut regiments were to be ordered to Morris-town, N.J., for the coming winter, the Massachusetts units remaining at West Point. This would leave the Massachusetts brethren without a Lodge unless something was done about it.
Accordingly, at a meeting of the Massachusetts Grand Lodge, "on special occasion." October 6. 1779, a charter was granted for a traveling Lodge with General John Paterson as Master, Colonel Benjamin Tupper and Major William Hull as the Wardens.
On November 11, 1779. "Washington's Lodge No. 10" was constituted and the officers installed by Jonathan Heart, deputized for the occasion. Heart has been called the best known Mason in the Continental army, as during his five years as Master of American Union Lodge, the several hundred members and visitors seldom saw anyone else in the East.
No minutes of Washington Lodge have survived, but from the scanty reports and membership rolls in the archives of the Grand Lodge of Massachusetts, it has been possible to reconstruct some of its history as the first Masonic Lodge to bear the name of the most illustrious American Freemason of all time. All the letters and reports extant were posted from West Point or Fishkill.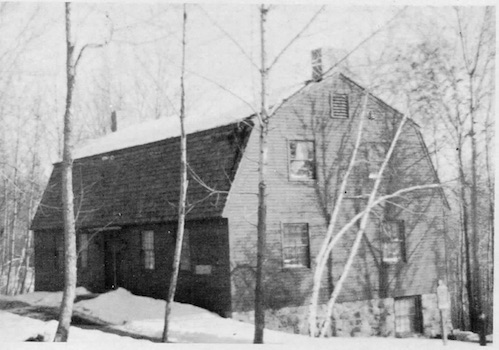 Home of Kerem Lodge No. 1074, F. & A. M., chartered on June 13. 1927, which includes an outstanding Masonic Museum.
The site is at Temple Hill, Vails Gate, N.Y., just south of Newburgh.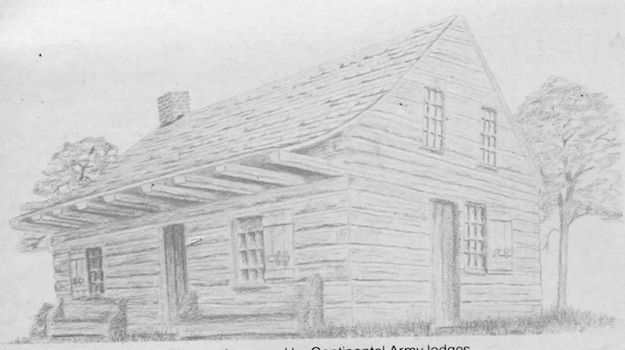 Officers' hut such as used by Continental Army lodges.
After a busy winter. 1779-80, the Lodge reported 54 members, a later report listed 104. and when the final figures were tallied, the names of more than 250 Brethren appear as candidates, members, or visitors. Many were made and never affiliated, as that was not a requirement in those days. But visitors usually paid a four-fold fee the evenings they attended.
The minutes of American Union Lodge give us some sort of idea of how Washington Lodge may have carried on. During the flush times in 1779. the average attendance was 28. When the troops were on campaign or in the field the Lodge did not meet. In 1780 the average attendance fell to 12: in 1781 there were no meetings recorded, as there was fighting going on around New York City, and a long hike was made to Yorktown and victory. In 1782. between Yorktown and the final peace treaty, the attendance averaged 23. Now the consolidation of regiments and reduction in size of the Continental army took toll, for as early as July 1782. one-fifth of the names on the roster of Washington Lodge were noted as having died or left the service. In the few meetings of record during the early part of 1783. the average attendance in American Union dropped to a mere nine — three times three.
Meetings when there was degree work were usually held in the officers' quarters or where there was a convenient room which could be tiled. Just as often meetings were held in a "hutt" or tent. On occasions the "Assembly Room" of the cantonment was utilized, but that was also a place of resort for the common soldier. more or less like the recreation buildings in the training camps of recent wars.
As for the "Temple" itself, we know that the "new Public Building" was open for some use on January 29, 1783. On February 15. notice was given of the availability of the "new building for public worship." Officially it was an "assembly room" such as were constructed in most winter cantonments of the Continental army. "Temple" or "Temple of Virtue" was a name applied by the soldiers, probably facetiously, as they must have gone elsewhere for certain entertainment or amusement. The use of the word "Temple" to indicate a Masonic lodge hall or building came into use much later.
A drastic reduction of the army was made in January 1783. and the remnant of the Continental formations from the northern states were concentrated at West Point and the cantonment area at New Windsor. American Union was meeting with the Connecticut brigade at or near West Point. Washington Lodge met presumably at New Windsor, and somewhere in the vicinity Independent Roval Arch Lodge and St. Johns Military Lodge were meeting and working. It was from the former that those who were arched "in the army" are presumed to have received the Royal Arch degree.
It is disappointing not to find some evidence to support the tradition that Washington Lodge (or any other) ever met in th "Temple" at the New Windsor encampment, during the winter of 1782-83. There is no doubt that the Massachusetts regiments were there, but the several consolidations, reductions, and retirements had resulted in the return home of many members of the Lodge.
Since by inference Washington Lodge was active in March 1783. and since we know some Massachusetts regiments were then at the New Windsor Encampment, it cannot be doubted that the tradition of Masonic meetings in the "Temple" has some foundation in those facts. The new building of Kerem Lodge (1074) stands not far from the present replica "Temple." and has a Masonic Museum designed to perpetuate the memory of military lodges in the Revolutionary army.
Space in the Northern Light does not permit a longer story, but the reader who wishes more detail about Washington Lodge will find it in the Transactions of the American Lodge of Research, Volume IX. Number 2. on pages 250-281. All the archival material is printed in full, including the by-laws, and supplemented with a roster of 260 Masons named in the records, with biographical notes.
A history of American Union Lodge was published in 1934. the author being Ill.'. Charles S. Plumb, 33°. Grand Historian of Ohio. An annotated roster of 45( Masons whose names appear in the minute books of that Lodge from 1776 to 1783 may be found in the Transactions of the American Lodge of Research. Volume VI. Number 3, on pages 356-401.
---
GRAND LODGE OFFICERS
Thomas Edwards, Junior Grand Warden 1787, 1788, Senior Grand Warden 1791, Mass. Independent Grand Lodge
OTHER BROTHERS
---
LINKS