MAPlymouth
From MasonicGenealogy
PLYMOUTH
LODGES
---
BUILDINGS
HALL DEDICATION, DECEMBER 1986
From TROWEL, Spring 1987, Page 17: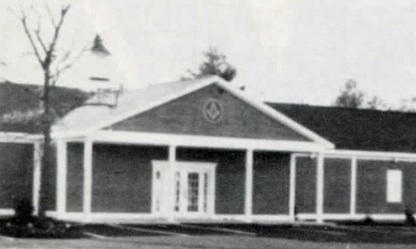 In the presence of more than 300 members of the Craft, M. W. David B. Richardson, Grand Master of Masons in Massachusetts, along with the Grand Lodge officers, dedicated the new edifice that houses Masonry in the Town of Plymouth.
The event was held on Sunday, December 11, at the new location at 116 South Meadow Rd. The building is amply favored with suitable parking facilities, and away from the overcrowded city section — two factors that should induce the Brethren to attend the meetings and functions to be held therein. R. W. Nelson C. Pratt, D. D. G. M. of the Plymouth 27th Masonic District, accompanied the Grand Master and added his congratulations to those who made possible its acquisition and building.
A delicious roast beef dinner was served to all in attendance.
The photo shows the building and the parking area in front. (Thanks to Bro. Arne M. Erickson, TROWEL rep., for the photo and copy.)
---
LINKS