MAOtherBrothersU
From MasonicGenealogy
ULMAN, WILLIAM CURTIS 1836-1908
From New England Craftsman, Vol. III, No. 8, May 1908, Page 280:
Brother William C. Ulman, a well known Mason of Boston and active member of Boston Commandery, died at his home in Boston, Sunday, March 8th, after a prolonged illness.
UNDERWOOD, ADIN BALLOU, 1828-1888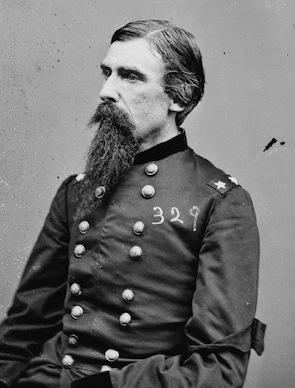 Adin Ballou Underwood was a brevet major general of volunteers in the Union Army. A Massachusetts lawyer, educated at Harvard, he was commissioned a captain in May, 1861. At Wauhatchie his leg was shattered; doctors did not perform the usual amputation and when the bones rejoined, one leg was four inches shorter than the other. As a result, Underwood was removed from active service and made brigadier general in November, 1863. He was brevetted major general at the war's close.
UNDERWOOD, ALFRED B. 1865-1932
From Proceedings, Page 1932-111:
Brother Underwood was born in Natick, June 9, 1865, and died there as the result of an accident April 25, 1932.
Brother Underwood was educated in the Natick public schools and spent his life in the furniture business. For many years he was the head of a large and prosperous furniture company. He was long one of the most prominent business men of the town, showing his active public spirit by being one of the leaders in the organization of the Natick Commercial Club.
He was initiated in Meridian Lodge June 7, 1899, passed July 19, 1899, and raised September 20, 1899. He was Master of Meridian Lodge in 1906 and 1907. He served as District Deputy Grand Master for the Twenty-third Masonic District in 1924 and 1925, by appointment of Most Worshiptul Dudley H. Ferrell. He was a member of Parker Royal Arch Chapter and Natick Commandery, Knights Templar.
Upright in business and faithful in his Masonic service, he is mourned by a wide circle of friends and associates.
UPHAM, JAMES HUMPHREYS 1820-1890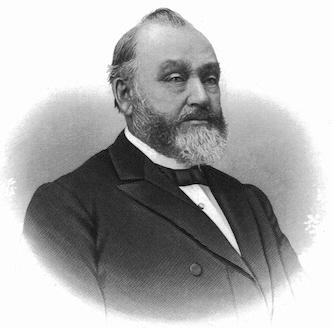 From Liberal Freemason, Vol. XI, No. 1, April 1887, Page 20:
Upham's Corner has been a landmark in the local history of Dorchester for something like three-quarters of a century; the grocery store of Amos Upham gave it significance, and to it friends, neighbors and customers resorted on week-day evenings to greet each other, to exchange news, to gossip a trifle no doubt, and to buy such groceries as were needed in their respective homes from one of their fellows, whose name was ample assurance of the genuine quality of their purchases. Altogether, it was a friendly atmosphere, full of kindly greetings, maintained by mutual confidence, and made peaceful by its happy social surroundings. A thrifty New England town was Dorchester, when on the 25th day of September, 1820, James H. Upham, son of Amos, was born into its history, and of which he has grown to be so large a part.
His education was obtained principally at the town school (now the Everett School) of Dorchester, until at the age of fourteen years, his father, for business reasons, took him from school, and placed him in his own grocery store at Upham's Corner, where for fifty-two years his face has been as familiar as the old sign, behind which the business of father and son was continued.
The record is a remarkable one, not that it has been continued so long, but from all the facts; among these, our subject was in the same store fifty years, and now two years in a new one erected by himself, making a continuous business record of fifty-two years upon the same spot. During this period, he has been absent from the store for any considerable time but t\»yce. Once in the spring of 1862, when, by reason of impaired health, he spent about three months in Philadelphia, and again in the spring of 1883, he mads a two months' pleasure trip to Europe. With these exceptions, he has rarely, if at all, been away from his store two consecutive days. As a citizen, no man has had the confidence of his fellow-citizens and more immediate neighbors to a greater extent than he. The settlement of estates, the division of property, the trusts and duties of Executor and Administrator have been frequently committed to him, and, from his familiarity with property owners and the boundaries of their landed estates, no better or more reliable agent could be found. In this particular, his knowledge has been proof against doubt.
The town made him foreman and Chief Engineer of its Fire Department. He was Chairman of its Board of Selectmen, of its Overseers of the Poor, and Surveyors of High ways. He was a member also of the School Committee, and Assessor four years. His fellow-citizens elected him twice as Representative to the General Court, and after the annexation of Dorchester to Boston, he was elected to the Common Council twice. These public trusts but faintly represent his private gratuities, the extent of which he does not willingly hint at.
On the 19th day of June, 1845, James H. Upham and Mary Bird, also of Dorchester, and a schoolmate, were joined together as man and wife. To them three children were born, all of whom died while young. These deaths were keenly felt by the parents, whose kindly dispositions were so well adapted to the growth and education of youth, and whose means have been ample to maintain a most attractive home.
Mr. Upham was made a Mason in Union Lodge, Dorchester, in 1855, and a Master Mason June 26th of that year. Zealous and intelligent by nature, he almost at once entered into the work of the lodge. Junior Warden in 1858, he was elected Master in 1859 and i860. In 1865 he was chosen Treasurer, is now Lodge Chaplain, and stands fifth in seniority on the roll of members.
Brother Upham received the several degrees in Capitular Masonry in St. Andrew's Chapter, Boston, being exalted to the Royal Arch Degree June 1st, 1856. Early in the year 1868, the Companions living in Dorchester united to establish a Chapter there, for local ton venience, and Companion Upham became one of the founders of St. Stephen's Chapter, for which reason he severed connection with St. Andrew's, by dimit, February 28th, 1868, but resumed membership again in his Mother Chapter May 2d, 1878, St. Stephen's having decided to move to Quincy. He is now a life-member of St. Andrew's.
On September 27th, 1866, he became a member of Boston Council of Royal and Select Masters, having previously received the degrees therein, and maintained this connection until October 28th, 1880.
It was hardly possible for one who was admitted to St. Andrew's Chapter not to hear of Boston Encampment, as the term then was, and it was an easy thing for him to find ready' and willing sponsers to recommend him to the favor of that body. That graceful ritualist, E. Sir Knight William Ellison, afterward Grand Commander, was Eminent Commander, when on June 15th, 1859, James H. Upham was created and dubbed a Knight Templar, Knight of Malta, of the Order of St. John of Jerusalem in Boston Encampment, and his membership in this body dates from November 16th, 1859.
As a Knight Templar, he has been emphatically a busy one. Almost constantly in office since his admission, he has been, successively, First, Second and Third Guards, Warder, Junior Warden, Senior Warden, Captain-General, until the Annual Conclave in October, 1877, he was elected Eminent Commander, and re-elected in 1878. In this office, he was conspicuous for the closest attention to duty in the ordinary business of the Commandery, and faithful to recognize the needs of the distressed, the wishes of the dying, and the services appropriate for the dead. During this second term as Commander he performed the Templar Burial Service no less than twelve times, often at much sacrifice of time and personal convenience. Under operation of the By-Laws, he became an honorary member of the Commandery, and has been its Prelate by election since October, 1883.
On October 31st, 1879, he was elected Grand Treasurer of the Grand Commandery of Massachusetts and Rhode Island, the duties of which office he continues to discharge with rare fidelity. Though it cannot add to his merit, it seems proper to say that he is the Grand Representative of the Grand Commandery of Illinois, near that of Massachusetts and Rhode Island, and an honorary member of Memphis Commandery, of Memphis, Tennessee, and of Joseph Warren Commandery, of Roxbury, Mass.
His interest in Freemasonry has not been limited to the York or American Rite only, but has extended to the A. and A. Scottish, where he has long been a life-member in Lafayette Lodge of Perfection and the other bodies meeting in the Masonic Temple, in Boston, and culminating in Massachusetts Consistory.
Mr. and Mrs. Upham are in the enjoyment of reasonably good health, and in possession of enough of well-earned wealth to secure for them all needed comforts for increasing age, and to enable them to minister to their hosts of friends as occasion may call, whether in charitable or neighborly deeds of kindness.
---