MAMethuen
From MasonicGenealogy
METHUEN
NOTES
FROM TROWEL, 1988
From TROWEL, Winter 1988, Page 4:
Freemasonry In Methuen
By Stephen E. Barbin
Freemasonry in Methuen dates back to September 1825, when 24 Master Masons in the town met to discuss the formation of a Lodge. It may be assumed that they gathered in the home of Alva Josselyn, who was elected the first Worshipful Master. There are no records to prove otherwise. The petition of 22 Masons, including two preachers of the Gospel, was received and acted upon favorably by Grand Lodge and Grecian Lodge became a reality.
Once the charter had been issued, the important order of business was to select a place to meet. In the spring of 1826 the Lodge decided to join with the Methuen Literary Society (which originated the Lyceum System of education) in the erection of a new building on the east side of the turnpike (later renamed Broadway). The exact location of the building is not certain today, but it may have been between Osgood and Park Sts.
On May 10, 1826, a Deputy Grand Lodge greeted the representative of Grand Lodge and a procession to the new building followed. There the Lodge was legally constituted and the first officers duly installed. The gathering then marched to the Baptist Meeting House where prayer was offered by Rev. Bro. Charles O. Kimball, and a sermon was delivered by Wor. and Rev. James Sabine of Boston. A dinner in Liberty Hall concluded the program.
Nothing further is known about Grecian Lodge until 1838 when, because of the Morgan incident (anti-Masonic era), the Lodge voted to return its charter to Grand Lodge. Since the Lodge had co-owned the building where it met, and because the Methuen Literary Society lacked enough funds to purchase the one-half owned by Grecian Lodge, the building was sold to Bro. Thomas McKay, who moved the building to a lot on Union St.
At the Quarterly Communication of Grand Lodge on Dec. 27, 1847, the charter was returned to Grecian Lodge, but with a request by the Brethren that the charter be effected in Lawrence. The first meeting was held in the home of Stephen Huse, Methuen, for the purpose of selecting a meeting site in Lawrence. The decision was made to meet in a building at the end of Merchants' Row (Essex St.) that had been offered for sale.
By 1852, Grecian Lodge had prospered with the growth of the new city of Lawrence. Membership grew so that it became necessary to procure more commodious accommodations, but there are no records to prove where the Lodge moved. However, a few years later they did move to another site on Essex Street. But growth continued and three new Lodges resulted: Tuscan and Phoenician in Lawrence, and John Hancock Lodge in Methuen.
On Sept. 26, 1860, fourteen Brethren from Methuen met in the Sons of Temperance Hall to petition Grand Lodge for a new Lodge. The name Mount Horeb was first chosen but at a later meeting, Oct. 11, 1860, the motion of Bro. Charles Ingalls to choose the name John Hancock was accepted. It was also decided to rent the Sons' of Temperance Hall for five years at a cost of $60 per annum.
The Lodge grew and prospered for the next 19 years, during which time nine men served in the East for two-year terms and Wor. George E. Foss served a one-year term of office. Throughout the Masonic year 1877-78, a total of 155 candidates were received and it was again necessary to do something about the cramped meeting room. The Lodge room was subsequently enlarged.
From the time of the Oct. 4, 1878 installation of officers until 1915, there are no records of activities of John Hancock Lodge. But, from records that follow, it may be assumed that the Lodge had outgrown its meeting hall. Bros. Edwin J. Castle, Charles H. T. Mann, John Ingraham (Master, 1915-16), and Joseph S. Howe (Master, 1869-70) decided to approach their friend and town philanthropist, Edward F. Searles, to seek some kind of contribution to help toward a new hall for the Lodge. Searles was not a Mason but had made varied financial gifts in Methuen, Lawrence, and other communities.
Edward F. Searles was a man of deep religious convictions and a sincere philanthropist. His father had been a member of Monitor Lodge in Waltham (now Waltham Lodge). Edward was born on July 4, 1841, to Jesse G. and Sarah (Littlefield) Searles of Methuen. He was the third of four children to the man who was an overseer in the cotton department of the Methuen Company Mills.
In 1844, just prior to Edward's third birthday, tragedy struck the Searles family. His four-year-old sister, Caroline, died June 14; six-year-old George died July 25; and two days later, his 39-year-old father, Jesse, died. When he reached age 12, Edward and an older brother had to seek employment with the Methuen Co. to help support the family. Edward would not turn out to be a person content with a meager income. He took the hard knocks early in life.
By the late 1860s, Edward was earning about $25,000 a year as an interior decorator with the firm of Paul and Co. of Boston. He left that company in 1874 to accept similar work with Herter Brothers of New York City. There, he could increase his annual earnings by another $10,000 by working for such clients as the Vanderbilt and Morgan families. His talents were attracted to Mrs. Mark Hopkins, whose husband had been one of the four builders of the Southern and Pacific Railroad and owner of the famous Mark Hopkins Hotel, a landmark in San Francisco. Mr. Hopkins died and, in 1883 his widow suggested marriage to Edward Searles, who decided to wait another four years before his wedlock to the woman who had an estimated wealth of thirty million dollars.
Methuen friends of Edward and those of Mrs. Hopkins-Searles stated that the short marriage had been the happiest of her lifetime. The couple spent their years building one palatial residence after another. In addition to her "castle" on Nob Hill in San Francisco and his estate in Methuen, they built a castle in Great Barrington, MA, a mansion on Block Island, RI, and a town-house at 65 Fifth Ave. in New York City.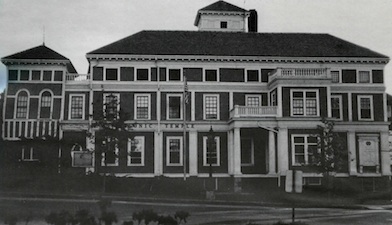 Mrs. Hopkins died in 1891, following only four short, happy years with Edward. Her entire estate (bonded at $21.7 million) was left to her husband. Her intentionally-disinherited, adopted son, Timothy Hopkins, contested her will and lost in court. He then appealed the decision and, to divorce himself completely from the aggravation, Edward offered Timothy $3.5 million to withdraw the appeal. He took the money and returned to California.
Edward Searles then began the undertaking of several philanthropic building projects. In addition to expanding his Methuen estate of 1,600 acres, he purchased 1,400 acres in neighboring New Hampshire (Salem) upon which he erected several buildings, including a fortified manor house. He purchased another 1,600 acres in Windham, NH and built several more buildings, including a replica of Stanton-Harcourt Castle in England.
Searles agreed with the committee from John Hancock Lodge to make a gift of a building he owned in the center of Methuen. It was in the process of being vacated because the Methuen YMCA had decided to relocate in Lawrence. He acquired the architectural services of Henry Vaughan to draw the specifications to renovate the building for Masonic use. Vaughan was the famous English architect who had designed the chapel of the Cathedral Church of St. John the Devine in New York City, the Cathedral Church of Saints Peter and Paul (known as the Washington Cathedral), and the various mansions owned by Searles.
On June 14, 1915, the Jesse Gould Searles Memorial Masonic Temple in Methuen was formally opened to John Hancock Lodge. What had been the billiard room of the YMCA was turned into a first-floor reading room, the former gymnasium was converted into the Lodge room.
The Jesse Gould Searles Memorial Temple was duly dedicated Oct. 3, 1916, by M. W. Melvin Maynard Johnson and Grand Lodge officers. Mr. Searles broke a precedent he had set by not attending the dedications of any of the other buildings to which he had contributed financially, and was honored for the gift in memory of his father. Edward Searles never sought membership into Freemasonry despite all the traits of a builder. When the Grand Lodge entourage was welcomed at the Lawrence railroad station, they were conveyed to the Merrimac Valley Country Club for luncheon — another building owned by Searles.
The Methuen Masonic building appears to have been constructed around 1850, but the foundation dates to 1807 when a tavern was erected on the same site. A fire destroyed every building in Hersey Square (now Merrill S. Gaunt Square) and soon after the fire a hotel was constructed and named the Exchange Hotel. The name was derived from the fact that stage coaches changed their teams of horses there. In 1880, the hotel was leased to the Methuen Home Club and, in 1897 Searles purchased the building. The deed bore the stipulation that Searles continue to lease to the Methuen club until such time as the club would move or disband. The building had a complete facelift inside and out. When the Methuen Home Club moved out in 1905, Searles started the Methuen YMCA.
The known gifts and legacies of Edward Francis Searles are too good and numerous to be omitted from this story, so TROWEL'S executive editor submits them:
1885: Gave aquaducts/fire hydrant systems for downtown area of Great Barrington, MA
1890: Reshingled roof of Mission Chapel, Lawrence; distributed 100 turkeys for Christmas in Methuen
1891: Donated "Sir Paul Methuen Hose Wagon" to the town; gave to Lawrence City Mission; contributed to Lawrence Boys' Club and Lawrence City Hospital; distributed 50 Thanksgiving turkeys in Methuen; remodeled Lawrence City Mission
1892-94: Built the Mary Francis Searles Science Building for Bowdoin College, Brunswick ME
1893: Gave his Nob Hill, San Francisco home to Univ. of California
1894: Gave M.F. Searles Memorial Organ to Grace Cathedral in San Francisco; to Great Barrington he gave 80 acres for a town park, 70 acres for a baseball park, and land for Grove St. Park.
1895: Walled-in and beautified Meetinghouse Hill Cemetery, Methuen
1896: Gave pipe organ to Grace Episcopal Church, Great Barrington; began construction of Searles High School in Great Barrington, which was completed in 1898
1897: Gave pipe organ to St. Paul's Methodist-Episcopal Church of Lawrence; walled-in and beautified Lawrence St. Cemetery in Methuen
1898: Donated land and monument at Marston's Corner in Methuen
1899: Built annex to Nob Hill mansion for Univ. of California, San Francisco
1899-1904: Gave $1 million for new Searles High School, Methuen
1900: Erected Washington monument, Methuen; restored North Salem Meetinghouse in Salem, NH, St. Jame's Episcopal Church in Gt. Barrington
1901: Gave $15K toward construction of Methuen sewerage system; built Second (Emmanuel) Primitive Methodist Church in Methuen
1902: Gave two tracts of land for a playground in Methuen
1903: Also in Methuen, renovated Waldo House / Historical Museum; gave land for another playground; paid for widening of Tremont and High Sts.
1904: Paid for widening of Pleasant St. and high retaining walls
1904-1905: Built Central Grammar School, All Saints' (now St. Andrew's) Episcopal Church and renovated their rectory; built St. George's Ebenezer Primitive Methodist Church, all in Methuen
1907: Built Searles School and Chapel, Windham, NH; built Boston and Maine Railroad Station, Methuen
1909: Gave $66K to pay Methuen town debts; opened Serlo Hall to public
1909-10: Built Lawrence Home for Aged and Stearns Chapel
1910: Opened Red Tavern to public
1910-11: Built North Salem Methodist Church in Salem, NH
1911: Gave land at Lawrence and Chelmfords Sts. for playground
1912: Built bridge at organ factory on Broadway in Methuen; gave motorcycle to police
1914: Gave pipe organ to new Grace Cathedral (Episcopal), San Francisco; gave two tracts of land to Enterprise Grange # 281, Salem, NH
1915: Gave Jesse Searles Memorial Masonic Temple to John Hancock Lodge
1916: Gave land at Lawrence and Arlington Streets in Lawrence, for a park
1919: Gave Methuen pumper-fire engine for a new fire station; gave 25,000 shares of Pacific Improvement Co. (worth $1.5M) to the Univ. of California
When Edward F. Searles died in 1920, his estate was bonded at 45 million dollars. But, it was estimated that his total holdings were worth nearly 100 million dollars. A non-Mason but imbued the tenets of the Craft and, indeed, a builder.
(Acknowledgement: TROWEL is appreciative to Bro. Stephen E. Barbin of John Hancock Lodge for his research and submission on the historical work of Methuen Freemasonry and the contributions of Edward F Searles. Bro. Barbin has authored an article to Yankee Magazine on Stillwater Manor, the fortified house in Salem, NH. Bro. Wayne Gebhardt, TROWEL representative for John Hancock Lodge, assisted in procuring the photo of the temple.)
LODGES
---
BUILDINGS
---
LINKS