MAMelroseMemorialBuilding
From MasonicGenealogy
DEDICATION OF SOLDIERS' AND SAILORS' MEMORIAL BUILDING CORNER STONE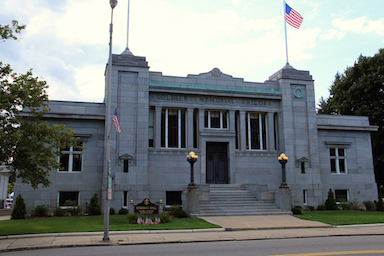 Melrose Memorial Building (contemporary picture)

From New England Craftsman, Vol. VII, No. 9, June 1912, Page 315:
The corner stone of the new Soldiers' and Sailors' Memorial Building at Melrose, Mass., was laid with Masonic ceremony Thursday, May 30th, by Grand Master Everett C. Benton and members of the Grand Lodge of Massachusetts.
The exercises opened- wlth prayer by Rev. Harold Marshall of the Universalist Church, followed by singing by the Melrose public school children. Mayor French then delivered an address and was followed by Ex-Mayor Levi S. Gould, president of the memorial association. A. A. Carleton, commander of U. S. Grant Post 4, G. A. R., spoke on behalf of the post.
Grand Master Benton made a brief address and selections from the Scripture were read by Rev. R. Perry Bush of Chelsea, Grand Chaplain of the Grand Lodge. The contents of the box in the corner stone was read by Charles H. Ramsey, grand treasurer. The contents included the names of the present City Government and of all the fraternal and social organizations in the city.
The ceremony of laying the corner stone was then conducted by Grand Master Benton, who was assisted by Albert F. Dow, Deputy Grand Master; Harry P. Ballard, Senior Grand Warden; Oliver H. Roberts in place of Herbert F. French, Junior Grand Warden. The invocation was by the Grand Chaplain after which the working tools were presented to the architect.
The principal address was by Ex-Gov. John L. Bates, who said that Melrose was represented in 34 Massachusetts regiments in the Civil War, and also in the Navy, and her soldiers took part in nearly all the engagements.
Following the exercises the members of the Grand Lodge were given a reception at Masonic Hall by Hugh de Payens Commandery and Wyoming Lodge of Masons.
The new memorial building for the Soldiers' and Sailors' Memorial Association will cost $90,000, one-half of which was appropriated by the City Government and the other half was raised by the association. The veterans of U. S. Grant Post 4, G. A. R., will have headquarters in the building and the large hall accommodating 1200 will be for the use of the city, which will have the title to the building. It is expected that the structure will be completed next October.