MAGLADow
From MasonicGenealogy
ALBERT FREEMAN DOW 1844-1922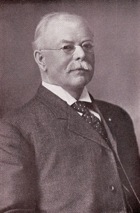 Deputy Grand Master, 1912
MEMORIAL
From Proceedings, Page 1922-428:
Albert F. Dow was Past Deputy Grand Master of this Most Worshipful Grand Lodge in 1912. He died in Fail River on the 19th of September last. He was a man of large business affairs and a prominent member of the Congregational Church. He was universally respected for his integrity, and uprightness of character. He had a deep interest in all that was Masonic and made wise and generous contribution to its furtherance in his home city and will be greatly missed not only in that community but by all who were privileged to share in his manly friendship.
From Proceedings, Page 1922-549:
In the death of our beloved Brother, which took place on the twentieth day of September, 1922, Masonry has lost one of its esteemed and honored members; and with regret we note the departure of a citizen whose life had been, in no ordinary degree, blameless and useful.
Albert Freeman Dow was born on the third day of February, 1844, in Washington, N. H., son of William Montgomery and Mary Jane (Goodale) Dow, one of a family of six children, three sons and three daughters. Changing. residence with his father, he removed to Ware, N. H., in 1848; Manchester, N. H., 1854; Lawrence, Mass., 1852, and Fall River, Mass., February 1, 1872, where he continued to reside the remainder of his life.
He was educated in the schools of Manchester. N. H., and Lawrence, Mass., where he was, in 1861, Captain of the High School Cadets. While attending Phillips Andover Academy, he enlisted in Captain Colby's Company, 48th Massachusetts Volunteers, September 25, 1862. He was soon appointed First Sergeant. In November of that year his Company was transferred to the 4th Massachusetts, then at Lakeville, Mass. He was commissioned Second Lieutenant, Company B, in November, 1862. The Regiment went by ship to New Orleans. He served at Baton Rouge, Port Hudson, Brashior City. After the fall of Vicksburg and Port lludson, the Regiment was sent up the Mississippi River and finally home. He was mustered out at Reaclville, September 28, 1863.
He was a member of Post 46, Grand Army of the Republic. He was a member of Massaehusetts Loyal Legion. Because of illness he was unemployed from 1863 to 1867, when he entered the Pacific Mills at Lawrence, Mass. He went to FaII River in February, 1872, aid was overseer of weaving in the Davol Mills. Made Superintendent in 1873. Retired in 1886.
He never held any political office.
He was a Director of the Troy Co-operative Bank since its organization in 1880. He was elected President of the Edison Electric Illuminating Company when it organized in April, 1883. In 1887 he was Treasurer and Manager, and upon its consolidation with the Fall River Electric Light Company in 1896, was elected Treasurer, and held that position until 1911, when he was made its President - a continued service of more than thirty-one years.
He became a member of the Central Congregational Church in 1884. He was a teacher in the Pleasant Street Mission; leader of the Bible Class in the Central Congregational Church since 1905; Chairman of the Board of Assessors of the same Church Society since 1898; and was elected Deacon there in 1913. He was also President of the Fall River Congregational Club in 1911.
He was a member and Past Master of King Philip Lodge, A.F. and A.M.; a member of Fall River Royal Arch Chapter, and member of and Thrice III. Master of Fall River Council, Royal and Select Masters; and member of and Past Commander of Godfrey De Boullion Commandery, K.T.; District Deputy Grand Master of the Grand Lodge, 1907 and 1908 (Twenty-sixth Masonic District); and Deputy Grand Master of this Grand Lodge in 1912.
Funeral services were held from his home in Fall River, September 23, 1922, conducted by the Pastor of the Central Congregational Church of Fall River.
He was married to Mary Adelaide Everett, of Ware, N. H., January 4, 1871. Her death occurred in Fall River, April 20, 1920.
Brother Dow is survived by a son, Walter Everett Dow, born November 30, 1871, and three sisters - Mrs. George D. Armstrong, of Berkeley, CaI., Mrs. L. D. Hogle, of Rochester, N. Y., and Mrs. George W. Putnam, of Apponaug, R. I.
Our late friend was unassuming, honest, faithful and true in his social and business relations. He was a very efficient and important factor in the business enterprises with which he was connected. He had no factious impulses, no fawning fear, no enmities or rivalries which come so often from extensive employment in large enterprises. He was honest, candid, and businesslike.
In the world he leaned on no man's bounty. In the country, he had fought for individual freedom, and he freely exercised it, with equal regard for others. Towards his friends his heart was warm and his charity large. In his Church, his faith was as fixed. as were his other rock-Iike convictions. In his Masonic relations, he was true to the utmost limits of sacrifice.
This man, so justly esteemed; this Brother, well beloved; with whom we have walked in pleasant company, has gone from us. But while we mourn, we rejoice. We rejoice in the remembrances we are privileged to cherish of his character and his usefulness.
Respectfully submitted,
Everett C. Benton,
Stephen H. Taylor,
George B. Lovell,
Committee.
---