MAHiramNewHavenCT
From MasonicGenealogy
HIRAM, NEW HAVEN, CONNECTICUT
Location: New Haven, Connecticut
Chartered By: Thomas Oxnard
Charter Date: 11/12/1750 I-12
Precedence Date: 08/12/1750
Current Status: Now Hiram #1, under the jurisdiction of the Grand Lodge of Connecticut since 1789.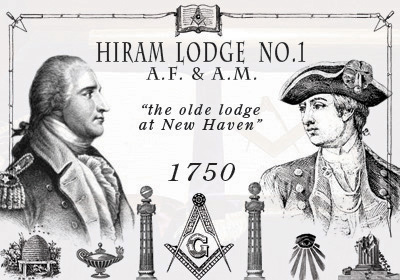 ---
NOTES
NEW ENGLAND CRAFTSMAN, JANUARY 1916
From New England Craftsman, Vol. XI, No. 4, January 1916, Page 134:
The discovery has been made recently by members of Hiram Lodge, No. 1, New Haven, Conn., that the much cherished original charter of the Old Hiram issued to it through Provincial Grand Master Thomas Oxnard, Boston, in 1750, is the oldest extant Masonic lodge charter in the United States. This highly prized document under which the local lodge operated until a charter was granted by the Grand Lodge of Connecticut which was organized in 1789 after the birth of the republic, has been carefully preserved as a precious heirloom but it was not until recently that the lodge discovered that no lodge in the country has in existence a charter dated so early. Hiram, although dating back to 1750, is not the oldest lodge in the country, but charters antedating it have become lost or destroyed in the vicissitudes of more than a century and a half until this now occupies its position as the oldest extant.
The charter is dated 1750. It was issued through Provincial Grand Master of America, Thomas Oxnard, through the authority vested in him to issue charters to lodges organized in this country, this authority being derived from the Grand Lodge in England. It was issued at the request of David Wooster, first master of Old Hiram and regarded as the father of Masonry in Connecticut. Under the charter the local lodge was then registered under the Grand Lodge of England.
LODGE WEB SITE
From the lodge web site:
Hiram Lodge was chartered on November 12, 1750 and held its first meeting in the following December. As such it is the oldest lodge in the state of Connecticut and about the seventh oldest in the US (not counting military lodges). Our original charter, still in the lodge's possession, is known as the Oxnard Charter and is the oldest extant charter in America (the earlier ones having been lost or destroyed). It is named after Thomas Oxnard, who was the Provincial Grand Master for the colonies under the Grand Lodge of England, and was issued from St. John's Lodge in Boston.
Our first master was David Wooster, later hero of the French and Indian War and the Revolutionary War. He had gathered a group of Masons in New Haven together to petition for a charter. The other charter members appear to have been Samuel Mansfield, John Eliot, Nathan Whiting, Elihu Lyman and Jehiel Tuttle (in whose tavern the first meetings where held). It is not known for sure where these men were made Masons, but it is thought that David Wooster was raised in England in 1745/6 after transporting a cartel ship of troops and prisoners after the battle of Louisburg. Four of the founders of Old Hiram were from Ivy League colleges: Wooster, Whiting and Lyman from Yale and Eliot from Harvard.
Hiram Lodge was originally known as the Lodge at New Haven and was carried on the rolls of the Grand Lodge of England as Lodge #143. The name Hiram was first used by the lodge in a communication to the Provincial Grand Lodge in April, 1773. This letter noted that the lodge had sixty members at the time. The lodge first met in taverns but was soon meeting in purpose built lodge rooms from the Union School and Tontine Hotel, to the now demolished building on Chapel and Union Streets. In the 20th century it even had its own building that stands at 234 Crown Street. In 1927, it moved with many other Masonic bodies to our current location at 285 Whitney Avenue.
Hiram Lodge has had many notable members ranging from Benedict Arnold to Hiram Bingham (the discoverer of Macchu Picchu) and often counted many of the top members of New Haven society on it's rolls. Over the course of Connecticut Masonic history, Hiram Lodge has had the honor of having ten members elected to the office of Grand Master, from Pierpont Edwards in 1789 to Samuel Moyle in 1933. More recently Gustaf R. Bodin in 2001 and Charles A. Buck, Jr in 2010.
Hiram has remained strong since 1750 and has always met in New Haven without ever going dark. We are proud of our colonial heritage, wearing our aprons as Bro. George Washington did, for example, and always willing to accept visiting brothers to our meetings. Hiram is also unique in the fact that we are one of the few lodges that has permission to use a ritual different from the standard one. Our ritual dates from about 1818 and has remained unchanged since Jeremy Ladd Cross presented it to the lodge. It is noted in our history that our ritual is the same as worked in London's Lodge of Antiquity under the noted Masonic writer William Preston.
PAST MASTERS
David Wooster, 1750-1760?
Nathan Whiting, 1760?-1762, 1765-1767
Andrew Burr, 1763, 1764
Timothy Jones, 1767, 1768, 1770, 1776, 1777
John Lothrop, 1769
Ralph Isaacs, 1770, 1771
Timothy Trowbridge, 1772, 1773
Benjamin Sanford, 1774, 1775
Pierpont Edwards, 1778
Joseph Bradlee, 1779-1791
---
REFERENCES IN GRAND LODGE PROCEEDINGS
APPEARANCES 1733-1792
QUARTERLY AND REGULAR COMMUNICATIONS
HISTORY
1850 (Historical sketch; see below)
HISTORICAL SKETCH, DECEMBER 1850
From Moore's Freemason's Monthly, Vol. X, No. 2, December 1850, Page 50:
HISTORICAL SKETCH OF HIRAM LODGE, NO. 1, NEW HAVEN, CON.
By Brother Francois Turner, W. M.
In one of his voyages to Boston, Capt. David Wooster, who had been an officer in the regular army during the Indian war, and then commanded a trading vessel, applied to the Provincial Grand Lodge of Massachusetts, sitting in Boston, for a Charter to establish a Lodge of ancient, free and accepted Masons in the town of New Haven, Connecticut, which petition was received favorably by the Most Worshipful Thomas Oxnard, G.M., and the Charter granted at a quarterly session of that Body. held on the 12th day of August, 1750; but it was made out on the 12th of November following, as is seen by the preamble of the new Charter granted by the Grand Lodge of Connecticut, after its organization in 1791.
The precise time when Capt. Wooster frst joined the honorable Society of Masons, does not appear, and it is not important to our purpose to ascertain the fact. It is probable that it was during one of his frequent absence from home on business, that he learned to appreciate the benefits he might derive from his connection with the Order, and no doubt can be entertained that he did not take this resolutlon lightly, for he was remarkable, through life, for his prudence and deliberation.
When the Charter was granted, he was appointed first W.M. of the Lodge, and continued as such, several years; but how long, cannot be ascertained, for there is an interruption in the records from June 24, 1754, to December 20th, 1762. His name appears no more in the books from that date, and it is not unreasonable to suppose that he was so entirely engrossed by his multifarious public duties, that he left it to younger members to impart to others the useful knowledge and instructions they had formerly received from his lips.
The first W. M. we find after the R.W. David Wooster, is Nathan Whiting, Dec. 20, 1762, and it is probable that an election of officers was held this evening, for we find that Brother Andrew Burr was W. M., Josiah Woodhouse, S. W., and Solomon Pinto, J. W., from that date to Dec. 3d, 1764. Br. Ralph Isaacs was raised that evening, and elected Secretary of the Lodge. In 1763, there were six Brothers raised. The price of admission into the order seems to have been £11, a very high price in those days, when no California gold mines were as yet known.
On the 28th of February, 1763, it was voted that "Brother N. Whiting, Samuel Mansfield, and Ralph Isaacs, be appointed a.Committee to form a code of By-Laws for the government of this Lodge," but those By-Laws are found nowhere, and it may be doubted whether they were ever written, for some years later we find another Committee appointed for the same purpose. In the same year, April 18th. the fee for admission into the Lodge of M. M. was fixed at "£2 5s. lawful money, and three shillings to the tyler."
In 1764, three Brothers were raised, supposed to be an incorrect number, for there is only one session recorded during this year.
In 1765, Nathan Whiting was again W.M., George Mills, S.W., Andrew Burr, J.W., and Timothy Jones, Secretary. On the 16th of April, Brother Benedict Arnold, then "a good man and true," as may be inferred from the fact that he was proposd for membership by the R. W. Master himse!f, "was admitted a member of this Lodge." His name appears frequently on the records as present at the regular meetings until about 1772. Six Brethren were raised. The vote establishing the fee of admission at £2 5s. was reconsidered, and it was then "voted that when a Brother is raised to the third and honorable degree of M. M. he shall pay the tyler five shillings."
We have only one meeting on record for 1766, and two Brothers were raised. The Lodge was opened on the other Degrees. Business was more brisk in 1767 and ten Brothers were raised. On the 23rd of June, R. W. Nathan Whiting resigned the chair, and Brother Timothy Jones was elected to fill the vacancy. He was re-elected in December following, with Brother John Lothrop, S. W., Robert Brown, J. W., and Moses Hartwell, Secretary. On the 14th of June, 1768, R. W. Timothv Jones resigned his office as Master of the Lodge and Brorher John Lothrop was elected to succeed him.
There is on the records of July 12, 1768, the following: "Voted, that there be an exact account extracted from the Secretary's book, of the number of evenings each member has attended since he was made a member, and that exhibited to the Lodge;" a certain proof this, that indifference had been creeping in among the Brethren. There were but five members ralsed.
There is no record at all i the Master's Lodge for 1769, though several initiations took place during that year. Dec. 26, Timothy Jones was elected W. M. "during his pleasure." Philip Daggett, S. W., Joseph Howell, J. W., and Caleb Trowbridge, Secretary.
1770. Five Brethren were raised in this year. Brother Ralph Isaacs was elected W. M., March 13, W. Timothy Jones having resigned. On the 25th day of December, Brother Ralph Isaacs was re-elected W. M., Brother A. Camp S. W., Benj. Sanford, J. W., and Solomon Pinto, Secretary; and for the next two years we find no records of the Master's Lodge. Dec. 23d, 1773, Brother Benjamin Sanford was elected W. M., Thomas Green, S. W., Thomas Davis, Jr., J. W., and Samuel Green, Secretary. The two Brothers Thomas and Samuel Green, were long considered as the fathers of the press in this city, and established a newspaper, under the name of the Connecticut Journal and Post Boy, which continued until 1835, after passing through the hands of a great many different publishers.
ln 1775, eight Brothers were raised to the honorable degree of M. M., among whom was the Hon. Pierpont Edwards, so long known as an eminent lawyer and a distinguished Judge of the U. S. District Court
Dec. 19, 1775, Timothy Jones was again W. M., John Lothrop, S. W., Isaac Bishop J. W., and Christopher Hughes, Secretary. There were sixteen Brothers raised in 1776, and thirteen in 1777, a proof that those who went to the wars were anxious to avail themselves of the benefits of Masonry, knowing that the arm of an enemy raised for destruction, might be arrested in its fall by the sign known to the Brothers of the craft, and the hand of mercv be extended to them instead. Col. Thomas Wooster, only son of General D. Wooster, and aid to Gen. Washington, was raised in that year.
There is only one meeting of the W. M. Lodge recorded in 1778, and one raised. Brother Pierpont Edwards, W. M., Joseph Bradley, S. W:, Rutherford Trowbridge, J. W., and Zina Denison, Secretary.
Dec. 1778, election of Joseph Bradlee, W. Master, Rutherford Trowbridge, S. Warden, Thomas Davis, J. Warden, and Zina Denison, Secretary, who continued in office several years; there are no regular records of election from this time till Dec, 1793.
Note: the article continues with further history through 1850, which will (eventually) be found in the Connecticut lodge page.
---
LINKS