MAGLWNorth
From MasonicGenealogy
WILLIAM NORTH 1794-1872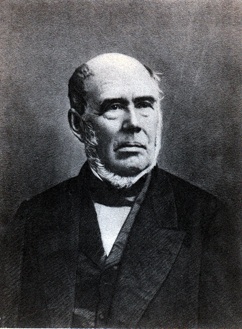 Senior Grand Warden, 1861
WILLIAM NORTH: THE CHRISTIAN CITIZEN
From the 75th Anniversary celebration of William North Lodge, 04/30/1942, Page 1942-100.
By Reverend Brother Maurice L. Bullock.
Over the north doorway of St. Paul's Cathedral, London, is the Latin inscription, which says: If you would see his monument, look about you. This is in honor of the great architect, Sir Christopher Wren. A similar inscription has been used to point out countless achievements in all parts of the civilized world.
This anniversary tonight indicates the monument built by William North. He was a true Mason, in that he built a full life, whose influence is still potent for good in our city. There have been many great builders of the creditable history of Lowell, and we know much about their stature and work. But no great biography has been written, no public statue set up, no special place given in the written histories to mark the achievements of this stalwart man whose name is honored in the signature of this Lodge. We have heard of his long years of service and of his significant career as a Mason making such a deep impression on his day and generation that, when this Lodge was but an infant in search of a name, this man's name led all the rest for the signal honor. Here is evidence that his life had been such a blessing to his contemporaries that his fragrant name was chosen to be a testimony to future generations of the best in the Masonic manhood of their time.
Here was a man whose Masonic edifice was rooted and grounded in deep religious experience. The great industrial development of Lowell attracted a large number of such men from various sections of the country during those early years of its history. In the very beginning, these men set up the organizations of great churches, for they well knew that a city could not become great without a dominant religious sentiment. William North was among these pioneers of the religious life of Lowell. He was a mature man of thirty-nine when he came to make this his home. He was a native of Connecticut, who had ventured away from those green hills many years before. There :t was that he established those religious connections which qualified his entire life, for he joined the Methodist Church in Goshen in 1815. His whole religious life was a reality to him and became a regular part of his life as a Mason. In the newly-settled town of Lowell, he found a church home on Chapel Hill, where the Methodists, who had come from many parts, had been organized and were worshipping since 1824.
It is clear that this strong man was not long in throwing himself heartily into the religious life of the community, for inside of two years he was superintendent of the large Sabbath School and soon president of a city-wide Sabbath School Union which was intensely interested in religious education, not only for the children, but of the entire Protestant population. He continued this sort of leadership for many years. In the church records of that period is a report of his, in which he stated that Encouragement is our Watchword, and Perseverance is our Motto.
William North was true to that philosophy all through the nearly half-century of steady service to his church. He never wavered in his devotion; he was not shaken in his loyalties; his usefulness increased with the years.
As the city grew, the churches increased in number and size. Methodism had three large organizations in downtown Lowell by 1852. These divisions were necessary by the sheer increase of numbers, but in the divisions, William North remained steadfast to the Mother Church. In 1839 the building on Hurd Street was erected as a permanent home and the name of our patron was high among the leaders in the great enterprise. How his Masonic soul must have thrilled at the Masonic ceremonies held at the laying of the foundation! While digging the ground for that foundation, the laborers found many bones, which antiquarians soon explained was evidence that the site, on a sandy knoll by the beautiful banks of the Concord, had long been an Indian burying place. The sight of these remains of the red men of the forest stirred those church builders as they realized that the ground for their new temple had long been a romantic and consecrated spot, and on that foundation, they set up the firm edifice that has remained to this day—now in its second century of service.
There followed years of depression and controversy, and then the Civil War and its terrific effect. It is a long story of faithful men holding firm to their principles. There was a great doctrinal controversy in St. Paul's Church in the middle forties, and the records say that many left the church. There were sad years when the large numbers were so depleted and changes so revolutionary that it was a question of whether the church could survive — in fact, the situation was so grave that the church building was actually sold because of its debt situation. But the story goes on to say that "A few brethren were left in the Church," and William North's name led the list. The church building was bought back by some superhuman efforts and prosperous days came again, when he had a Sunday School again of over 700 members. Early in the story, too, we are told that Mrs. North was President of the Ladies Aid Society, and then for many years William North was President of the Board of Trustees. In all the vicissitudes of the church, here was a man whose depth of character enabled him to nurture its very existence out of weakness and trouble into one of the strongest religious institutions in the city, which generation after generation has served the best interests of the community.
Not many years after the Civil War, this sturdy Christian citizen felt the weight of his years, and in 1872, on January 3, passed to his eternal reward, honored for his good life and remembered for his pioneer loyalty.
A very few years later, another meaningful memorial was erected to mark his noteworthy career. In the old belfry of his beloved church was placed a huge bell to ring out the appeal of the church for worship. This bell bears an inscription cast into its very metal, which reads as follows:
IN MEMORIAM
Presented to St. Paul's M. E. Church, Lowell, Mass.,
By the Sons of William North, for many years an
Active and Zealous member of the Church, who died
January 3, 1872, Age 77 years.
The bell was cast in Boston by William Blake and Company. A special bell chamber, with huge timbers carefully built in to support the big bell, was necessary in the old tower. The bell is verv heavy, and requires a very strong man to pull the rope before its swing can be accelerated enough to bring out its deep, resonant tone. For sixty-five years now it has occupied its lofty home, sending out its occasional note of victory as a call to worship the Most High God in the beauty of holiness.
Recognizing the years of valiant manhood spent in the development of the Christian community and the central place in his life which the church maintained in all the variety of his experience, what better memorial could climax such a pilgrimage of usefulness. William North's Memorials are unusual, but all offer convincing record of a man whose unblemished record deserved such reminders of his character. He is enshrined in the title of the "William North Lodge." He was a true pillar in the Church of God, carrying out the old Masonic definition of the pillars in the temple, that "in strength God will establish his House." Symbolically applied, God firmly established the moral and spiritual edifice of this true man, and St. Paul's Church bell, the William North bell, is an enduring monument, vibrating the hopeful tones of security and faith of steadfastness and loyalty so that all generations may be reminded of the sweetness of his character and the deep devotions of his life, to the end that his example may be an everlasting inspiration.
"In tones that float upon the air,
As soft as song, as pure as prayer,
The bell to honor William North
Its message ever pealing forth.
This is the church not built on sands,
Emblem of that not built with hands.
Come, worship here, come worship here,
Your everliving God revere."
NOTES
From the centenary history of William North Lodge, 04/12/1967, Page 1967-127.
"Why was the Lodge named after William North? This gentleman, born in Wethersfield, Connecticut, July 13, 1794, came to Lowell in 1834 at the age of forty. He was an overseer of dyeing in the Middlesex Company. He soon became involved in community affairs, serving on the Common Council, the Board of Aldermen, and the School Committee, and becoming Vice President of City Institution for Savings. He had become a Mason early in life and had consistently followed the fortunes of Masonry through good and bad times with his customary fidelity. He had retained the vivacity of youth and had endeared himself to the younger brethren by familiar yet dignified intercourse. In fact, the local brethren often referred to him as Father North. He was a Christian man, one of the founders of St. Paul's Methodist Church and very active in its affairs for many years.
"He served as Master of three Lodges: two years in Seneca Lodge No. 55 in Torrington, Connecticut; three years in Libanus Lodge in New Hampshire; and after he came to Lowell, was Master of Pentucket Lodge during seven of its most prosperous years. He was elected a member of Mount Horeb Royal Arch Chapter April 21, 1846, and held the office of Excellent King in 1847. He was admitted a member of Ahasuerus Council, R. and S. Masters, in 1857, and served as Treasurer from that year until his death. He became a Charter Member of Pilgrim Commandery, K.T., October 10, 1855, and was its first Prelate, serving in that office until his decease. He also served the Grand Lodge as District Deputy Grand Master, 1857-1859, as Senior Grand Warden in 1861, and as a member of various committees. Such a man, civic-minded, full of spiritual and religious fervor, and with a great love for the Masonic Fraternity, was the one whose name was chosen to be an inspiration to our Lodge."
Report on Decease of Rt. Wor. William North, in Grand Lodge, March 13, A.L. 5872. Proceedings, Page 1872-31.
"The committee upon the decease of R. W. William North, of Lowell, respectfully REPORT.
"That our Brother North was born at Wethersfield, Connecticut, July 13, 1794, that he was initiated in Seneca Lodge, Torrington, Ct, in 1820, and was Master of the Lodge two years. During a residence in Great Falls, New Hampshire, he was Master of Libanus Lodge, in that town, three years. In the spring of 1834, he removed to Lowell, where he has since continued to reside. In 1845, he became a member of Pentucket Lodge in the city of Lowell, of which he was Master seven years. He held the office of District Deputy Grand Master three years under the appointment of Grand Master Heard, and in 1861 was elected Senior Grand Warden. He was also elected a member of the Board of Directors of the Corporation. In Lodge, Chapter, Council, and Commandery, as well as in the thirtytwo grades of the Scottish Rite, he occupied prominent positions, and was a zealous co-worker with his companions in every department of our Institution.
During the days of persecution through which the Craft were compelled to pass, he remained true and steadfast to his obligations, and a bold defender of Freemasonry.
In his domestic relations he was affectionate, kind, and indulgent. In his associations with his fellow-citizens he avoided giving offence, and constantly labored to contribute to the happiness of others. In his relations to his Brethren he was kind, conciliatory, fraternal, and affectionate, and he possessed the respect and love of all the Craft with whom he came in contact. He was a godly, pious man, whose life was actuated by religious principles, and whose charity extended to all mankind. Dearly beloved by those who knew him best, modest where his own interests were in question, bold in defence of the right, he lived a pure life and attained a serene old age. His departure from this world was illumined by that precious light which made radiant the dark and gloomy passage to the tomb, and which prepared him for that immortal dawn which was soon to burst upon his enraptured vision.
His decease occurred at Lowell on the third day of January, 1872, in the seventy-eighth year of his age. His funeral obsequies were performed at Saint Paul's Methodist Episcopal Church, January 6, attended by all the Masonic Bodies of Lowell, the M. W. Grand Master with a delegation from the Grand Lodge, and a large concourse of his fellow-citizens.
In view of this dispensation of our Heavenly Father, your committee respectfully recommend the adoption by the Grand Lodge of the following resolutions: —
Resolved, That by the death of our R. W. Brother William North, we are called upon to deplore the loss of one of the most faithful and zealous members of the Grand Lodge, who, by his genial temper and unvarying courtesy endeared himself to all his associates.
Resolved, That we will ever gratefully cherish the memory of our deceased Brother who by his life, devoted to the best interests of our Craft, by his unswerving integrity, Christian character and unsullied name, has done so much to sustain the reputation of Freemasonry in the community where he resided.
Resolved, That we tender to the family of our deceased Brother our most sincere sympathy in their deep affliction.
WILLIAM S. GARDNER,
WYZEMAN MARSHALL,
HORACE J. JOSLIN,
Committee.
MEMORIAL
From Moore's Freemason's Monthly, Vol. XXXI, No. 4, February 1872, Page 104:
R. W. William North died at Lowell on Wednesday, Jan. 3, 1872, at the advanced age of 87 years. He was a Past Senior Grand Warden of the Grand Lodge of this Commonwealth, — had presided over most of the masonic bodies at Lowell, and, in all, had filled and discharged the duties of the more active offices from the Lodge to the Consistory, 320. He was a faithful and earnest Mason, and a devout Christian. His brethren loved and honored him as a "father in Masonry." He was to them a reliable guide, counsellor and friend, and their confidence in him was as that of children to a parent His funeral was attended on Saturday the 6th of January, by all the Masonic bodies in Lowell, by the public officers of. that city, and a large assemblage of friends and citizens. The Grand Lodge was represented by:
M. W. Sereno D. Nickerson, G. M.
R. W. W. S. Gardner P. G. M. as D. G. M.
R. W. Charles Kimball, S. G. W.
R. W. Tracy P. Cheever, J. G. W.
R. W. Winslow Lewis, P. G. M.
R. W. Wm. Sutton, P. G. W.
R. W. Joel Spalding, P. G. W.
R. W. John McClellan, G. Treas.
R. W. Chas. H. Titus, R. G. Sec.
R. W. Chas. W. Moore, C. G. Sec'y.
W. Wm. H. Chessman, G. Marsh.
Br. Fred A. Pierce, G. Tyler.
The funeral ceremonies took place in St Paul's Methodist Episcopal Church, of which he had for many years been a member, in the presence of perhaps one of the largest congregations of sympathizing friends ever brought together on any similar occasion in Lowell. At the conclusion of the usual church services, an eloquent and appreciative eulogy was pronounced by the Rev. D. C. Knowles, pastor of the church, when the procession was formed, and the body of our deceased brother was solemnly escorted to its final resting place.
From Moore's Freemason's Monthly, Vol. XXXI, No. 5, March 1872, Page 152:
Masonic Temple, Lowell, January, 22nd, 1872.
At the Regular Communication of Mt. Horeb R. A Chapter, held Mon
day, Jan. 22nd, 1872, the committee appointed at the last meeting to prepare
and present suitable resolutions of respect upon the decease of our late
 Worthy Companion Wm. North, made the following Report, which was read
and accepted by a unanimous rising vote. And it was also voted that the
same be spread in full upon the records, and that the succeeding page be
dedicated to his memory, and that a copy be furnished to Moore's Magazine
for publication.
Richard W. Baker. Sec'y, Mt. Horeb R. A. Chapter.
REPORT.
Your Committee, appointed on the 8th inst. to "prepare and present to this Chapter suitable resolutions of respect upon the decease of our late Worthy Companion, William North, and an Honorary Member of this Chapter," in attending to the duty, have felt that in this instance they ought to go outside of the usual formal custom of Preamble and Resolution, and therefore present as a more suitable expression of the sentiments of the members of this Chapter, the following brief Eulogy.
Our estimable and beloved Companion, whose travel of the rough and rugged path of this life terminated on the third inst., was horn in Wethersfield, Conn., July 13th A. D. 1794, and came to Lowell in the Spring of 1834.
He was initiated into Freemasonry in Seneca Lodge, Torrington, Conn. A. D. 1820, and was Master of that Lodge for two years, and subsequently for two years Master of Libanus Lodge, at Great Falls, N. H.
During the Anti-Masonic excitement which raged between 1830 and 1840, he remained true to our Institution; and after the Charter was restored to Pentucket Lodge of this city, in 1845, he affiliated there, and was quite active in promoting its interest. He served as its Master for seven years.
He held the office of District Deputy Grand Master of the Grand Lodge of Massachusetts for the years 1857-8-9, under the Grand Mastership of M. W. John T. Heard, and in the year 1861 held the important and honorable position of Senior Grand Warden of the same Grand Lodge.
He was exalted to the degree of Royal Arch Mason, in the Chapter at Litchfield, Conn. A. D. 1825, and on the revival of Masonry in this city, affiliated with our Chapter April 24th, A. D. 1846. Here he held office for many years; but though strongly urged, could not be induced to accept the office of High Priest.
He received all the degrees of the York and Scottish Rites (except the 33°), holding offices of importance and trust, in every body with which he was connected; and in every branch of Masonry he was always zealous and active in promoting the spread of the genuine principles of our Institution. His love for Freemasonry was very strong, and he took delight in expressing it; he placed it next to his love for the church of which he was a devoted member, and often said, that in the elevation and advancement of the human race, he considered Masonry as the handmaid of Religion.
His life was an exponent of his principles: what he professed he practised: whether prompted by the Faith of the Christian, or the Brotherly Love, Belief and Truth of the Mason, he was ever ready to take his stand among his fellowmen in defence of his principles, and endeavored to enforce, both by precept and example, what he believed to be the right.
"Who among us shall we call his peer?
For such a vestal soul was his — so pure,
So crystal clear, so filled with light we look'd
As at some window of the other world,
And almost saw the Angel smiling through.
'Twas but a step from out our muddy street
Of earth, on to the pavement all of pearl.
Of such as he was, there be few on earth;
Of such as he is, there are many in heaven;
And life is all the sweeter that he lived,
And death is all the brighter that he died,
And heaven is all the happier that he's there.
The venerable form of "Father North," bowed with the weight of nearly four score years, will be seen among us no more forever. The genial, pleasant face, so constant at our meetings, will never again greet us in the these Halls. The voice, so kind, so earnest, so ready and ever welcome at our social gatherings, can never speak to us again those cheerful winning words, which we have been wont to catch so eagerly. How vividly these things come to our minds, as we think of the cold and lifeless form so lately deposited in " mother earth," and how sadly and tearfully we stand beside the grave of our dearly loved Companion 1 But the hope that inspired him is with us, and leads us to consider that better and immortal part, which we believe yet lives, and which we trust may still be to us
"As a lamp to guide our way,
Why should we weep? We do not bury love!
We cannot seek that jewel in the grave.
Let us uplift the eyelids of the mind,
And seek the living love who dwelt awhile
In that frail body, now a spirit of light
All jubilant upon the hill of God."
May the spirit of our revered Father North, that "living love" which survives the grave, ever be with the Masons of Lowell and may the memory of his many virtues be indelibly impressed on their hearts through many generations.
Fraternally submitted,
W. F. Salmon,
S. K. Fielding,
J. P. Folsom,
Committee.
---