MAGLWLoring
From MasonicGenealogy
WILLIAM C. LORING 1925-2010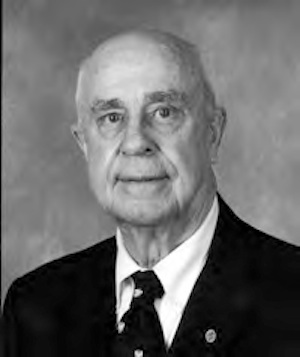 Deputy Grand Master, 1982
BIOGRAPHY
SPEECHES
FEAST OF ST. JOHN, DECEMBER 1981
From Proceedings, Page 1981-176:
Worshipful Grand Master and Distinguished Brethren All:
When I was presented a lambskin or white leather apron I was informed by the Master of my Lodge that this was the greatest honor that could be conferred on me by king, prince, potentate, or any other man except he be a Mason.
I was convinced of this statement until I was installed as Master of the Lodge of Saint Andrew by the Most Worshipful Laurence E. Eaton. I later was pleasantly surprised to find that I was in error when the Most Worshipful Stanley F. Maxwell appointed me District Deputy Grand Master of the First Boston Masonic District six years ago.
This afternoon I have been accorded an honor of being admitted to a group of the finest Masons who have held this important office of Deputy Grand Master. To say that I'm most pleased and honored to merit such an honor is to put it mildly. In actuality, I am overwhelmed and after that introduction words fail me.
I have been asking myself the same question doubtlessly many Deputy Grand Masters have asked themselves repeatedly before installation, "am I worthy and qualified to hold such an important office". Time alone will tell.
The important consolation to this question of the feeling of inadequacy is the personal friendship and support I have received in all the offices I have held by all of the Past Grand Masters and the PresidingGrand Master.
I have the good fortune of belonging to two of the finest Lodges in the Commonwealth, the Manchester Lodge and the Lodge of Saint Andrew. My mother Lodge, the Lodge of Saint Andrew, has a motto that has guided me through many Masonic occasions in the past and will continue in the future. It is Audae, vidae, takae. Translated from the Latin it means "To see, to hear and be silent." With these words to guide me, how can I fail.
Most Worshipful Sir, your guiding us will not fail. Thank you.
---