MAGLWFranklin
From MasonicGenealogy
WILLIAM H. FRANKLIN, JR. 1888-1953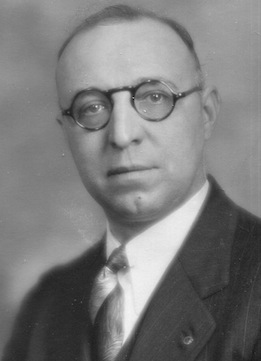 MEMORIAL
Born at Brooklyn, New York, October 29, 1888
Died at Merrimac, Massachusetts, October 13, 1953
Right Worshipful William Henry Franklin, ]r., was Junior Grand Warden in 1931 and received the Henry Price Medal at the end of that year from Most Worshipful Herbert W. Dean, our then Grand Master.
Brother Franklin was born at Brooklyn, New York, October 29, 1888, son of William H. and Margaret Myers Franklin, and received his education in the public schools of Brooklvn and in Everett and Merrimac, Massachusetts.
As a young man, he organized and founded the William Franklin Corporation, a plumbing and heating business, of which he was President and Treasurer for many years. In his community, he was active: a member of the Light and Water Commission; a member of the Finance Committee for the past eleven years; and a member and Past President of the Lions Club and the Hillcrest Club of West Newbury. He was a member and a deacon of the Pilgrim Congregational Church; a member of the Town Improvement Society; Haverhill Master Plumbers and National Association of Heating Engineers.
Brother Franklin's Masonic record is as follows:
Raised in Bethany Lodge, Merrimac, May 1, 1910
Worshipful Master, 1921 and 1922
District Deputy Grand Master, Newburyport 10th District, 1926 and 1927, by appointment of Most Worshipful Frank L. Simpson
Elected Junior Grand Warden for the year 1931
R.W. Brother Franklin was very active in the work of the Education Committee and the Lodges of Instruction from their very inception, becoming the first Senior Warden of the 33rd Lodge of Instruction in 1929, and later becoming its Master.
At the time of his death, he was completing his rwentieth year as Treasurer of Bethany Lodge. He had also served as Representative on the Board of Masonic Relief for his district. Brother Franklin was a member of Trinity Chapter of Royal Arch Masons and Haverhill Commandery of Knights Templar.
Brother Franklin's passing was most untimely; stricken at the end of the evening meal, he died within an hour.
Brother Franklin was married to Mabel Pease on May 26, 1910, at Merrimac, Massachusetts. She survives him. To them were born four daughters, three of whom are living, and two sons, who also survive him: Mrs. Charlotte F. Page of Gorham, Maine; Mrs. Ruth A. Youngblood and Mrs. Dorothy J. Quinney, both of Haverhill; William H. of Winthrop and John T. of Merrimac. Twelve grandchildren and a brother, Walter Franklin, of Dover, New Hampshire, also survive him.
Funeral services were held Friday, October 16, 1953, with burial in Locust Grove Cemetery, Merrimac.
Brother Franklin had a most pleasing personality, and not only made many friends, but certainly enjoyed these friendships. Out of an extremely busy business life, he found time to serve his Lodge, his community and his fellow man.
"He is not dead. Such souls forever live
In boundless measure of the love they give."
Fraternally submitted,
Winfield Temple
George E. Day
Frederick C. Chase
Committee
---