MAGLSWilson
From MasonicGenealogy
STANLEY WOODBINE WILSON 1893-1950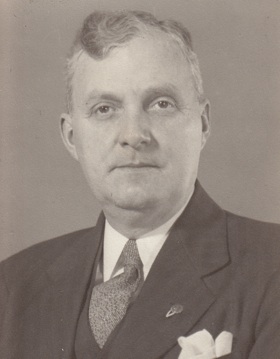 Senior Grand Deacon, 1934
Grand Pursuivant, 1944
Deputy Grand Master, 1945
MEMORIAL
From Proceedings, Page 1950-31:
R.W. Brother Wilson was born in Somerville, Massachusetts, February 15, 1893, and died in South Dennis, Massachusetts, January 17, 1950. A Masonic funeral for Right Worshipful Brother Wilson was held at the South Dennis Congregational Church on Friday, January 20, 1950.
He was the son of Charles E. J. and Elizabeth Green Wilson. Right Worshipful Brother Wilson received his formal education in the public schools of the City of Somerville, Massachusetts, graduating from the Somerville Latin School and later pursuing his studies at Northeastern University. His vocation was that of Sales Management and Sales Promotion. He retired from the employ of the Boston Edison Company on November first, 1948, after having served that Company for approximately twenty-eight years. During World War I he served his country as Lieutenant in the United States Navy.
His career as a Mason was extensive and distinguished. He was received into Somerville Lodge on March 25, 1918; passed March 28, 1918; and raised to the Sublime Degree of Master Mason April 1, 1918. He was Master of Somerville Lodge during 1933 and served as District Deputy Grand Master for the (Arlington) Sixth District in 1935 and 1936.
In the Most Worshipful Grand Lodge he was Senior Grand Deacon, 1934, Grand Pursuivant, 1944, and Deputy Grand Master, 1945, under Most Worshipful Samuel H. Wragg. at whose hand he received the Henry Price Medal as the result of Distinguished service as Director of the Military Service Campaign in 1944.
He was a member of Somerville Royal Arch Chapter, Orient Council and DeMolay Commandery, and in the Scottish Rite Bodies, Boston - Lafayette Lodge of Perfection, Giles F. Yates Council, Princes of jerusalem, Mount Olivet Chapter of Rose Croix and Massachusetts Consistory.
In his community he was highly respected, being active in the life of his Church, the College Avenue Methodist of Somerville, and President of the Men:s Class there.
He is survived by his wife, Annie Callen Wilson, and three daughters, Mrs. Eleanor Lynde, Mrs. Elizabeth Ferguson, and Mrs. Dorothea Pate.
Right Worshipful Brother Wilson was a loyal, hard-working Mason, a loving father and husband, and his death will leave a void in the lives of his many friends.
Fraternally submitted
Samuel H. Wragg
Robert W. Young
Wilbur D. Fenn
Committee
---