MAGLSStreeter
From MasonicGenealogy
SEBASTIAN STREETER 1783-1867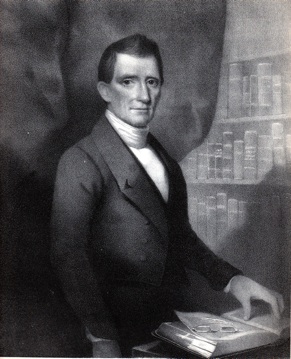 BIOGRAPHY
From Proceedings, Page 1873-262:
REV. SEBASTIAN STREETER, BOSTON, Universalist. 1826, 1841-1843.
In another column of this paper there is a brief announcement of the death of Rev. Sebastian Streeter, known, respected, and loved throughout our denomination, as Father Streeter. He was born in Hoosic, now North Adams, Mass., April 15th, 1783. When he was about one and a half years old his parents removed to Richmond, N. H., and soon thereafter to Swanzey, in the same State, where he spent his youth and early manhood. At that time, and in that region, a good education could not be easily obtained by the most favored. His circumstances and the times placed many obstacles in his way; but, by great perseverance, he overcame them all, and laid for himself the basis of a professional education. It was his intention to enter the profession of the law. At the age of eighteen years he became a teacher in the public schools of his town, exhibiting those excellent qualities of mind and heart which always compelled the respect and love of those who knew him best, and which made him, in after years, the successful minister and pastor. At this early age, when Universalism was but little known, and everywhere spoken against; when men, by openly professing it before the world, frequently lost social standing and worldly success, and were compelled to act in constant opposition, theologically, to nearly all their fellow-men, we find Mr. Streeter an outspoken advocate of Universal Salvation. That he should be so, thus early in life, shows strength and keenness of mind, a heart of large and tender love, and, above all, a loyalty to truth, a willingness to take up his cross and follow his Master and Saviour.
At twenty-two years of age, at the request of his friends and neighbors, he preached his first sermon, and to a large audience, which assembled from all parts of the country about Swanzey, to hear the new, and, to them, strange interpretation of Christianity. As he had, at this time, no intention of becoming a minister of the gospel, this and other early efforts were prompted by a desire to impart to others the doctrines in which he had found richest comfort, strength, and joy. Actuated by this desire he continued, from time to time, to preach to the people the good news; and at last he accepted an invitation to visit the wilds of Maine, and declare his doctrines there. Preaching our doctrines at that time, and in that region, was a work of hardship and sacrifice. He spent one year in Maine, travelling from place to place on horseback, and frequently going sixty or seventy miles through the inhospitable forests to proach a single lecture. While upon these journeys it was no unusual thing for the settlers to set their dogs upon him as he passed; while in one town in New Hampshire he was stoned by a member of a Christian church, while he was preaching in a Christian house of worship. This kind of opposition doubtless determined Mr. Streeter to consecrate himself to the Christian ministry, contrary to his original intention of devoting himself to the profession of the law; for he was of that peculiar temperament which would lead him to be loyal to a despised and persecuted cause with which he sympathized. And at the meeting of the General Convention, in Washington, N.H., September 21st, 1808, at the request of the Universalist societies in Hopkinton and Weare, N.H., Mr. Streeter was ordained a minister of Christ.
April 15, 1807, he married Miss Ruth Richardson, of Swanzey, whom he had long known, for they were school-mates, and who now survives the husband with whom she lived most happily for more than sixty years. After a summer tour in Maine he removed with his wife to Weare, N. H., and became pastor of the society of our faith there. He remained in Weare four years, removed to Haverhill, Mass., and, after a ministry there of the same length of time, accepted a call to take the pastoral charge of the society in Portsmouth, N.H., which had just become vacant by the removal of Rev. Hosea Ballou to Salem. His eloquence as a preacher drew crowds to hear him; and the memory of him as minister and pastor lingers in Portsmouth, where he is still mentioned by many firesides. In 1824 he received a call to become £ e pastor of the First Universalist Church (Hanover Street), in Boston; and he was installed on the 13th of May, 1824, now more than forty-three years ago. He remained pastor of this society until about six years since, when he retired from all public labors. He has been a severe, but most cheerful, sufferer for many years. But now he has found rest from the sufferings of disease and the infirmities of old age. On Sunday evening, June 2d, just as the sun was setting, the veteran watchman on the walls of Zion passed to his heavenly rest, in the 85th year of his age.
In person Mr. Streeter was of spare habit, and about five feet and eight inches in height. He had a square, handsome forehead, and a brilliant, flashing eye, full of tenderness beneath it. His features were regular, and exhibited no striking peculiarity. He was not a man of a single gift, but a man of many gifts. There was in him a latent lire of eloquence which, when kindled, burst forth with strange power. But he never made an attempt to be eloquent; his eloquence came spontaneously, and it lifted his hearers into heavenly places, and made the spiritual world a reality to them. His manner of speaking was easy, full of action, and full of firmness. He was a man of great originality and variety of thought, which he expressed in remarkably accurate, simple, yet energetic language.
No one who has ever heard him pray, will ever forget the wonderful fervor and power of his devotions. Probably no man in the land was gifted as he in prayer. Mourners longed for his services, and few men have attended so many funerals. Now, by the tender pathos of his voice and words, he opened the fountains of affection, and now by his strong and tender words of faith and hope, he imparted comfort and strength to the sorrowing. From the days of Murray, a weekly conference meeting was successfully maintained in the vestry of Hanover-street church. Father Streeter was peculiarly happy in these meetings. There he met his parishioners, and gave them cordial and friendly greetings; he sang, and prayed, and talked, without any seeming effort; he encouraged the young to speak and pray, and claimed a like service of the elder. And while he attended his own weekly conferences, he found time to attend regularly the weekly conferences of the other two churches in the city, and was always a welcome visitor there.
He was a philanthropic man. His ear was always open to the petition of the poor; no one ever appealed to him in vain; he gave with generous hand, and was a well-known form in the homes of the poor at the North End. He gave too liberally for himself sometimes; and he gave, too, of his other riches, in tender words of sympathy and encouragement.
And yet, while Father Streeter was peculiarly fitted for Christ's work by the bedside of the sick, in the house of sorrow, in deeds of charity among the poor, in services beside the coffin and the grave, while he was most welcome along all the ways of life where the deep shadows fall, he was also peculiarly fitted to walk in the bright and sunny paths of life. No one was more welcome at the marriage ceremonial than he. He married more couples than any other man in the land. No one can forget his happy laugh, and his clear, ringing tones of cheerfulness. The aged ever found in him a wise and happy companion; the middle-aged, a wise counsellor, and the children loved him, and he loved them. Perhaps no minister among us has had the name Father attached to his name for the same reason as Father Streeter; it was given him not because ho was old, for it was given to him very early in life; it was given him not because he was the founder of a sect, but because of his fatherly character and life.
We must not forget what he has done for us in literature. He contributed to our periodicals, was associated editor of two of them; and he and his brother, Rev. Russell Streeter, compiled a hymn-book which was used by nearly every society in our denomination until within a few years, and which still holds its place in many of our societies. Its popularity, and the hold it still retains, attest its great excellences. His funeral was attended from the Shawmut-street Universalist Church, Boston, on Wednesday, June 5th. A large congregation filled the church. The young, the middle-aged, and the old were there to pay their last respects to pastor and friend, showing the affection in which he was held by persons of all ages. Rev. L. R. Paige, D.D., read the hymn; Rev. C. H. Leonard read the Scriptures and offered prayer, and Rev. Dr. Miner delivered an eloquent and feeling eulogy upon his life and character. The large congregation then took a last look at the familiar, but wasted form; and then aged friends and parishioners Rev. L. R. Paige, D.D., and Rev. T. G. Farnsworth, of the clergy, S. P. Ridler and S. M. Pettingill, of the Hanover-street Church, Moses Mellen and T. C. Bacon, of the School-street Church, and Henry Bowen and J. A. Smith, of the Shawmutstreet Church, acting as bearers, went with the body and the mourners to Mt. Auburn, where, after appropriate services by Rev. C. H. Leonard, the earthly remains of Father Streeter were laid to rest. He has honored the denomination, has served his Lord and Saviour faithfully, and walked as a child with his Father in heaven; he has left the world richer than he found it; and we thank God that he was spared to us so long. The memory of the just is blessed.
— From the Universalist, Boston, June 15, 1867.
---