MAGLSIrons
From MasonicGenealogy
SAMUEL R. IRONS 1914-1980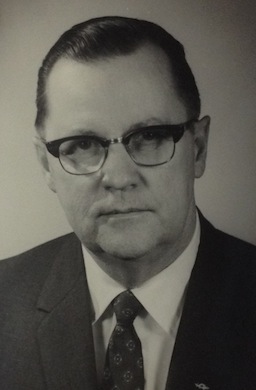 Junior Grand Warden, 1970
MEMORIAL
From Proceedings, Page 1980-87:
Right Worshipful Samuel Russell Irons was born in Dorchester, Massachusetts on October 22, 1914, the son of Leslie Eeler Irons and Loretta Christina (Harvey) Irons. He was educated in the Boston schools; Boston English High, Massachusetts Institute of Technology, and Bentley Accounting School, and spent the last 28 years of his life in Fitchburg, Massachusetts. Brother Irons had retired as the Chief Accountant for Simonds Saw and Steel Co., Fitchburg.
At his passing, he was a member, Past Member and former Treasurer of Aurora Lodge, Fitchburg, as well as Grand Lecturer of the Most Worshipful Grand Lodge of Masons in Massachusetts since 1972. He was also a Past Master of the Eighth Lodge of Instruction, and was on the speakers' list for Lodges of Instruction.
Additionally, he had instructed on the First Degree since 1960. He was former President of the Fitchburg Masonic Association and manager of Zone 4A of the Grand Lodge Service Program, comprising seven Lodges ih the Fitchburg District and six Lodges in the Barre District. It was during his presidency that the Masonic Temple in Fitchburg was built in 1964. He was District Deputy Grand Marshal of the Fitchburg 13th Masonic District in 1955-1956, and was District Deputy Grand Master in 1965-1966. He had served as Grand Lecturer for the Grand Lodge since 1972 and was Junior Grand Warden of the Grand Lodge in 1970.
The first Permanent Member of the Grand Lodge in the history of the Fitchburg District, he was also recipient of the Joseph Warren Distinguished Service Medal, presented by the Grand Lodge in 1964. He later was presented Massachusetts Masonry's highest award, the Henry Price Medal in 1970.
Right Worshipful Irons was President of the Past District Deputy Grand Master's Association in 1977 and 1978, and was a member of Aleppo Temple Shrine and Scottish Rite, 32° both of Boston; the Fitchburg-Leominster Shrine Club; Simonds Recreation and Veteran's Clubs; American Association of Retired Persons, and National Association of Accountants.
He is survived by his wife, Mildred A. (Lewis) Irons, a daughter, Carol, wife of Kenneth Maclean of Townsend, and two grandsons.
Brother Irons passed into the Celestial Lodge Above on April 29, 1980 at Fitchburg, Massachusetts. A Masonic Memorial Service, attended by hundreds of his Brothers from throughout Massachusetts, was held at the Bosk Funeral Home, Fitchburg, with a Memorial Service conducted by Reverend Erven Burke, Pastor of the Twin City Baptist Church, the following morning. Interment was in the Forest Hills Cemetery, Fitchburg.
Brother Sam's life epitomized these words from the poem, Thanatopsis, which deserves note at these proceedings:
"So live, that when they summons comes to join that innumerable caravan which moves into that mysterious realm,
And each shall take his chamber in the silent halls of death.
Thou go not, like a quarry slave at night, scourged to his dungeon.
But soothed and sustained by an unfaltering trust approach thy grave.
Like one who wraps the draperies of his couch about him and lies down to pleasant dreams."
Few of us knew what a fine, sensitive, compassionate individual Brother Sam was. Sam truly must have entered the Eternal Realm Above a happy man and lay down to pleasant dreams, as he surely sent much of what is good and true into all our lives.
Respectfully submitted,
Herbert H. Jaynes
Donald P. Baker
Steven O. Lynch
Committee
---