MAGLRTitus
From MasonicGenealogy
RUFUS L. TITUS 1893-1946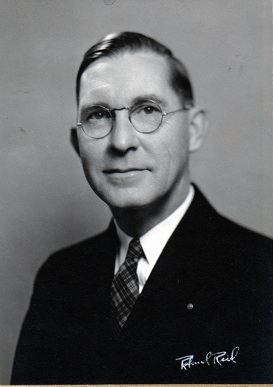 From the collection of the Grand Lodge of Masons in Massachusetts
Junior Grand Warden, 1939
MEMORIAL
From Proceedings, Page 1946-216:
"Whereof the man, that with me trod
This planet, was a noble type
Appearing ere the times were ripe,
That friend of mine who lives in God."
Rufus Titus was a friendly man. He had a host of friends because he gave so generously of his abundant friendship and brotherhood to his fellowmen. He did not have a long life, measured by the solar years of longevity, but he did live a life of long activity and service, measured with that of the average man. To do for others was a great happiness and was eagerly sought by him. He was always at work if he could find the opportunity to work. His mother has said of him that in his youth he was a good boy who never answered back and never complained if given a task to do. This boyhood trait worked strongly into his future. One who knew Rufus cannot imagine a complaint when he had a problem to face or when a difficult situation confronted him. He sought it out if he could be of help to others and eagerly and graciously went forward in the work.
He was born in Marblehead, Massachusetts, on April 1, 1893, the son of Calvin, Jr. and Delia Titus, and lived in the same locality of his birth all his days. It seemed that some of the ruggedness of this seacoast town was ingrained in his character, capacity for service and determination for good. His father was a shoe manufacturer, later a florist, in Marblehead, and Rufus left school early to work for him and then to learn the automotive machinist trade. He was educated in the public schools of his native town, but felt he must work before seeking advanced education.
At the time of the first World War, he enlisted in the United States Navy and served his country with the same loyalty and courage which characterized his life. In his domestic life he exhibited outstanding traits of true manhood. He married Nancy Thayer Coffin of Marblehead, and their union was blessed with two sons-Everett Calvin and Rufus Leonard, Jr. The home life was always that of a loving family with devotion, happiness, and the spirit of harmony its keynote. At the close of the War, Brother Titus built and operated a garage in Marblehead and continued with this vocation for nearly twenty-five years. At the beginning of World War II, he was appointed Inspector of Navy Material at the First Naval District in Boston and was stationed at the General Electric Company in Lynn, which office he held when he passed away.
In civic and town affairs he was active and thoughtful of the welfare of others, having served on the Marblehead Finance Board and as a Selectman for a term of years. He was a member and vestryman of St. Michael's Episcopal Church in his native town and was enthusiastic in the work of his church all his life.
He joined Atlantic Lodge, No. 55, of Odd Fellows and was a Past Noble Grand of that Lodge. He was also a member of American Legion Post No. 32 of Marblehead, and served that organization as Junior Vice Commander. He also held membership in the M. A. Pickett Veteran Firemen's Association. Thus it will be seen that he was in active service in his home town, but in Freemasonry he found his greatest delight and the privilege of doing for others.
Right Worshipful Brother Titus received the Degree of Master Mason in Philanthropic Lodge on November 16, 1915, and was shortly thereafter appointed an officer. His work in the Lodge was outstanding and his Masonic acts were most beneficent, He was Worshipful Master of Philanthropic Lodge in 1926 and 1927, and District Deputy Grand Master for the Lynn Eighth Masonic District in 1929 and 1930, by appointment of Most Worshipful Herbert W. Dean. He was elected Junior Grand Warden of the Grand Lodge for the year 1939. His service in these Masonic offices was most complete and satisfactory, and he was awarded the Henry Price Medal in 1939.
In the early months of this year, 1946, a new Masonic Lodge being instituted in Lynn, Mount Sinai Lodge, he was selected to be its first Secretary to give of his ability and knowledge and to aid and assist in guiding it during its formative period. This is further evidence of his capable altruistic aid in the Masonic field.
In Scottish Rite Freemasonry Brother Titus found an additional outlet for his extreme ability and service to his Brethren. Admitted to Sutton Lodge of Perfection, Jubilee Council, Princes of Jerusalem, Emmanuel Chapter of Rose Croix, of Salem, and Massachusetts Consistory of Boston, in the early part of 1926, he at once commenced active work and so continued for the remainder of his life. He was appointed to office in Jubilee Council, Princes of Jerusalem, and was its Sovereign Prince from 1941 to 1944. He was also an officer in Emmanuel Chapter of Rose Croix and had advanced to the position of Junior Warden, which office he held at the time of his demise on April 20, 1946.
At the meeting of the Supreme Council for the Northern Masonic Jurisdiction in September, 1945, he was elected to receive the thirty-third and last degree, which award was given him for his meritorious service. However, he stepped aside and laid down his earthly work but a few months before he would have received the Degree in September, 1946.
It is impossible to enumerate his benevolent and charitable works and his unnumbered acts of friendship in a memorial such as this. It is needless to say, he will be greatly missed in this sphere of Masonic activity. His cherished memory is enshrined in our hearts.
"I am standing on the seashore -
A ship spreads its white sails in the morning breeze and starts for the blue ocean.
It is an object of beauty, and I stand and watch it until at length
it hangs like a speck of white cloud just where the sea and sky
meet to mingle with each other.
Then someone at my side says: 'There! It's gone!'
Gone where? Gone from my sight - that's all.
It is just as large in mast and hull and spar as when it left my sight;
and just as able to bear its cargo of living freight to the port of destination.
Its diminished size is in me - not in it! And just at that moment
when someone at my side says, 'There! It's gone!' there are other eyes watching its coming, and other voices take up the glad shout, 'There it comes!'
And that is dying!"
Respectfully submitted
Frank E. Swain
Raymond E. Neal
G. Jeffery Nichols
Committee
---