MAGLRSewall
From MasonicGenealogy
RALPH IRVING SEWALL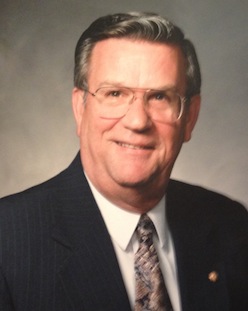 Deputy Grand Master, 1998
BIOGRAPHY
SPEECHES
FEAST OF ST. JOHN, DECEMBER 1997
From Proceedings, Page 1997-262:
Most Worshipful Grand Master, Past Grand Masters, Distinguished guests and Brethren of the Grand Lodge of Masons in Massachusetts:
I am deeply honored to serve our Grand Lodge as Deputy Grand Master, and I consider it a special honor at a time when our Grand Master has made a bold move to look at new ways to accomplish our goals.
The history of organized Freemasonry during the course of nearly three centuries shows a fraternity that has evolved. It has certainly been far from static. If it had remained unchanged throughout its first two centuries, we would not have had all tliree degrees. We would not have liad the ritual as we know it today, and we might not have had a worldwide fraternity.
When we look at the Masonic events of the 20th century, we find a tremendous growth in new members during the 1940's and 50's. The influx included blue collar and white collar, tradesmen and professionals.
Each month, there were regular meetings, and many special meetings. The number of candidates knocking at the door forced Lodge officers to spend so much time conferring degrees, there was little time left for putting Masonry into practice. As the number of initiates began to decrease, Lodge officers continued to do the only tiling they knew, exemplify degrees whether there were candidates or not.
We cannot overlook the importance of the message from the ritual. Our reason for existence is to exemplify the basic Masonic principles in our daily lives, and we can feel comfortable knowing that we share those principles with our Masonic brothers.
Some of our members have expressed concern that the candidates in our one-day April class will not receive proper instruction. Some may wonder if these candidates will be true Master Masons.
Let's look at the differences between the one-day class and the so-called three-month class. The three-month candidate receives instruction between each degree. The one-day candidate receives instruction after the Third Degree. Now, let's look at the similarities. They both are investigated and elected in the same manner, and they both listen to the same words in the ritual. Should we consider the one-day candidate any less a Master Mason than the three-month candidate? Nay, nay! The way we treat either candidate after he has received the degrees has a direct bearing on his success in carrying out his Masonic obligations.
It is very important that we do not compare these brothers to someone going into a hotel room and finding Gideon bible in paperback. Each brother will find the same hardcover edition as we all did. In fact, we can be assured that tlie ritual presentation on April 4th will be nothing short of first class.
When my father received his 50-year veteran's medal in 1981, he read a poem to the Lodge. The author of the poem is unknown, but it was titled "Being Made a Mason". This is what it said:
Well, I've taken on a contract,
Started work on it today.
Biggest job I ever tackled.
But I've started in to stay.

"What's the job, you ask, my brother,
That gives such concern to me?
'Tis the building of a Temple
That shall last eternally.

"Not with brick and stone and mortar
Is this Temple to be wrought,
But with Truth and Love and Justice
Built in every word and thought.

On the trestleboard of Scripture
God has drawn the plans in place;
These I'II follow, without changing,
'Til I meet Him, face to face.

"All the tools of my profession
He has trusted to my care,
Plumb and level, maul and chisel
Compass and exacting square.

"O, Great Architect of Heaven,
Give me grace for all my tasks,
Help me build a worthy Temple,
This is all a Mason asks!"
Being made a Mason is only the beginning of the building process. How we treat the new Master Mason will determine how well the structure is built.
Grand Master, you have provided us with the design. It is up to us to help the new Masons "Build a worthy Temple."
---