MAGLRSeger
From MasonicGenealogy
ROLAND DEWEY SEGER 1898-1972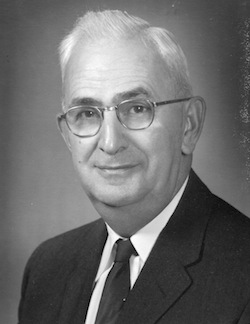 MEMORIAL
From Proceedings, Page 1972-181:
"Right Worshipful Roland Dewey Seger was born at Sterling, Massachusetts, on June 4, 1898, the son of Charles Edwin and Jennie May (McKenney) Seger. He was educated at Boston English and East Boston High School, studied briefly at Andover-Newton Theological Seminary and served as Minister for one year at the Union Congregational Church in Ballardvale.
"He served an apprenticeship at American Optical Company in Southbridge, Massachusetts in 1915. He became a machinist-instrument maker and instructor, and since 1942 had been associated with M. & T. Metallurgy Department. Brother Seger married Stella Nordbeck in 1918 who pre-deceased him in 1928. One daughter was born, Phyllis Evelyn. He married Mary Reid in 1930 in Wollaston. There were no children born of this union and Mary died in 1958. In May 1959 he married Margaret McMurtrie who survives him.
"Brother Seger received his Entered Apprentice Degree on June 23, 1925, Fellow Craft Degree on October 9, 1925 and Master Mason Degree on December 3, 1925 all in Ebenezer Fuller Lodge, Brighton, Massachusetts. He affiliated with Atlantic Lodge, North Quincy, on May 10, 1939 and served as Worshipful Master in 1946. He was District Deputy Grand Master of the Quincy 26th Masonic District in 1949 and 1950, and Junior Grand Warden in 1959. He was Grand Representative to Costa Rica from 1959 to 1972. He served on the Grand Lodge Service Committee from l95l to 1972. In 1959 he received the Henry Price Medal.
"Brother Seger was a member of all Scottish Rite Bodies in the Valley of Boston. Right Worshipful Brother Seger died on March 9, 1972. A Masonic Service was held at the Mortimer Peck Funeral Home in Braintree on March 12, 1972, and he was buried at Mt. Wollaston Cemetery in Quincy, Massachusetts.
"He walked in the paths the great have trod
The great in Heait, the great in mind
Who looked through Freemasonry to God
And looked through God to all mankind
Learned more than sign or word or grip
Learned man's and God's relationship.
Fraternally submitted,
Andrew G. Jenkins
Walter J. Hansen
Earle M. Harting
Committee
---