MAGLRNAlger
From MasonicGenealogy
R(OBERT). NEIL ALGER 1910-1979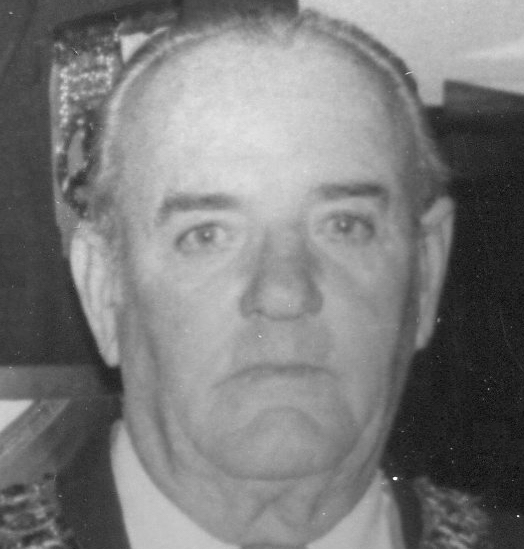 MM 1937, WM 1947 Pequossette
DDGM, Brighton 5, 1962, 1963
Grand Sword Bearer 1964, 1965
Grand Tyler 1967
Deputy Grand Master 1976
MEMORIAL
From Proceedings, Page 1979-113:
Brother Robert Neil Alger was born in Newton, Massachusetts on October 30, 1910, the son of Garfield and Eliza Alger. He received his basic education in the Watertown Public Schools. In business he was the founder and president of Alger Oil Company, Inc. of Watertown from 1926 until his retirement in 1970. He was a member of the Massachusetts National Guard for three years, serving with Company C of the 101st Infantry. On January 14, 1945, our Brother was united in marriage with Edith Lorraine Frounfelker. To this union was born a son, Lawrence Neil of Yarmouth, who with two children from an earlier marriage, now survive. They are Robert J. of Lincoln, New Hampshire and Mrs. Frederick (Barbara) G. Ziegler of Portland, Oregon. He is also survived by two grandsons and three granddaughters.
In Masonry, Brother Alger served faithfully, having been initiated in Pequossette Lodge, Watertown on September 9, 1937; passed to the degree of Fellow Craft on October 14, 1937 and raised a Master Mason on November 11, 1937. He served as Worshipful Master of this Lodge in 1947 and as District Deputy Grand Master of the Brighton Fifth Masonic District in 1962-1963; Grand Sword Bearer of our Grand Lodge in 1964-1965; Grand Tyler in 1967 and a Grand Representative of the Grand Lodge of Kansas near this Grand Lodge from 1964 to 1979. In 1976, he served as Deputy Grand Master.
In York Rite Freemasonry, our Brother was a member of Saint Paul's Royal Arch Chapter, Boston; Boston Council, Royal and Select Masters, Boston; and Saint Bernard Commandery No. 12, K.T., Boston, which he served as Eminent Commander in 1967. In the Scottish Rite, he was a life member of all the Bodies in the valley of Boston and served Mount Olivet chapter of Rose Croix as Most Wise Master from 1966-1968. He had also been awarded the Massachusetts Consistory Distinguished Service Medal. Brother Alger was created a Sovereign Grand Inspector General, 33°, Honorary Member of the Supreme Council, A.A.S.R. on September 25, 1968 and was serving as the Grand Seneschal at the time of his passing.
He was formerly a member of Aleppo Temple, A.A.O.N.M.S. and Boston Court No. 103, Royal Order of Jesters. Other memberships included Saint Matthew's Conclave, Red Cross of Constantine, Springfield; Wellesley Chapter, No. 166, Order of the Eastern Star; Royal Order of Scotland and held the Honorary Legion of Honor in the Order of DeMolay. He was one of the founders of Watertown Chapter, Order of DeMolay. An enthusiastic golfer, our Brother was a member of the Weston Golf Club in Weston and was associated with the Cummaquid Golf Club on Cape Cod.
Brother Alger passed away in Newton on Friday, April 20, 1979. Funeral services were conducted by the Officers of Pequossette Lodge on the evening of Monday, April 23 at the Rockwell Funeral Home in Watertown and religious services were held in the Storey Chapel, Mount Auburn Cemetery, Cambridge on Tuesday, April 24, with Reverend Brother Oscar A. Guinn officiating.
An ardent and loyal worker in the vineyard of Freemasonry, Right Worshipful Brother Robert Neil Alger will be missed by a host of friends and associates.
Respectfully submitted,
Stanley F. Maxwell,
John A. Musserian,
Herbert A. Perkins
Committee
SPEECHES
FEAST OF ST. JOHN, DECEMBER 1975
From Proceedings, Page 1975-302:
I should have let the Grand Master write this particular speech as well. You did very well in finding out what my life was.
Most Worshipful Grand Master, Distinguished Guests and my Brethren:
It is with a deep sense of humility that I accept the honor and responsibility that has been given me this evening. Thank you, Most Worshipful Sir for your confidence in me, and I assure you I will endeavor to discharge the duties of this office to the very best of my ability.
Since 1937 Masonry has been an important part of my life and I look forward to this new opportunity to work for the good of our great Fraternity. In our last toast this evening we heard the words, "May Masons of all nations be united under the mantle of universal friendship". One has to work at friendship and we must begin with ourselves. To be a friend a man should know people's thoughts and purposes. He should encourage and not discourage. He should set an example that will be an inspiration to others. True friendship means tolerance, understanding, a forgiving nature, realizing that all men stumble now and then, but in the words we have all heard, "he who never made a mistake never accomplished anything". Let us take a tip from Will Rogers who observed people with laughter in his eyes and love in his heart as he declared, "I never met a man I didn't like."
As we travel among our fellow men let us radiate good will. Let us join hands with all people who are now working for great principles, great causes and great purposes, to be a friend with all men even though they differ from us in color, creed and condition. To fill every human relation with a spirit of friendship is the ideal of Masonry, the goal to which we should strive.
Last year our Grand Master added to his slogan the words, "Reach out and touch". In the hurried lives we live we are so apt not to take time out to touch another life in a way that it will give real meaning and depth. In our relationship with others, wherever we may be in the world, we should follow the wise action of Shakespeare who wrote, "To thine own self be true, and it must follow as the night the day, thou cans't not then be false to any man".
Most Worshipful Grand Master, on behalf of all the appointed officers I would like to express to you our sincere appreciation and we pledge to you, the Grand Lodge and to Masonry our most loyal support under your leadership.
---