MAGLRMeffen
From MasonicGenealogy
ROBERT A. MEFFEN 1923-2017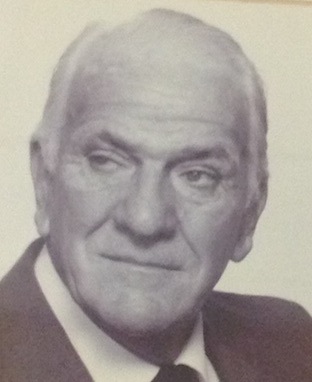 MM 1956, WM 1986, Mount Orthodox
Junior Grand Steward 1987
Junior Grand Warden 1990
BIOGRAPHY
From TROWEL, Spring 1990, Page 3:
Robert A. Meffen of Springfield was installed Junior Grand Warden. He had been elected Dec. 13 in the only contested ballot at the quarterly communication. A third generation member of Mt. Orthodox Lodge of West Springfield, Is a Navy veteran of the Korean conflict as an Underwater Demolition expert and deep sea diver. He served 34 years in the Springfield Police Dept. of which 23 were in a Vice Control Unit of which he was the captain for 15 years. He and his wife, Lillian L. (Walsh) are parents of eight children (including a set of mixed twins) and nine grandchildren. Two sons are members of Mt. Orthodox Lodge. Bro. Meffen is now Director of Security for the Colebrook Corp., a reality entity of the Springfield Institution for Savings.
MEMORIAL
Online obituary, March 2017:
Robert A. Meffen, 94, passed away Tues. in Baystate Medical Center. He was born in Springfield, MA on February 28, 1923 to the late Andrew J. B. Meffen and Annie Fish Meffen. He attended the Springfield Public schools and graduated in 1940. He was employed at the former Springfield Armory for a short time and joined the US Navy in 1942. He trained as a Deep Sea Diver and became an underwater demolition expert. He served in the European Field Operation and was at the invasion of Normandy. He then participated in the harbor salvage work in several European ports including Cherbourg and Le Havre in France, Antwerp, Belgium and Bremen, Germany. He was recalled to active duty in the Korean War by the US Navy in 1950 and served several months on a carrier in the Pacific Ocean.
He returned home in November 1945 and joined the Springfield Police Department in 1947. He served for 34 years moving through the ranks from Sergeant in 1954, Lieutenant in 1960 and Captain in 1966. He served 21 years in the former Crime Prevention Bureau, dealing with narcotics, gambling, alcohol control and morality cases. He lectured in many schools, churches, Synagogues and fraternal groups in the area and enjoyed teaching in various Law Enforcement Academies.
He was an active member of the Masonic Fraternity and member of the Mt. Orthodox Lodge as a Past Master. He served as past Grand Junior Warden of the Grand Lodge of Masons in Massachusetts and holds the Henry Price Medal. He was a past High Priest in the Royal Arch Chapter, was past Grand King of the Grand Royal Arch Chapter. He holds the Benjamin Hurd medal, was a member of the Springfield Council R&S Masters, past Commander of the Springfield Commandry #6 and Past Sovereign of the Red Cross of Constantine. He was a member of the Four Scottish Rite Bodies and was past Sovereign Prince of Massasort Council Prince of Jerusalem. He served as Commander of the Springfield Consistory and was a 33rd Degree Mason of the Supreme Council. He was an active member of the Melha Shriners and was Illustrious Potentate in 1981. He was very active in Boy Scouting as a 17 year Scout Master.
He attended the National Jamboree at Valley Forge, with his sons in 1964. He was awarded the very coveted Silver Beaver Award. He was a 65 year summer resident of Eastham, Massachusetts on Cape Cod. He was married to the former Lillian Walsh in 1947 and they enjoyed 50 years of marriage together. She predeceased him in 1997. He is predeceased by his sister Ellen L. Meffen in 1982, his son Andrew J. Meffen in 2007 and son Robert P. Meffen in 2016. He is survived by his six remaining children, Mary A Meffen (David), Thomas O Meffen (Lynn), James A Meffen all of Springfield, Daniel A Meffen of Orlando, FL, Patricia A Meffen (Tom) of Avon, Connecticut and Stacy A Meffen of Essex, Maryland. He leaves 10 grandchildren and 11 great grandchildren. Funeral Services will be held MONDAY 11 AM at SAMPSON'S CHAPEL OF THE ACRES, 21 TINKHAM RD. Burial will follow in Hillcrest Park Cemetery, Parker St., Spfld.
---