MAGLRMatthews
From MasonicGenealogy
RUSSELL MATTHEWS 1838-1892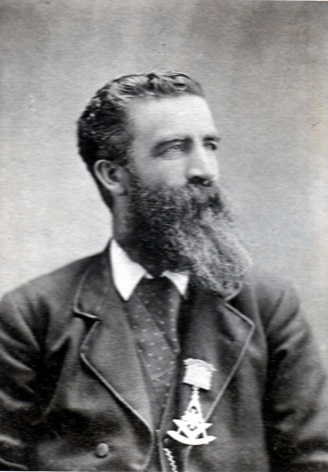 Senior Grand Warden, 1884
MEMORIAL
From Proceedings, Page 1892-100:
"Russell Matthews was born in Yarmouth, Mass., April 20, 1838, and died in Barnstable, August 20, 1892. After receiving such education as was afforded by the schools of his native town, he learned the trade and started in business as a carpenter and builder, which occupation he followed until shortly before his death. While he gave considerable attention to church and town affairs, the most of his leisure was given to Masonic work. He was initiated in James Otis Lodge, August 2, 1867, passed September 6, raised October 4, and admitted to membership the same evening. He was elected Senior Deacon in '67, reelected in '68, was Junior Warden in '69, Senior Warden in '70, was elected Worshipful Master, October 6, 1871, and served continuously until October 25, 1875. In these eight years of service he was constant in attendance, faithful in his work, and did all in his power to solidify and strengthen his Lodge. In 1877, '78, '79, '80, '81, and '82, he served as District Deputy Grand Master (Fifteenth District). In these six years he performed faithfully the duties of his office, encouraging the weak, admonishing the strong, and helping to bring all iuto harmony with the Grand Lodge. These were years when the capitation tax was being discussed, and lie worked hard and faithfully to bring about the splendid result that followed. When the Temple debt was finally paid no one rejoiced move heartily than he.
"On December 12, 1883, he was elected Senior Grand Warden, and served faithfully during the year 1884. Such is the simple story of a quiet life. He sought no honors, but such as were thrust upon him he accepted gratefully, and performed his duties in every station, so as to win the love of his friends and the respect of all. The virtues that were taught in his Lodge he faithfully carried out in his private life, and our pleasant memories of him will never be clouded by any apologies for his private character. When he died men of all classes, sects and opinions could unite in saying, 'This was a noble type of Christian manhood.'
Respectfully submitted,
A. P. HANNUM,
Committee.
---