MAGLRLeach
From MasonicGenealogy
ROBERT JOSEPH LEACH 1945-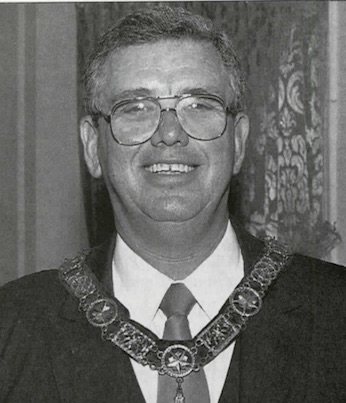 BIOGRAPHY
From TROWEL, Summer 1997, Page 5:
Senior Grand Warden Robert Joseph Leach is a jovial fellow but beneath that outward presentation he is a serious man about Freemasonry and has a deep concern about its future. He got off to a good start in fraternal life by being a DeMolay in Worcester Chapter. He has used the basic teachings from DeMolay to extend himself beyond any personal rewards he has gained from Freemasonry.
Raised in Athelstan Lodge of Worcester in 1974, he was the presiding Master in 1983, the year Trowel Magazine first went to press. Since 1994 he has been the Lodge Ritualist. In 1992 he became an affiliate with Columbian Lodge of Boston.
Appointed Junior Grand Deacon in 1992, Brother Leach served in 1993 and 1994 as District Deputy Grand Master of the Worcester 22nd.
He has been a member of the Long Range Planning Committee and the Training Committee of Grand Lodge and was co-author and creator of The Master's Path. He is a member of the Purple Apron Degree Team.
His Scottish Rite affiliation is with the Valley of Worcester and the Connecticut Valley Consistory. He is a member of Aleppo Temple and the Worcester County Shrine Club.
The husband of Nancy (Benoit) Leach, they are the parents of a daughter, Christine, and son, Brian, who is attending college.
---