MAGLRJackson
From MasonicGenealogy
RONALD ERROL JACKSON 1940-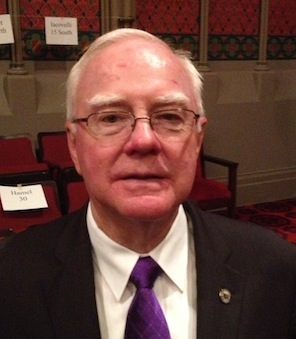 BIOGRAPHY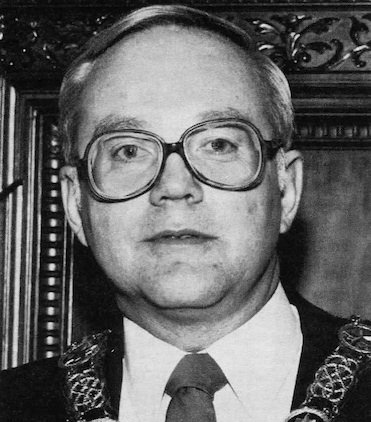 From TROWEL, Summer 1985, Page 19:
The appointment of R. W. Ronald Errol Jackson of South Hadley as Deputy Grand Master brings to the official Grand Lodge family a man who, in the past ten years, has been a most industrious worker in the beehive of Freemasonry. His outstanding service as District Deputy of the Holyoke 17th District, 1983-84, has been most notable and the choice by M. W. David B. Richardson has been received by the Craft with acclamation.
A graduate of South Hadley High School and Western New [England College, he is an Associate Director of underwriting for Massachusetts Mutual Life Insurance Co. of Springfield. He is a Fellow of Life Management Institute and has attained the rank of Major in the Massachusetts Air National Guard.
Raised in Mount Holyoke Lodge on March 30, 1967, he was Worshipful Master in 1975, and is a Trustee of Special Funds and Director of the Masonic Building Association. Appointed a Committeeman of the Grand Lodge Education Department in 1977, he was Master of the 16th Lodge of Instruction in 1982.
In Capitular Masonry he holds membership in Mount Holyoke Royal Arch Chapter, Holyoke Council, Royal and Select Masters, and St. Andrew Commandery No. 49, Knights Templar. He is a member of the Massachusetts Chapter of Research. Honorary memberships have come to him from Jerusalem Lodge of Northampton, William Whiting Lodge of Holyoke, and Morning Sun Lodge of Conway.
As a useful member of his community, Bro. Jackson has worked with youth as a Little League football coach. He is a member of the South Hadley Lions Club, Vice Chairman of the Mass. Mutual Employees Credit Union, Chairman of the Administration Board of Faith Methodist Church, a United Way worker, and former Director of the W.N.E.C. Alumni.
Married to the former Gail Lawrence, the couple are parents
of Laurie, 21, and Jill, 16.
SPEECHES
FEAST OF ST. JOHN, DECEMBER 1984
From Proceedings, Page 1984-184:
Most Worshipful Grand Master, Distinguished Guests, and my Brothers All:
It is with a deep sense of humility that I accept the honor of being appointed Deputy Grand Master. I certainly thank you for your trust and confidence, and I pledge to you and to our Grand Lodge my support. I will serve, of course, to the best of my abilities. I also speak on behalf of all of your appointed officers, and I thank you for the opportunity to continue to serve our Grand Lodge and to continue to promote and spread Freemasonry as a way of life.
Most Worshipful Grand Master, with your permission, I would like to share with you and the Brethren a few thoughts that I have regarding the Craft, and I hope the comments are appropriate tonight.
Not too long ago, after a lengthy discussion on the lack of attendance in our Masonic meetings, I stated that it was time that Masonry woke up and that it reexamined itself as there was obviously a need out there that we were not satisfying. It appeared that our members were either too busy with other activities, not interested in being active participants or were just happy staying home. Masonry did not provide them with the stimulant that they had been looking for.
Like so many other things, at times we are so close to the problem that we can't see the solution. I am now convinced that too many of us in search of what we think is wrong with Freemasonry have strayed away from the ideals of the Craft and have tried to make Masonry something it is not and something it is not intended to be.
Don't take me wrong. In no way do I mean to criticize the efforts of those who have attempted or who are attempting to do or plan something special. However, I am now of the opinion that the most important ingredient is missing. It is time, my Brethren, that we forget that which Masonry is not and get back to the basics of the Craft, which makes Freemasonry a way of life.
Masonry is so simple; it is the essence of life. It causes a man to seek (ruth, to seek love, to seek the best for himself, for his family, and for all he comes in contact with. We are different. Freemasonry is different from other organizations, and it is this uniqueness we must all trust, our tenets, our brotherly love, relief and truth.
We are taught to act on the square, to treat our fellow creatures as equals, to be in harmony with life, to walk uprightly before God and man. No greater charge can any organization be given, and yet I feel we fail to promote these attributes. Rather, we have searched for something in Freemasonry that just isn't there and will never be there.
There is nothing wrong with Freemasonry. It has given you and me all the tools that we will ever need to live a full and productive life, the very tools upon which this great country of ours was founded and which, I believe, this troubled world of ours needs so badly today. But it is up to you and me to spread that sentiment that proclaims Freemasonry as a way of life.
My Brothers, it's time to get back to basics. It's time to put into practice those valuable lessons that we have been taught. It's time to set the example. It's time to be builders in the hearts of men. My Brothers, I am convinced that this Fraternity of ours can rise to new heights, if only we forget that which we are not and concentrate on what we are. The time has come to throw out gimmicks and to get back to the basics of promoting and practicing friendship, charity and brotherly love.
My best wishes to each and every one of you for a peaceful and productive 1985. Thank you, my Brethren.
---