MAGLRDoherty
From MasonicGenealogy
ROBERT F. DOHERTY 1943-2019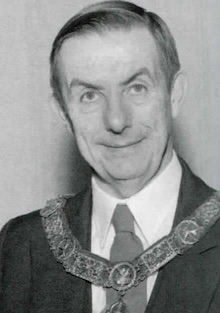 BIOGRAPHY
From TROWEL, Spring 1996, Page 4:
The Junior Grand Warden is a quiet fellow who admits that he is not a golfer but plays at the game for the enjoyment golf was meant to be. While he won't be around slapping your back or boasting about his own accomplishments, Bob has a demeanor that wears well when you get to know him. He first sought fraternal fellowship as a member of Boston Chapter, Order of DeMolay, and it inspired him to become an active Master Mason.
Raised in Somerville Lodge in 1974, he was Worshipful Master 1977-78, and is now the Treasurer and Proxy. He has been a Director of the Somerville Temple Association for several years and serves as Treasurer.
He has held offices in the Past District Deputy Grand Masters' Association, was Grand Pursuivant in 1983, District Deputy Grand Master of the Arlington Sixth Masonic District in 1987-88 and Grand Lecturer since 1990 He serves on the Grand Master's Award Committee.
Bob and his wife, Jeannette, are parents of two sons and two daughters. William is a Past Master of Victory Lodge of Watertown and David is a member of Somerville Lodge.
He is active in York and Scottish Rite bodies and is holder of the Distinguished Service Award from Grand Lodge and Meritorious Service Award in Scottish Rite. He is a member of Aleppo Temple of the Shrine.
A lifelong member of St. James Episcopal Church of Somerville where he has been very active, Brother Doherty has received a B.S. and M.B.A. degrees from Northeastern University. He has been employed as a Corporate Accountant with Baker Commodities, Inc., since 1973 and previously served in the U.S. Army.
MEMORIAL
OBITUARY, 2019
From Joyce Funeral Home, November 2019:
eorge Washington wrote in a Letter to the Grand Lodge of Free and Accepted Masons for the Commonwealth of Massachusetts, January 1793 'To enlarge the sphere of social happiness is worthy of the benevolent design of a Masonic institution; and it is most fervently to be wished, that the conduct of every member of the fraternity, as well as those publications, that discover the principles which actuate them, may tend to convince mankind that the grand object of Masonry is to promote the happiness of the human race.'
Bob Doherty treasured his membership and the many life-long friendships that were as a result of his being a Mason. He was an active member of Somerville Lodge AF & AM which recently merged with Mount Horeb Lodge AF & AM in Woburn and was a 33rd degree member of the Scottish Rite, Valley of Boston where he also worked part-time as treasurer. He served as past Junior Grand Warden for the Grand Lodge of Massachusetts and Chairman of Grand Lecturers as well as a member of the Saint Bernard Commandery in the York Rite, Boston. He was also an active member of the Waltham Triad Lodge AF & AM, the Masters Lodge AF & AM as well as many other Masonic bodies.
Robert Francis Doherty was born August 27, 1943 in Boston a son of the late Robert P.F. and Jeanette M. (Pickard) Doherty. Raised in Somerville he was a graduate of Somerville High School and earned both his Bachelor's degree (1967) and M.B.A (1972) from Northeastern University. Bob served honorably in the United States Army during the Vietnam War.
Bob died on Monday, November 11, 2019 in Newton-Wellesley Hospital. He was 76.
He married Jeannette A. (Malay) Asadoorian on October 19, 1985. Longtime Lexington residents they moved to Waltham in 1995. Bob worked over 43 years at Baker Commodities Inc. in Billerica as controller before retiring in 2015.
In addition to his wife of 34 years, Jeannette, he leaves his step-children, William P. Asadoorian of Waltham, J. David Asadoorian (Ann Marie) of Concord, Nancy L. Barry (William) of Billerica and Karen S. Costanzo (James) of Canton; his grandchildren, John (Katy) Asadoorian, Jessica Asadoorian (Jennifer), Jill Asadoorian (Kelley) and Josh, John, Linda, Julie and Lisa, the late of Laura Asadoorian, James and Kristina Barry and the late of Laura Asadoorian; great granddaughter Emma Asadoorian, his brother Lawrence Doherty (Carol-Ann) of Freemont, California; and niece & nephew Evan (Linzey) and Meghan Doherty.
Family and friends will honor and remember Bob's life by gathering for calling hours in The Joyce Funeral Home, 245 Main Street (Rte. 20), Waltham on Thursday, November 14th from 4 to 8 p.m. A Masonic Ritual will be held at 7:00 p.m. His funeral service will be celebrated on Friday in Christ Church, 750 Main Street, Waltham at 10 a.m. Rev. Dr. Kapya Kaoma will officiate. Burial with military honors will follow in Mount Auburn Cemetery, Cambridge.
Memorials in his name may be made to Christ Church, 750 Main Street, Waltham, MA 02451.
---