MAGLRDoherty
From MasonicGenealogy
ROBERT F. DOHERTY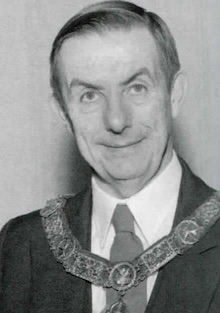 BIOGRAPHY
From TROWEL, Spring 1996, Page 4:
The Junior Grand Warden is a quiet fellow who admits that he is not a golfer but plays at the game for the enjoyment golf was meant to be. While he won't be around slapping your back or boasting about his own accomplishments, Bob has a demeanor that wears well when you get to know him. He first sought fraternal fellowship as a member of Boston Chapter, Order of DeMolay, and it inspired him to become an active Master Mason.
Raised in Somerville Lodge in 1974, he was Worshipful Master 1977-78, and is now the Treasurer and Proxy. He has been a Director of the Somerville Temple Association for several years and serves as Treasurer.
He has held offices in the Past District Deputy Grand Masters' Association, was Grand Pursuivant in 1983, District Deputy Grand Master of the Arlington Sixth Masonic District in 1987-88 and Grand Lecturer since 1990 He serves on the Grand Master's Award Committee.
Bob and his wife, Jeannette, are parents of two sons and two daughters. William is a Past Master of Victory Lodge of Watertown and David is a member of Somerville Lodge.
He is active in York and Scottish Rite bodies and is holder of the Distinguished Service Award from Grand Lodge and Meritorious Service Award in Scottish Rite. He is a member of Aleppo Temple of the Shrine.
A lifelong member of St. James Episcopal Church of Somerville where he has been very active, Brother Doherty has received a B.S. and M.B.A. degrees from Northeastern University. He has been employed as a Corporate Accountant with Baker Commodities, Inc., since 1973 and previously served in the U.S. Army.
---