MAGLRAustin
From MasonicGenealogy
RICHARD TUCKER AUSTIN 1957-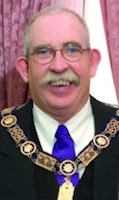 MM 1985, WM 1993, Puritan
DDGM, Brockton 29, 1999-2000
Grand Steward 1996
Junior Grand Warden 2007
BIOGRAPHY
From Trowel Magazine, Spring 2007:
The Junior Grand Warden is Rt. Wor. Richard T. Austin of Puritan Lodge, East Bridgewater, who has served his district for six years — two each as Masonic Awareness Officer, District Deputy Grand Marshal and District Deputy Grand Master. He previously served Grand Lodge as Grand Steward.
Brother Austin is a member of the York Rite bodies, Aleppo Shrine and the Royal Order of Jesters. Within the Valley of Boston, he serves as Senior Warden of Giles Fonda Yates Council, Princes of Jerusalem, and has worked on the Valley's Family Life program.
Rt. Wor. Bro. Austin has also been active in his community, serving presently as treasurer of the First Congregational Church and Boy Scout Troop 53, both in Plympton, and as president of the Barnstable County Agricultural Society. He has also served as president of the Whitman Visiting Nurse Association, director of the Affiliated VNA of South Shore, president of Whitman Kiwanis, director of the Whitman-Hanson Business Association and as a fundraiser for the Old Colony YMCA and the Habitat for Humanity.
This third generation Mason and graduate of the Masonic Leadership Institute is an insurance agent. He and his wife, Marie, have three children, Kyle, Ryan and Ashley.
---